Boatyard | Greyhawk | latest | next | 2011-05 | previous | oldest
GREYHAWK's Sailing Adventures
May 2011
I haven't been very good about updating this "blog" with all the activity on the boat this winter and spring, so I will try to catch things up a little bit.
Publicity?
The folks at the Keene State College Media and Communications office learned that Wendy (an alumna) and I (a faculty member) were planning to do the Bermuda 1-2 race together, and they are interested in doing a story about it. So I wrote up the following as background for them (edited and updated somewhat from what I originally sent them):
The race is the 18th running of the biennial Bermuda One-Two Yacht Race, put on by Goat Island Yacht Club, Newport Yacht Club, and the St. George's Dinghy and Sports Club (http://www.bermuda1-2.org/). It is run in two legs, the first from Newport, Rhode Island, to St. George's, Bermuda, and the second from Bermuda back to Newport. Each leg is about 635 nautical miles and entails crossing the Gulf Stream, a significant ocean current that can create it's own weather. The first leg is sailed single-handed (only one person on the boat), while the return leg is sailed double-handed. There are awards for each leg, but the overall race winner is determined based on the combined time for both legs.
For boats the speed of mine, I expect each leg will take about 5 days -- it all depends on the weather conditions. The start of the single-handed leg in Newport is June 3, and the start of the double-handed leg in St. George's, Bermuda, is June 16. There are 30 boats that will be competing -- these entries will be sorted into separate classes based on the handicap ratings of the boats.
All of the boats will be carrying satellite tracking devices, and I believe that you will be able to track the race in near real-time at http://www.iboattrack.com/racetracking.html -- they haven't set up the link for this year's Bermuda 1-2 yet, but you can look down the list and replay the races from past years.  I will also be carrying a satellite telephone, and should be able to send in e-mail reports periodically.
To fill in the schedule, the boat will be launched May 12th in Marblehead, Massachusetts. Over the weekend of May 14 & 15, we'll sail the boat down to Newport, Rhode Island. On Saturday, May 21, Wendy and I will go down to Newport to spent the day reviewing emergency procedures and practicing safety drills, as required by the Bermuda 1-2 race organizers. I'll undergo my safety inspection on the afternoon of Wednesday, May 25, at the Newport Yacht Club, and will have a professional compass adjuster come onboard on Thursday morning, May 26, to help make sure my compassses are pointing the right way. The satellite phone I have rented will arrive on Thursday afternoon, and I'll spend some time on Friday and over the weekend makign sure I can send and receive e-mails with it. Wendy will drive me down to Newport on the morning of Wednesday June 1, and I'll stay there (on the boat) through to the start of the race, attending to a myriad of last minute details. The Newport Yacht Club is sponsoring a send-off party Wednesday evening, and then we will have the skipper's meeting on Thursday (the race starts on Friday). At the skipper's meeting, the principle race officer will review the "sailing instructions" for the event, which provides all the specific details about starting and finishing procedures, communication schedules, and the like. I expect that we will be issued our iboat tracking devices at that meeting, as well.
One feature that I think the satellite phone will have is that I will be able to receive SMS text messages at no cost (I think). If that's the case, I will post the e-mail address to which the text messages can be sent, so anyone who wants to send me words of encouragement can do so (but note that I cannot accept outside information that might be helpful to me in the race, e.g. private weather forecasts and such!).
You can send messages of 160 characters or less by e-mail to 881622483078@msg.iridium.com
My boat is a Peterson 34 sloop named GREYHAWK. She is 34 feet long and displaces a little over 10,000 pounds. She was built in Texas in 1980, and has had a distinguished racing career. I bought her in 2005 down in Oxford, Maryland, kept her at my father-in-law's dock in Annapolis, Maryland, for that first winter, and then sailed her up to Maine in late June 2006. In August 2006, I sailed her to Marblehead, where she was hauled out and trucked to our house here in Keene. I spent the next 18 months or so repairing and refitting the boat, and she was re-launched in late May 2008. Throughout the project (and since), I maintained a "blog" at http://sailing.thorpeallen.net/Greyhawk/
We normally keep the boat in Boothbay Harbor, Maine, and over the past three years have been participating in racing sanctioned by the Gulf of Maine Ocean Racing Association (http://www.gmora.org/) and select other events.
Last year (2010), we finished in 1st place for the season in the GMORA Racing Division 3, Central Region, and 2nd place in the competition for the GMORA Ocean Planet Shorthanded Racing Trophy. Along the way, we won several races, including the Francis Stokes Trophy for 1st place in the single-handed division of the Rockland Yacht Club's Maine Rocks Race (112 nm); 1st place in the double-handed division of the Centerboard Yacht Club's Northeast Harbor Race (100 nm); and 1st place in the Seguin cruising division of the Portland Yacht Club's Monhegan Race (70 nm).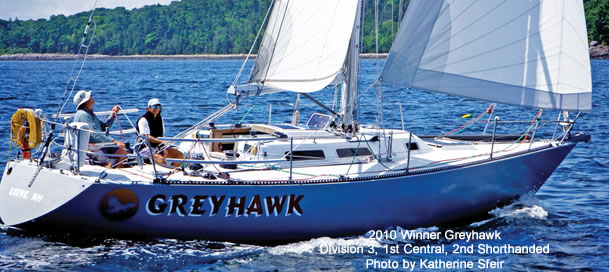 Outside of GMORA events last year, we also took 2nd place in the PHRF Racer division of the 2010 edition of the biennial 335 nautical mile "Lobster Run" -- a race from Stonington, CT, out around Nantucket Shoals, finishing in Boothbay Harbor, ME, organized by The Corinthians. GREYHAWK's finish of that race was featured on the cover of the September 2010 issue of Points East magazine (attached, see also http://issuu.com/pointseast/docs/september2010_issuu?viewMode=magazine)  We had satellite tracking for the 2010 Lobster Run, so you can go to the iboattrack.com site above to replay that race if you want.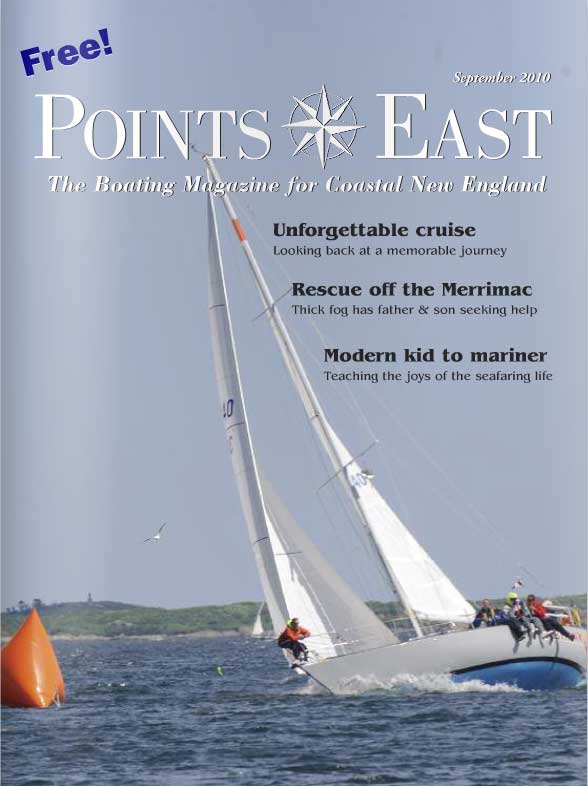 I have been sailing almost all of my life (so far), having grown up cruising with my family for a week at a time aboard our 23-foot "trailer sailor." In 2003, I sailed with my father, his wife, and my office-mate from graduate school, from Portsmouth, NH, to Isle St. Pierre, France, and on to Newfoundland, Canada, aboard my Dad's 36-foot cruising sailboat (since sold). Sailing to France sounds impressive, doesn't it? Many people don't realize that France still has a toe-hold here in North America in the St. Pierre et Miquelon archipelago off the south coast of Newfoundland -- and it really is part of France! The "blog" for that trip is located at: http://sailing.thorpeallen.net/Newfoundland2003/
My wife, Wendy Thorpe Allen, KSC Class of 1988, has also been sailing all of her life.
In our first year of racing on the GMORA circuit in 2008, we were awarded the Family Spirit Trophy, as our racing crew often includes our son Bennett and Wendy's father Rick, as well as Wendy and myself -- making for three-generations sailing and racing together. With the help of Bennett and his friends, we often win the Hank Spencer Memorial Award at GMORA events, which is awarded to the best-performing yacht in each event for which 30% or more of the crew are under the age of 18.
In addition to racing GREYHAWK, we do also use the boat for week-long family cruises, where we bring along our dog and cat, too! (actually, we had the dog aboard for a race once, too, come to think of it.)
Why are we doing the Bermuda 1-2? For me, I just really enjoy ocean sailing and want to extend my adventuring further. This race is classified by the ISAF (international sailing federation) as a "Category 1" race, defined as "Races of long distance and well offshore, where yachts must be completely self-sufficient for extended periods of time, capable of withstanding heavy storms and prepared to meet serious emergencies without the expectation of outside assistance." Racing single-handed really puts the accent on "self-sufficient" and raises the level of challenge significantly. It's going to be a great adventure!
For Wendy, she just doesn't want to miss out on the experience. If I were to have a great time and/or do well in the race, she would be kicking herself if she wasn't a part of it.
How does all this relate to my teaching and professional life at Keene State College? My direct experience with the natural world, whether in mountains or on the ocean, greatly informs my teaching of the natural sciences and environmental studies. The ocean-atmosphere interface --where we sailors play -- is where a lot of the action is happening around the issue of global climate change. Sailing draws upon, and supports, many areas of academic study, including meteorology, oceanography, physics, and alternative energy, among others -- even psychology and chronobiology! The skills of the navigator in locating oneself, recording where one has been, and determining where to go next carry over into the work of a field scientist. In many ways, a voyaging sailboat is a model study in self-sufficient life support and sustainability.  I also believe that my sense of identity as an explorer and adventurer also greatly informs my teaching. I believe we can all benefit from adopting a little spirit of adventure and exploration into our learning and our lives -- especially so for our students.  At some point, I hope my teaching schedule will allow me the opportunity to introduce an ISP Natural Science Perspectives course on the "Science of Sailing."
More Publicity
Nice write-up today (5/26) by Jon Greene previewing this year's Bermuda 1-2 on Sailing Anarchy (scroll down to "one-two punch")
...Yes, there's a bunch of repeat skippers, but what about the new people to watch out for? I'm certainly not familiar enough with the field to issue a full assessment but I can offer a few hints. I've gone up against Pat Jones on his Tartan 41, Adhara, a couple times and it's obvious he knows his boat well, finishing at or near the top of the pile. Tim Allen on Greyhawk, another Maine boat (well, NH really but I see him most often in ME), saw some terrific results last season, almost taking home the new Ocean Plant Shorthanded Trophy offered in the Gulf of Maine and shows all the signs of a guy ready, willing and able to win. A third Maine boat, Resolute showed up DH at Block Island and Newport-Bermuda last summer and yes, a fourth Maine boat, Tyger Tyger, is gunning hard as well. There are other newcomers I'm not familiar with but that's the great part about this race, you never know who's going to show up....
---
Preparations!
In late January I was given a pair of Barient 28 Self-Tailing winches -- it's a long story: an internet aquaintance (Rob) who knew I was planning to do the Bermuda 1-2 shorthanded race happened to be reading this site and noticed that I didn't have any self-tailing winches. He had just upgraded the manual winches on his boat, a Hinckley Southwester 42, and offered me his old ones, and he didn't ask for much in exchange (a new pair of Dax composite one-touch winch handles and a spinlock dual tether...). The winches were in Southwest Harbor, Maine, but I had another friend (Mark) who also has a boat at the Hinckley yard, and it just happened that he was planning to make a trip up there the weekend before he and I would be getting together to go to the summit of Mount Washington for a Mount Washington Observatory winter "EduTrip." So we transferred the winches from Mark's vehicle to mine in the parking lot at the base of Mount Washington Auto Road in late January! I later delivered the winch handles and tether to Rob at the Safety at Sea Seminar at MIT in March. So now I have self-tailing primary winches! My rigger gave me a hard time about replacing Lewmars with Barients, since parts are no longer available for the Barients -- but I assuaged his concern somewhat by noting that I still have the Lewmars which I could put back on if the Barients break down or I don't like them...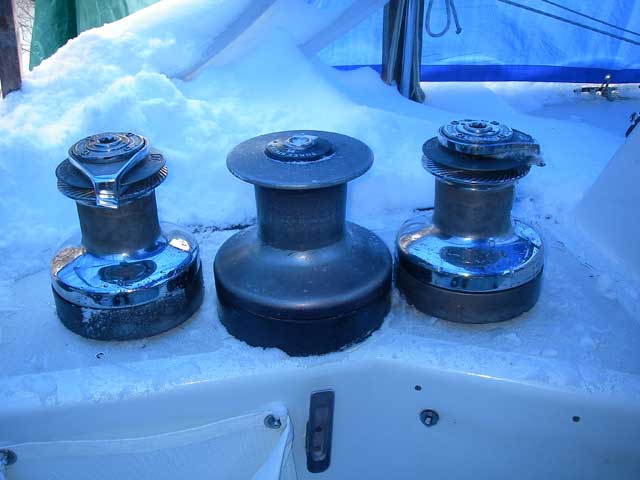 Or course the mounting bolts for the new winches don't matche the holes for the old winches, so I had to wait for the weather to warm up enough (late April?) that I could fill the old holes with thickened epoxy before mounting the new winches. I also needed a special spanner (wrench) for opening the new winches -- my Dad the toolmaker to the rescue!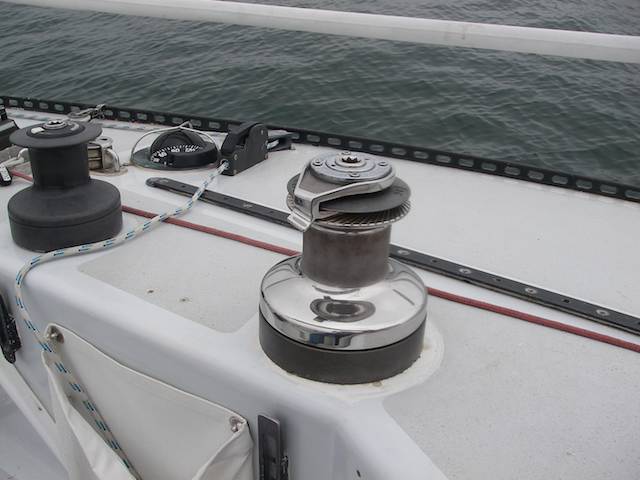 So the new winches are now on, and they're working out well. Self-tailing will be really nice!
The picture above has somewhat of a blue cast because of the tent I built over the boat, which inside looks like this: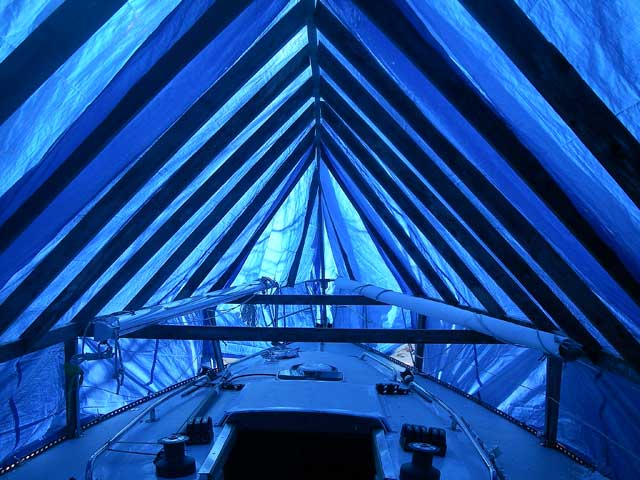 On Facebook, one of my friends commented that this looked somewhat "spiritual," to which I replied, "Well, it is where I've been spending my Sundays!"
The Bermuda 1-2 Race requires that we display our assigned "Race Number" both on deck and either on the hull topsides forward, or on weather cloths aft. I requested (and was granted) "34" as my race number (for obvious reasons, like my sail number is 30340). So here's my solution for diplaying the number on deck: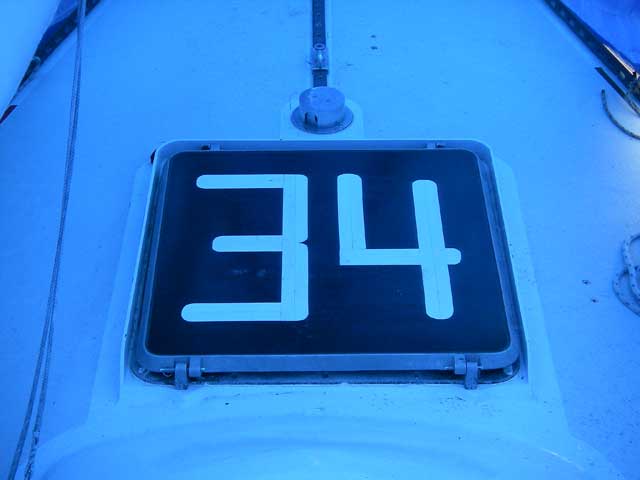 Non-skid tape on the forward deck hatch...
For the hull, I ordered vinyl numbers -- red with a white drop shadow, to match the lettering on the boat's name. The red and the white were supplied separately, with the red to be applied over the white. We put the numbers on in the spring after taking down the cover and framework and after compounding the topsides, but we only got as far as putting on the white -- all the bubbles were depressing...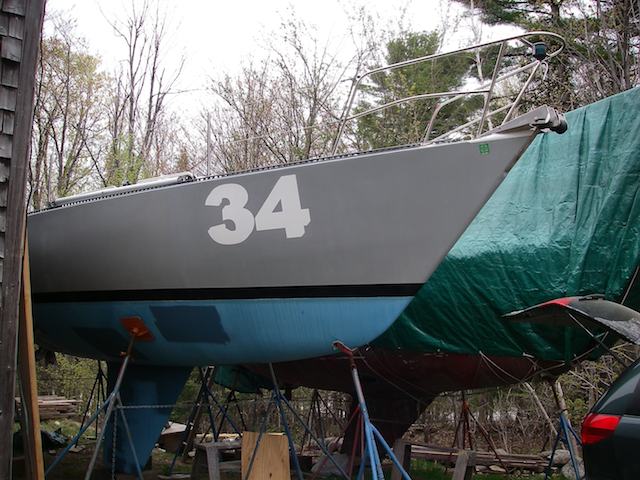 Speaking of the boat cover, here is Greyhawk at the "Allen Family Boatyard" before the cover came off: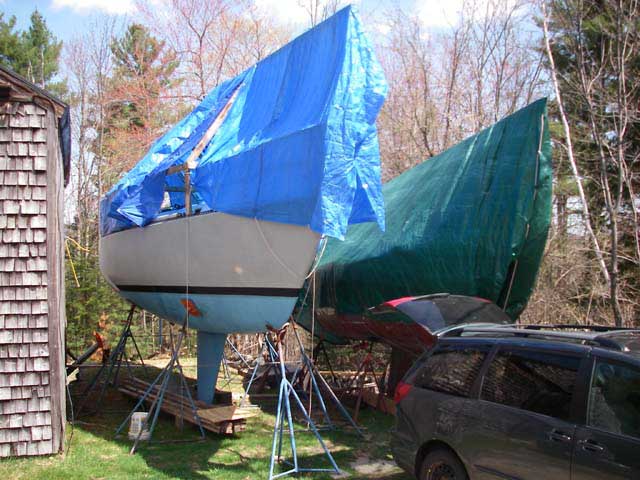 And here is the framework to support the cover, which I made out of a pile of scrap 2x4's and some decking screws: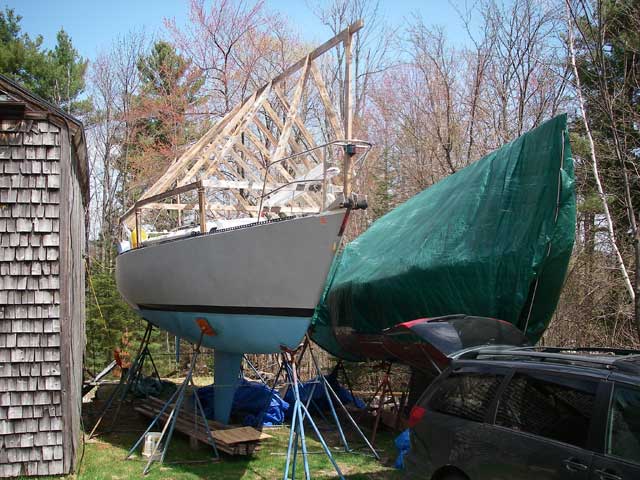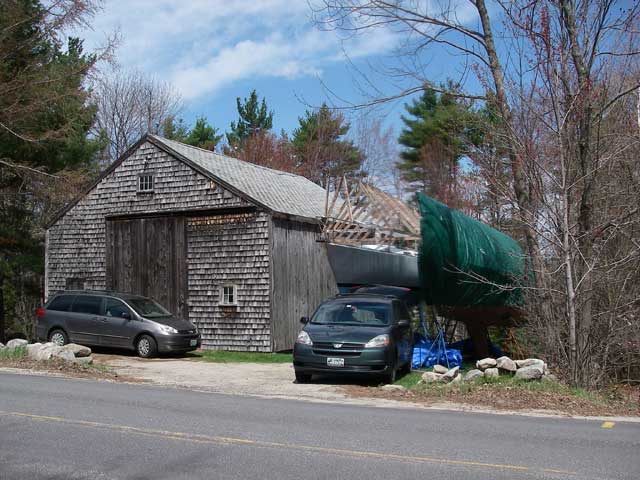 By the end of the day, the framework was dis-assembled, too: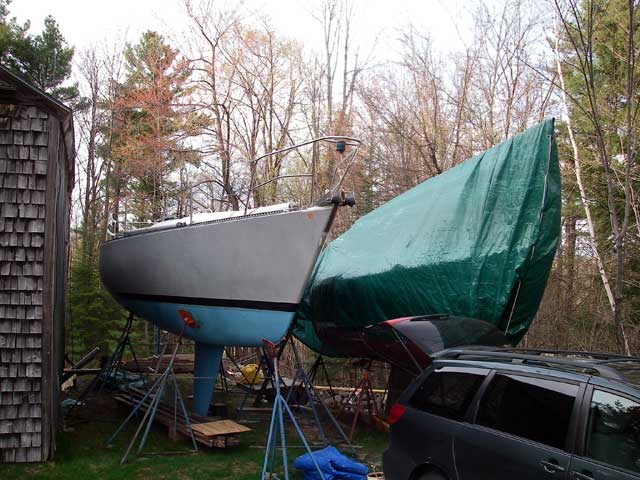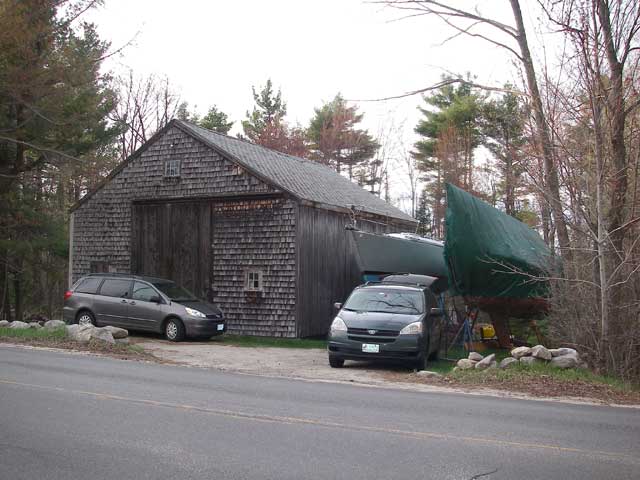 The truck came Thursday, May 12: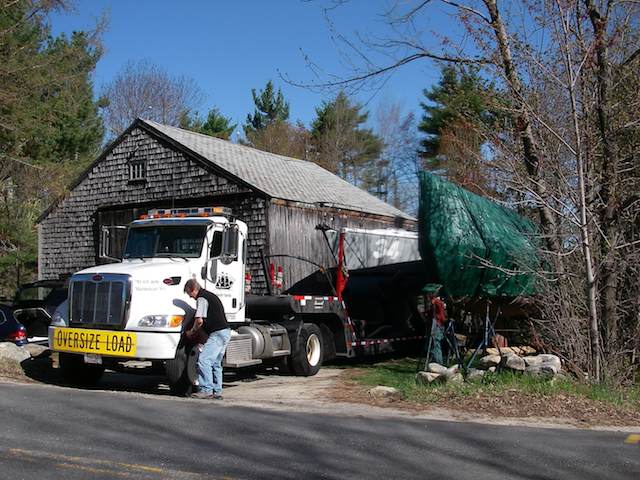 The boat was launched that afternoon in Marblehead, Mass. I spent friday the 13th rigging the boat, and then met my Dad in Newport, RI, where we spotted his car so we could get back after delivering the boat down to Newport.
And here we are underway on Saturday, May 14th, off Marblehead (photos by Jon Greene):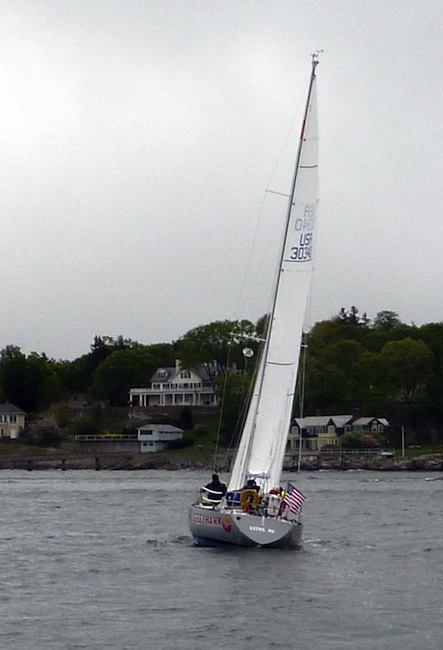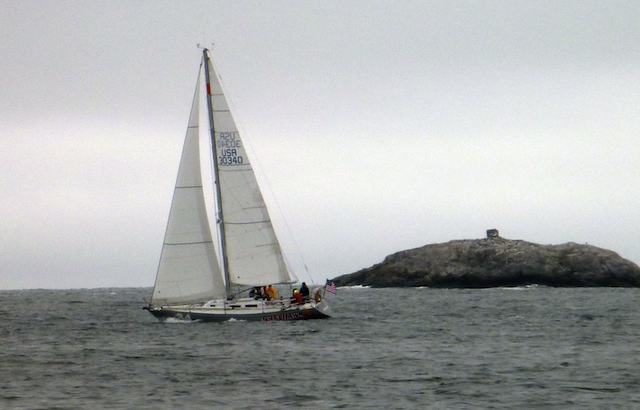 And the Crew (photos by John Turner):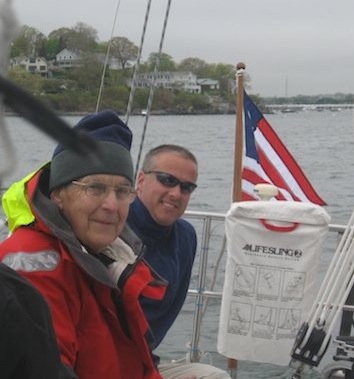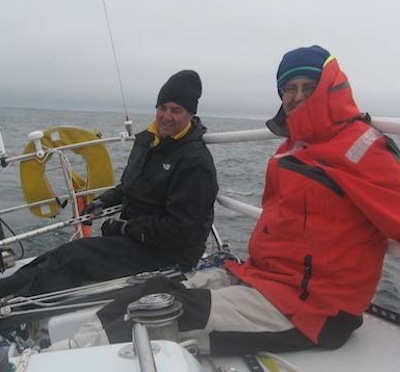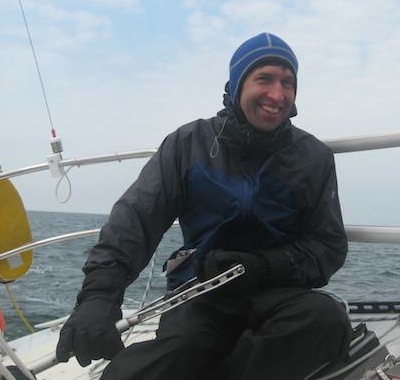 ---
Saturday, May 21, Wendy and I did go down to Newport and take the boat out for a spin. First we calibrated the Nexus HPC electronic compass, and then we went out sailing to practice Man Overboard manuevers. We realized that, as double-handers, if one of us went overboard the other would have to handle boat all by themselves, so that is how we practiced. We threw an old blue fender overboard -- blue so it wouldn't be all that visible against the blue water, so potentially hard to spot and find again, and then one of us would just sit and stay out of the way, while the other managed the boat. We were both able to get the boat back to the fender reasonably quickly, although it was very tough trying to stop the boat within a boat-hook's length of the fender. I had a hard time hooking the rope loop with the boat hook as the boat was slowly sailing by, so ended up making many many passes getting back to the fender before I was successful hooking it. Wendy was much better at hooking the fender, but had a little bit harder time getting the boat turned around quickly.
Wednesday, May 25, I went down to Newport to bring the boat in to the Newport Yacht Club for Safety Inspection. Guess what? GREYHAWK passed with flying colors!
I spent the rest of the afternoon fetching a new bottle of CNG, arranging for parking my car overnight (thank you NYC), and then after returning GREYHAWK to her mooring, attending to chores on board. I wove some light line as a netting or sorts between the toe rain and the lifelines from bow pulpit back to the mast -- this to help keep sails (and sailors) on the foredeck rather than have them blow or wash overboard through the lifelines. I also got the mast hardware for the reaching strut mounted, as well as a tack cleat for the storm trysail. I sorted through and re-arranged all my charts, and spent some time writing up this blog post, although I don't have internet access out here on the mooring.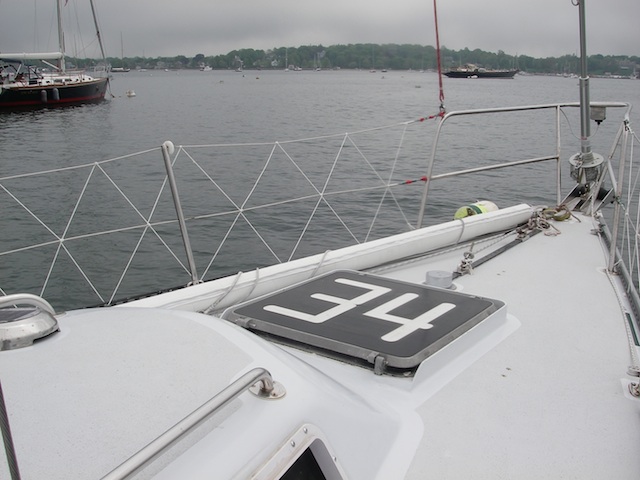 Thursday, May 26, the morning dawned to thick wet fog. I was supposed to have a professional compass adjuster come onboard to help make sure my compasses are pointing in the right direction, but with the fog, we wouldn't be able to see the ranges to line the boat up. So I spent the day attending to other chores, like reeving the messenger lines for the third reef on the mainsail (and putting reeving splices on both ends of the first reef line, which would be undone from the first reef and re-reeved for the third reef if the second reef wasn't going to be enough).
Countdown to the start of the Bermuda 1-2:
---
More Preparation Projects
To keep the stove from flying out of its mounts in a knockdown, my Dad made these bits: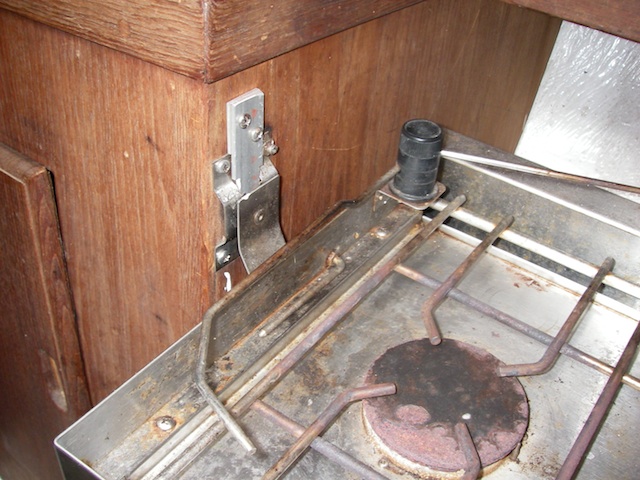 To keep my storage cubbies closed when heeling, and keep the contents of the cubbies insdie, I made up these turn-buttons: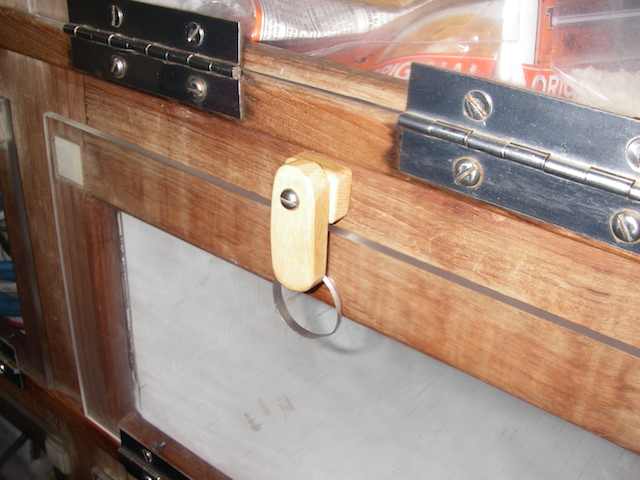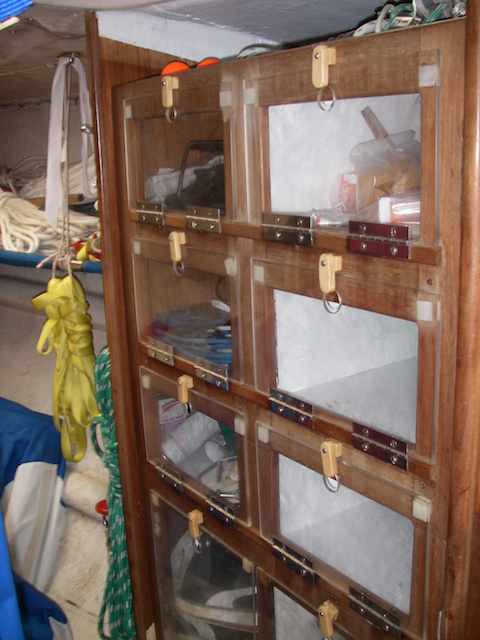 Here is my Chart Table / Navigation Station: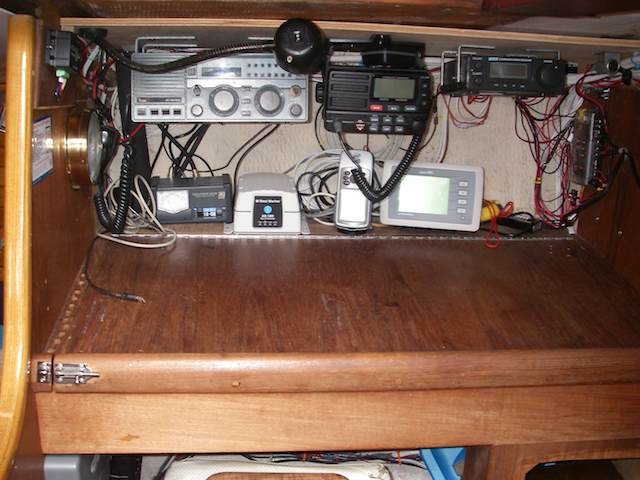 Want to know what all that stuff is? Here is the labelled version: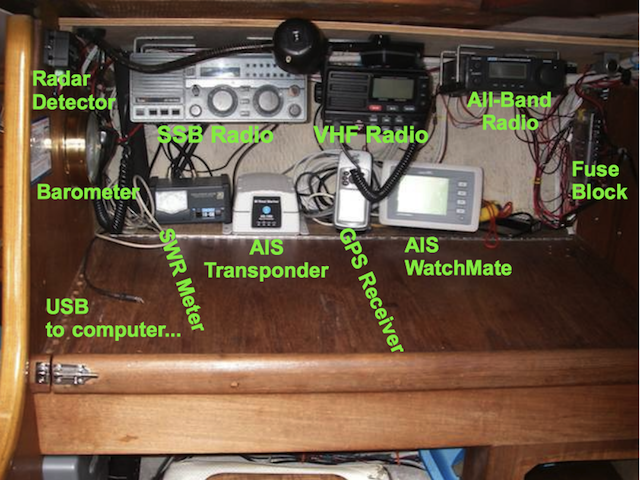 The Radar Detector is new this year. It's actually an "Active Radar Target Enhancer." When the antenna senses an incoming Radar signal it sends back an amplified reflection, enhancing the image of my boat on the other vessel's Radar screen. But it also lights an LED, and can sound an audible alarm, when it does so, thus also acting as a Radar detector! But the real reason for showing you the Nav Table is this: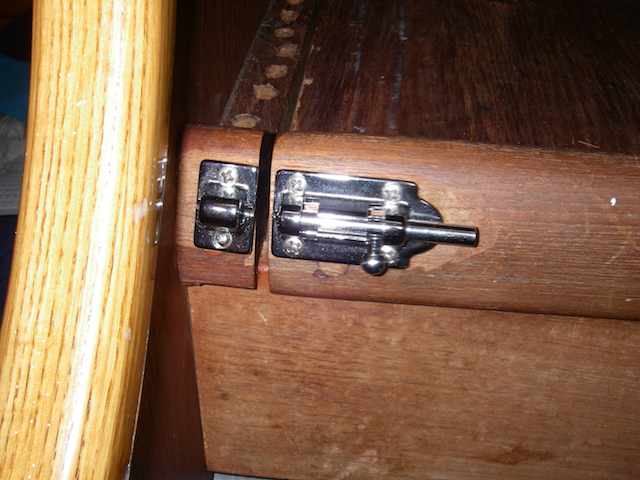 ...like with the stove and the cubbies, now I can keep the Chart Table shut (and all my charts safely inside) should I suffer a knock down.
Another requirement is that we must be able to lock the companionway hatch in place, in a way that is operable from both inside and outside. Here's our solution (a slide bolt custom made by my Dad):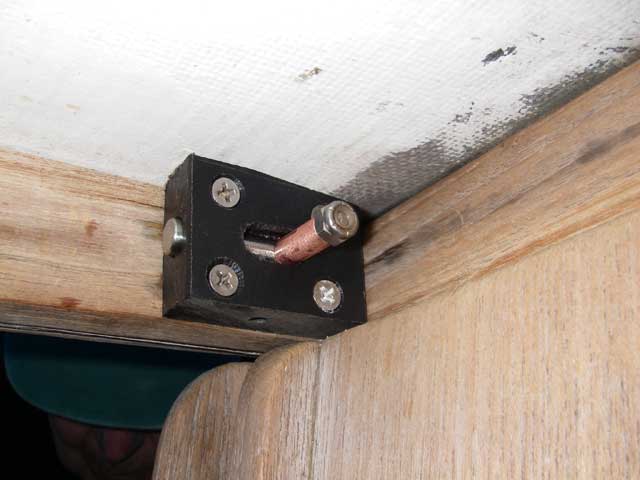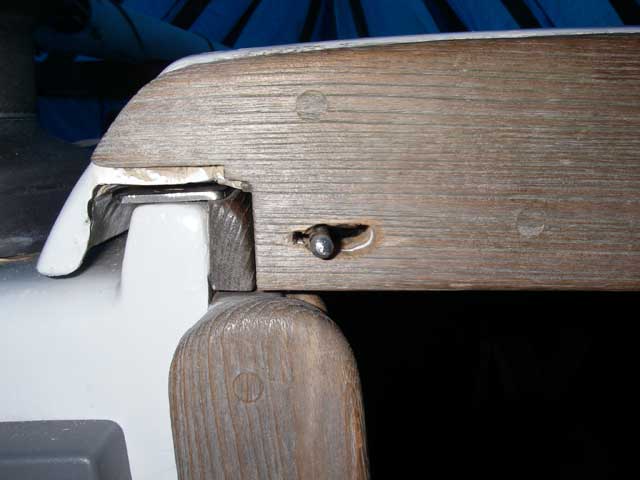 Finally, my Dad also made this emergency boarding ladder for me, in case I fall overboard, I can grab the handle (which would normally be left hanging over the side), pull hard to break the yarn ties, and the ladder will come down. The steps have brass plates inserted into the webbing to both weight them down and hold the steps open: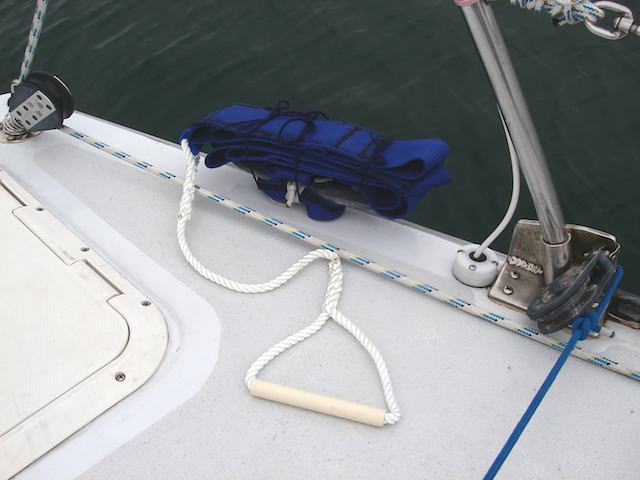 ---
Follow GREYHAWK in the Bermuda 1-2
If you would like to follow GREYHAWK in the Bermuda One-Two Yacht Race coming up soon, I have created a mailing list for keeping you all informed of my progress, "greyhawkupdates@thorpeallen.net." I hope to send out an e-mail update daily from the boat by satellite phone, and using the mailing list means I only need to send the e-mail to just one address rather than 50!
To subscribe to the list, please visit: http://thorpeallen.net/mailman/listinfo/greyhawkupdates_thorpeallen.net
All of the boats in the race will be equipped with satellite tracking devices, so you can follow the race at: http://www.iboattrack.com/racetracking.html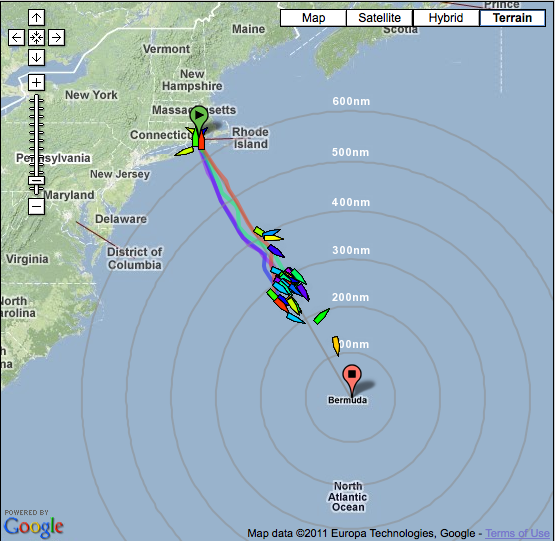 screen shot of the iBoat Tracker from the 2009 Bermuda 1-2 race.
Updates and results will be posted throughout the event at: http://www.bermuda1-2.org/
You might also find news and updates on the "Front Page" at Sailing Anarchy -- http://www.sailinganarchy.com/ -- and/or in the 2011 Bermuda 1-2 thread on the SA Ocean Racing Forum at: http://forums.sailinganarchy.com/index.php?showtopic=121588&st=29
My employer, Keene State College, might also be posting updates at: http://sites.keene.edu/newsline/
You can read about my preparations leading up to the race on my "blog" at: http://sailing.thorpeallen.net/Greyhawk/
I will be using a special e-mail address to communicate from the boat. Do not reply to it unless you must, as my satellite connection is both very slow and very expensive. Please consider sending me an SMS text message instead (those are free) -- see below. If you must reply to my e-mail, don't quote me in your reply, keep your message brief, and definitely do not attach any files or embed any images (watch out for signatures!)
If you want to contact me during the race or send words of encouragement, you can send SMS text messages of 160 characters or less by e-mail to 881622483078@msg.iridium.com These are free! (Please note that I cannot accept "outside assistance" in the form of special information that might help me in the race, such as private weather forecasts.)
Do not call the satellite phone -- first, it is very expensive, for you (especially) and for me; second, I generally will not have the phone turned on, so you'll just get voice mail anyway. Instead just send a SMS text message by e-mail as above (those are free).
General e-mails can be sent to greyhawk@thorpeallen.net (aka tim@sailing.thorpeallen.net -- they are the same) -- I will be using that address before the race, while in Bermuda, and after we finish back in Newport.
PLEASE NOTE: if you do not get a daily e-mail from me, DO NOT PANIC! There may be lots of reasons why I was not able to get an e-mail off -- too busy sailing the boat, bad sat phone connection, computer problems, etc... Also, there are lots of reasons why the iboat tracker might not update.