Boatyard | Greyhawk | latest | next | 2011-06 | previous | oldest
GREYHAWK's Sailing Adventures
June 2011
My e-mails sent from the boat via Satellite phone are available in a list archive and reproduced below:
Thu Jun 2 18:11:59 EDT 2011 -- Pre-race from Newport
In his article previewing the Bermuda 1-2 on Sailing Anarchy last week, Jon Greene tagged me as a new skipper to watch -- one who "shows all the signs of a guy ready, willing and able to win."
Yeah, right...
While it's true we've had some modest success racing our old boat up in Maine, and I do have several thousands of miles of offshore sailing experience, the fact is that I can count on one hand (with a finger left over) the number of times that I have taken GREYHAWK out sailing single-handed, solo, all by myself.... One of those sails was just this morning!
So in some important ways, racing to Bermuda single-handed is a big step up from what I've done in the past. A bit daunting I guess, but for some of the old hands at this race, "it's just another boat trip to Bermuda..." I find it best in cases like this to set low expectations -- that way it's easier to exceed them! My goal for this race is simply to sail the course in good style and get to Bermuda in one piece. Not finishing last would be nice, and a podium finish would be incredible, but just finishing will be the real treat.
There are 6 boats in Class 3, and Greyhawk is the scratch boat, meaning that I am the fastest rated boat in the class. This means that I should (theoretically) be sailing ahead of the other boats in the class (hopefully you'll see that on the tracker!), but I owe all of them time so I have to make sure that I am far enough ahead if I am to win. If the race takes me 120 hours (5 days), it looks like I will have to finish more than an 70 minutes ahead of Beau Blue, 2-1/2 hours ahead of Agressive, 3 hours ahead of Cordelia and Palangi, and over 4 hours ahead of Island Girl in order to beat them.
The first boats to start (Class 1) will cross the line at 11:00 tomorrow. Class 3 will start at 11:20. The iBoat trackers supposedly went live this afternoon, so you should now be able to see all the boats hanging out in Newport. The mooring I am on is pretty far away from the NYC, so you should be able to pick me out from the rest of the fleet pretty easily.
From the weather briefing at the skipper's meeting this afternoon, it appears that we should have north-west winds much of the way, so it will be largely a downwind run along the rhumb line. The Jet Stream in going to be stalled in a deep trough, with the west limb right over the race course, pinned by a blocking high in the north Atlantic. But the upper level winds are converging, which has the potential to drive gusts down to the surface. It's pretty gusty here now, blowing a bit over 20 knots -- hopefully this will settle down over the next day -- that'll make it a bit easier running under my big masthead symmetrical spinnakers.... The Gulf Stream is setting up to be just a cross current perpendicular to the rhumb line, with an opportunity for a push from a favorable meander after we've crossed the main belt of the stream. There doesn't appear to be much advantage right now to deviating far from the rhumb line. (Of course all this will change for the race back to Newport in two weeks....)
That's it for now.
Best,
Tim Allen
GREYHAWK
Fri Jun 3 19:29:06 EDT 2011 -- 6 (now 7) hours into the race
6 Hours Into this race:
It was beautiful sailing recentyl, in about 8 knots of wind from the SSW, 1 to 2 foot seas, sunny skies, warm... but the breeze appears to be dieing once again.
Looking at my AIS, I see Flying Turtle about 7 miles ahead, Toothface about 5 miles off my starboard, with Sola Fide close behind them. Lots of other sails further behind them off to the west, but they are not showing up on AIS... looks like a white speck of a sail way off in the distance to the North East.
Wait a sec -- Flying Turtle ( PHRF 51)? Toothface (PHRF -9)? Sola Fida (PHRF 55)? What the heck? How did I get up here, especially with all the clusterfucks I had today!
Let's back up to the morning before the start. During breakfast at the club, we were all surprised to see big changes in the Gulf Stream -- the current flow models based
sorry about that -- wind shift -- not a good one either, but not sure what I can do about it -- light and variable right now.
The gulf stream current flow model based on altimetry of the sea surfaces showed this morning that the big meander bend up to the NE has been cut off. So we now have a large cold-core eddy (counter clockwise circulation) and a newly forming warm-core eddy (clockwise circulation) north of what is now the stream, forming paired system of votices with adverse current expected right along the rhumb line! So west is best... cut through the middle (more or less) of cold-core eddy, and pick up the main body of the stream south of it.
So I get back to the boat after breakfast and tape my computer down to the nav table, plug in the instruments and start up my charting program. No GPS signal. No instruments signal. No AIS signal.
Ok the wind shifted back a bit, so we're headed in a better direction now.
Back to the story. It turns out that I swapped in a new computer since delivering the boat down 3 weeks ago, and this one doesn't have the right drivers for the Serial to USB adapters. Not sure I can download the right drivers over the Iridium so maybe I'll just go back to plotting my position manually.
It was blowing 20 knots in Newport this morning, cold and clear. I hoist the main on the mooring, put away the lazy jacks, and cast off. With the engine assisting, we sail out to the start area. It's really blowing out there, so I put a reef in the main. Eventually I shut the engine off and continue to sail about under reefed main alone. Class 1 is off.... now Class 2 is off -- that's the warning signal for my class, so I start the timer. The start line is set as a reaching start (line parallel to the wind, with the boat end favored). I sail down to the line -- 5 minutes to go, tack around and sail back, turn around again with 2 minutes to go. All of a sudden the rest of the class shows up, and they're ahead of me! I roll out the genoa just before crossing the line and work my way to windward of the rest of the class. We get around Castle Hill
another wind shift, this time with increased velocity; I have tacked onto port and am back on course and moving again
....and head into RI sound. The rest of the class appears to break left to follow the rhumb line, but under Main and Jib, I continue straight ahead getting my spinnaker ready.
This year I invested in an ATN sock, into which I loaded my 1.5 ounce chute. But I guess there are some tricks to loading and then using these things, because I had a devil of a time getting the bell up. But it's up, the chute is drawing well, and we're flying ...bye bye y'all. I catch up to Adhara (Class 2) and pass him, with Ariana in my sights, the wind is shifting. I gybe onto port (what's happening to the NW wind that we were supposed to have all day and into the night?). The 1.5 oz. sail just won't stay full, so I get ready to swap it out for the 0.5 oz sail. I'm going to do this bare-headed, so I pull the bell down on the ATN sock (! guess there are some tricks to that, too.) Becuase I had gybed, I blew the sheet off the clew and pulled the sock down to the tack on the pole. Ease the pole forward, release the tack, go back to release the halyard and drop the sock, but it won't budge. I tug and pull and it's not coming down!
Well I've got to get the other sail up and deal with this mess later, so I just tie the sock off to the base of the mast and set up to use my other spin halyard. Hook up the corners of the sail and hoist away, but how come it won't go all the way up? Go forward to see what's going on and realize I've hooked the sail up sideways! So I drop it on deck again, unclip the two corners that were mixed up, make sure I've got them sorted properly, hook 'em up and hoist again. This time we're good to go, but gawd this old sail looks awful, and I bet it's just a sieve to the wind, too. But the wind soon dies and heads us, so down with this sail and out with the genny. Unfortunately it just flogs around, so I roll it up and get out the light staysail "windseeker." It takes some doing getting it set up, finding a sheet for it, etc... and meanwhile the windex is doing pirouettes at the top of the mast, we have no steerage whatsoever, and the autopilot is having hissy fits. At one point, we were headed back to Newport -- well whatever it takes to get some way on so I can steer and get this boat going again!
But the windseeker does it's job and soon we're moving and the breeze is building again. Time to roll out the genoa, but -- oh s**t -- first I've got to relead the sheet, becuase it was on the wrong side when I set the staysail up.
Genoa out, staysail down, unhooked, rolled up and thrown down the companionway with the other sails. Oh yeah -- I almost forgot about the ...
Wind is up. time to take the genoa down and put up the jib. Back in a while.
OK, just as I got the sails on deck, it was time for "chat hour" so I put the change on hold. In the meantime, the wind has settled down and the genny is the right sail (for now). Changing down means going bare-headed for a while, or setting up the heavy staysail while changing the headsail. Not sure yet what is the best way.
So now that we're all up to date, It's time to file this report, and send in to the RC a list of all the boats I heard on the radio.
How again did I get up here? BTW, now it's 7 hours into the race (it took me an hour to write this....) We seem to be moving well now.
Time to make something for dinner.
More tomorrow sometime.
Tim Allen GREYHAWK
Sat Jun 4 07:45:55 EDT 2011 -- Beautiful Night
It was a beautiful and interesting night. Around 9:30, the brracket that connects my autopilot to the tiller broke! I reduced sail, got the boat back on course more or less, blanced and tied off the tiller while I scrounge around to see what I might have on board to fabricate a replacement bracket. Unfortunately I don't have a stockpile of metal scrap nor a machine shop on board. In the end I was able to cobble something together using the two pieces left over from the original bracket, my drill, a sail tie and a pair of vice-grip pliers. The new bracket is set up so that the autopilot ram hooks on from underneath, and so I needed a way to hold it up onto the upside down pin. Originally I tried tieing it up with light line, but it would fall off at the wrong moment. Vice Grips to the rescue -- they are now holding the end of the autopilot ram up onto the pin on the tiller, and we're good to go. But I sailed for a while under reduced sail and with just the tiller tied off while working this out, and trying to get some sleep so that I could think through the problem.
Now bright sunlight, light winds, somewhat variable ... it is pleasant, although I wish we were going a little faster. I can see four other boats in sight: Aggressive (in my class) ahead, and Ariana and Adhara (both class 2) behind.
Regards,
Tim
GREYHAWK
Sat Jun 4 19:45:21 EDT 2011 -- Day 2
Interesting day today, but haven't had time to write it up. And I realized that I never did finish telling you all my stories from Day 1....
Suffice to say that the wind went back NW this morning, 10 - 15 knots good spinnaker run on a sunny flat sea. Really interesting going from 58 degree water to 70 degree water in about 20 minutes as I entered the warm counter clockwise current around the cold core eddy north of the main gulf stream and west of the rhumb line. The water is a really nice color, too, but then you do have to watch out for those Portugese Man-o-War though. I think I am now back in the cooler core water of the eddy (68). This afternoon around 3 the wind came N and started blowing 18-22 knots and the seas built. My autopilot to tiller jury rig is not totally reliable so I ended up heaving to to take down the kite and get everything sorted. Then went off on full main and heavy staysail, did a chicken gybe after going the wrong way for too long, and now have the genoa out. I did a fair bit of hand steering today, but now conditions have moderated somewhat so the autopilot is managing. I'm cutting across the cold-core eddy and hoping to pick up some current aimed directly towards Bermuda in the main Gulf Stream.
Still a long way to go, but we're making progress!
Tim Allen
GREYHAWK
Atlantic Ocean
Sun Jun 5 08:29:44 EDT 2011 -- Loosing Ground
Last night I went to a double reefed main and the heavy staysail. At one point I saw 28 knots of wind. Later on it was just weird, with the winds ranging from 10 to 20 over very short distances/times. I have been doing a lot of manual steering because my autopilot just doesnt' seem up to some of the challenges, and I can't get the boat to steer itself on the points of sail I need to go in. If I had something else I needed to do, like record in the log, the best I could do was to tie off the tiller and let the boat luff up. I contemplated heaving to for a while to try to get some sleep, but I was fore-reaching away from Bermuda on both tacks, so I gave that up, and instead worked on developing the ability to sleep while helming -- I'll let you know when I have perfected the ability, but it involves training your muscles and your senses to steer to boat by instinct independent of your brain, so you can sleep while still helming,,,,
Out of sheer exhaustion, I made another attempt with the autopilot, and right now it is working OK, but it still has a tendency to get jammed when it drives the push rod out to the extreme, causing the boat to round down (or up) into an auto gybe (or auto tack), whcih is a royal pain. Or sometimes we just get the dreaded "MOT STALL" error.
I have decided that the best solution to fixing a problematic self-steering mechanism is to have someone else aboard who can steer for you while your fixing the thing (or doing whatever else it is that needs doing). Unfortunately there is no one else aboard right now.
So I've got the genny rolled out, the staysail tied down on the foredeck, the reefs shaken out of the main, radio chat hour with the fleet is over, and I'm filing my reports. We're cruising along on a beam reach in 12 to 15 knots of breeze with lumpy 4 foot seas and some larger swells rolling through, pointed straight at Bermuda some 400 miles ahead. If I've positioned my self well (and can stay on it) hopefully I'll get a little push from a little dip in the gulf stream as I pass through.
Tim Allen
GREYHAWK
Sun Jun 5 20:37:34 EDT 2011 -- Through the Gulf Stream
25 knots of breeze from astern, following seas, and the current made for a fast passage. I picked a line that I think did pretty well in shooting me on towards Bermuda -- I just need the wind to clock around 20 degrees or so in oder to aim straigth for kitchen shoals. Hand steered all the way -- but had a couple good naps in the morning. The poor AP would never have been able to handle surfing at 12 knots..
Now down to just a single-reefed main for the night. AP seems to do OK. We're still making 6 to 7 knots. Aggressive and Palangi seem to be ahead, Cordelia behind. No one has heard from Beau Blue or Island Girl for a while, so I assume they are pretty far behind.
Today was very different from yesterday in another respect, in that except for one cargo ship I have not seen another vessell all day. Yesterday I sailed in company with Adhara, Ariana, and Agressive most of the day. Also saw several ships.
Mon Jun 6 13:22:46 CDT 2011 -- Monday June 6
Sick.... Last night the motion of the boat was rather uncomfortable. Being down bwlow trying to write e-mails didn't help matters. As is usually the case with me, if I just get it over with, I will feel better, or least different. And so what little food I had had to eat that day ended up all over the toe rail and life-line cusion. And I did feel different, ready to sleep. But first this leads me to something else I want to discuss - the difficulty of staying hydrated. I need to drink more. My pee seems more brown than yellow. So why is it that we get so dehydrated out here? Sure, the bright sun, the sweaty exertions of making sail changes, the pliometric exercises of steering and just holding on, but then there is this: the salt. Everything gets coated with salt, and I mean everythig. Salt, of course, attracts moisture, so everything is also damp. But all the salt also just draws the moisture right out of you. So here it is: despite all the water around, incredible heaping mounds of water, the ocean is really just a giant dessicator!
Sleep. Finally, some sleep. I sleep in the cockpit in my foulies, all harnessed up and ready to go. I do not trust my autopilot. I curl up on the cockpit sole, a few boat cushions strategically located. My feet, butt, and shoulders all braced against different walls. I wake in an hour or so, feeling a little better. There is nothing out there. The sky is largely overcast with clouds in different shades of gray, a few holes through which you could see the stars overhaed, and an inky black sea. The cockpit was eerily illuminated by the glow of the instruments, and the masthead tri-color. No other lights, just the occaisional white of a cresting wave, and the phosphorescent streamline coming off the rudder. There wasn't much for me to do but supervise the autopilot. So back to sleep, balled up in the corner of the cockpit.
Something is not right. The wind is different. The motion of the boat is different. What's that beeping? Autopilot "Mot Stall" alarm. I look back at the tiller and it is waving back and forth, the autopilot's pushrod having fallen off. This has happened before, I'll just clamp it back on. But when I get back there, it is clear that my whole jury-rig attachment assembly has fallen apart. Maybe I sheared on of the bolts? The wind and sea state are up, maybe beyond what I think the AP could handle anyway. I can hand steer until dawn, when then there might be enough light to see what I am doing, and when things might have settled down a bit. What time is it? 00:30 -- ok another four, five hours on the tiller -- I can do it. I have to do it. And so I did. It wasn't so bad. With just the main up (no headsail), I could steer deeper downwind and keep on course for Kitchen Shoals. We're moving pretty well, do we have some current with us?
Hey what's that? A light! Another vessel. And look, way off down there off to Starboard, _another_ light. Could it be Palangi and Aggressive? That would be so cool! How did I catch up to them? I'm able to steer depper? I have a fair current, and they have a foul one? The closer of the two appears to be on a converging course. As he approaches red turns to green. He passed behing me, maybe a 1/4 mile, and as he sails on, green turns to white. OK the other vessel, am I catching them? ...Must sleep... But the other vessel! ... concentrate, you're off course again! .... must sleeeep.... I catch myself doing the head bob. I try sitting to leeward -- maybe a different postion, using different muscles. No, that's no good -- pulling on the tiller is much better than pushing on it. I switch sides again. .... must sleep ... I set my kitchen timer for 5 minutes and stuff that down the front of my jacket. Repeat, repeat, repeat. Try sitting on the other side again. Look the sky looks like it is starting to lighten a bit. It will be dawn soon. I can hold on a little bit longer. Finally, I heave too, and inspect the wreckage. No, I didn't shear one of the bolts, rather the nut came loose until the bolt fell out. I found another nut and bolt, this time a nylock nut, put it all back together, tightened everything up good. Yeah, that'll do the trick.
Time to get moving again, so I roll out the genoa, and set off on a broad reach as close to the desired course as I can. The boat that passed behind me last night is now ahead of me. The other boat has disappeared. Chat Hour is coming up in another two hours, maybe I should run the engine for an hour to top up the batteries. I set my kitchen time for an hour, the engine roaring away pumping amps back into the battery, and I fall asleep on my scattered cushions on the cockpit sole.
I wake up and the timer is next to me on the cockpit sole, pointer at zero. I is not ringing. I look at my watch -- it's been 80 minutes! I shut it down. Peace and quiet, right? No! A sailing vessel at sea is an incredible caucophony of noise. The roar of your bow wave when you're charging alone. The hiss of the water as it rushes past the hull. The creak of the ladder where it rubs against the bulkead. The slat of the sail as it empties, followed by the pow, bang as it fills. The whirr-whirr, whirr-whirr of the autopilot motor as it drives the tiller back and forth, back and forth. Good to know that it is still working!
Radio chat hour comes up. I am able to make contacts with a few boats. The boat ahead of me is Tyger Tyger, the one that was off in the distance last night turns out to be Cordelia. So I didn't catch up to Palangi or Aggressive after all -- I was going slow again, even though I thought I was so clever and so fast. Sailing at night always seems so fast.
This is still a race, though. I still have a chance maybe to get in ahead of Cordelia at least, she's not that far ahead -- we still have about 200 miles to go... who knows what could happen between now and then.
Running wing-and-wing before 18 knots of breeze aimed right for the mark, and have had some good current boost, too. I know the wind and current won't last, but my GPS says the TTG (to Kitchen Shoals, the finishline at Mills Breaker Buoy is another couple miles further on) is less than 24 hours, as long as my WCV ("wicked cool velocity" aka "waypoint closure velocity") stays up in the 9's. I know it won't, but that is alright -- I am enjoying the sailing, the weather is pleasant, there is great cameraderie among the boats in the fleet.... it is still fun.
But if I ever do something like this again, you can be sure that my self-steering system(s) will be absolutely bullet proof (and redundant).
Tim Allen
GREYHAWK
35:23N, 66:30W
13:17 EDT June 6
Wed Jun 8 07:31:15 CDT 2011 -- Tuesday June 7 (Finish)
So I am now in St. George, Bermuda, anchored of the St. George's Dinghy and Sports Club, home for the Bermuda 1-2 fleet here in Bermuda
Last night (Monday night) I decided that I needed to put some petal to the metal and see what I could do to make a showing in this race. The days had been OK, but the previous three nights had basically been disasterous. The autopilot problems definitely spooked me, so I was pretty conservative, shortening sail and what not for the nights. But not tonight. I was determined to make ground on the boats I had been sailing with. For the most part, this has been a pretty breezy downwind race, with the winds often in the 20-25 knot range. For a neophyte single-hander with a sketchy autopilot situation, flying a spinnaker under those conditions, especially at night, isn't even on the radar screen. But that seemed to be the case across the fleet -- at least among the boats that were around me. So I had the genoa pole out to port, and would either run wing and wing dead down wind, or would gybe the main over to the port side as well, depending on the wind shifts. Gybing the main across in 25 knots single-handed requires a carefully orchestrated procedure, and I had it down. And so I worked those shifts, and gybed ever time it made any sense to do so -- every time, all night long. I was also chasing the counter clock-wise circulating current around a cold-core eddy south of the main Gulf Stream, that would help propel me to Bermuda. And so through the night I was able to work my way back ahead of Adhara and Cordelia.
By dawn today (Tuesday), there were three boats arrayed a mile or three behind me (Cordelia off to m left as I looked back, Adhara in the center, Bluebird to the right). How can I keep these gjys at bay? Bluebird and Adhara are not in my class, but Cordelia -- it's me or her for third place in class 3 -- A mile or three is not going to give me the time I need to beat her on corrected -- I need to open this up, and I've got about 90 miles or so left to do it. It's still blowing 20 knots, and still a bit lumpy, and we're all being conservative with our sail selection. As I look back, I realize this is all about waterline, and I ain't got it. They are all bigger than I am. I'm going to have to do _something_. Out gybing them isn't going to get me the distance I need. I decide that as soon as I see the first 15 on the TWS readout, I'm popping a chute. The 1/2 ounce is still needs drying, and it's an ugly old sail anyways, so if it gets a wrap or blows up, I just don't care. So I get everything rigged (hopefully those guys are too far back there to see what I am doing) and hoist the sail -- it's an hour glass! I puzzle at it for a long minute -- nope, there's no way it's going to untwist itself, so down it comes, ending up in a heap in the forward sail locker. I roll the genoa back out and continue on as if nothing ever happened -- hopefully nobody saw.. After getting something to eat and drink and regaining my composure, I decide to break out my 3/4 ounce spinnaker -- I _know_ this one is correctly packed (I've packed it many times). So out it comes, up it goes, roll in the genoa, get everything trimmed, and we are OFF. What -- A -- Ride! My other spinnakers have the same basic dimenions, but this one just has big shoulders or something that make it seem huge in comparison. It is of course about the size of a small house, around 1000 square feet.
The autopilot is doing OK a steering, but I find I need to actively trim the sail to keep us on our feet. No problem, I sit to weather sandwiched between the primary and secondary winches, one of which has the pole guy, the other the sheet (lead across the cockpit). I have to get up to reach the pole downhaul, but it's not bad. If I give just the right ease at just the right time, we would really take off surfing on a wave -- 8.5, 9.5, 10.5, now 11.5 knots I am sure it was all my expert trimming (yeah, right). I look back. We are pulling away from the other boats. OK, now it looks like Adhara has put up his big asymmetric. OK, I don't know what Bluebird is doing, but he seems like he is hanging in there. Cordelia has dropped behind, I can't really make her out -- is that a spinnaker she has finally put up? I can't really tell.
The wind is up, the wind is down, it shifts a bit ahead, the pole goes forward. There are clouds nearby, and the wind is up. The AP can't keep up anymore and the boar keeps rounding up. Punch the buttons to turn us downwind, ease the pole forward, grab my spike, run to the foredck (well if you can call it running when your're dragging the ball and chain of your safety tether up the jackline), spike the shackle a the tack, sail flys away, "run" back to the cockpit, switch my tether to a central clip, grab the sheet and bring the clew under the boom, throw the halyard clutch and start gathering the sail into the cockpit. Roll out the genoa and we're off again. I look back and Adhara has taken down his chute at the same time, deja vue from a couple of days ago. (Later I learn that he shrimped his kite and had a bear of a time getting it back on board -- this was a recurrent problem for a lot of the boats over the course of this race. I was lucky and never had more than a corner of a sail dragging in the water on a take down.)
As I approach Kitchen Shoals the wind is shifting back behind us, and its problematic keeping the jib filled. The autopilot is having a hard time, the waves throw us around and we round way up or way down. I releas the vice-grip pliers (two now) that are holding it all together and take over the steering myself. We've only got 15 miles to go. I let go the tiller and jump below to rummage through the chart table to get the two Bermuda charts I will need. Back to sailing. I'm gong to need something to write down my finish time with. Jump below a rummage up a pencil. Back to sailing. This pencil has no lead, so jump below and find my pen. Back to sailing. The wind angle is no good, I can't keep the jib filled. I try bringing it out on the other side to run wing and wing, but there is enough wave action that I can't keep it filled on that course either. If I head up to keep the sail filled, I'll run into the reefs. I'ld have to gybe the main over to bear off the other way, or I could try poling out the jib, but to do either of those things I need somebody to steer while I do the manuevers. I try hooking up the AP (which is a major chore), and instead of whir-whir I hear Grrr-Grrr. Uh Oh, I think this ram has finally given up the ghost. I just do the best I can to aim for Kitchen Shoals and then Mills buoy (which is the finish) line, taking some solace that I get to head up a bit going from Kitchen to Mills. This last bit just seems to take foreever, but I finally finish at 18:14. Pasttime was just ahead of me.
It turns out the worst part of the whole trip is getting the boat from the finish to Town Cut, the wind is up, it's built a small chop, and we're motor sailing into it, with spray flying, and of course all my hatches are open, my charts are getting soaked in the cockpit, I'm getting soaked. But we made it. Clear through customs, go anchor in front of the SGDSC. Adhara is right behind me, and looks for an anchor spot (I've taken the best one of course). Bluebird is behind him, and he also anchors with us. I hear on the radio that Cordelia has finished. It's not quite 2 hours since my finish. Unfortunately I don't think that will be quite enough time -- he'll probably correct out ahead of me, putting me fourth in class I think. Not last, and I've obviously beaten some Class 1 and Class 2 boats, too. The dockmaster comes out and gives us a ride in, tomorrow I'll have to inflate my dinhgy and get out my oars. We get shower tokens from the bar, and drink tickets from the Race Committee. The shower feels real good. The drink goes down easily. When we're all done the dockmaster gives us all a ride back to our boats. I started typing this up in my bunk but I fell asleep half-way through.
The boat is a mess. Up above the cockpit is a den of snakes. Down below there is stuff scattered everywhere. Today will be about cleaning up and drying out, rest and recovery, and swapping sea stories.
I am really looking forward to having Wendy join me here in Bermuda, and to having her sail with me in the race back. She's an awesome sailor and I think we make a pretty good team.
Regards,
Tim
Thu Jun 9 06:30:44 EDT 2011 -- Pictures
I've posted some pictures I took during the race, and pictures of my tiller pilot jury rig, on Greyhawk's website, here: http://sailing.thorpeallen.net/Greyhawk/2011-06/
Thanks for all the notes from everybody.
It is interesting to replay the race on the iBoat tracker to see where I was fast, and where I was slow. Definitely some of those nights were pretty slow.
But we have another leg to the race coming up -- a chance to make up for any shortcomings on the first part!
Regards,
Tim
---
Day 1, catching up to Class 2: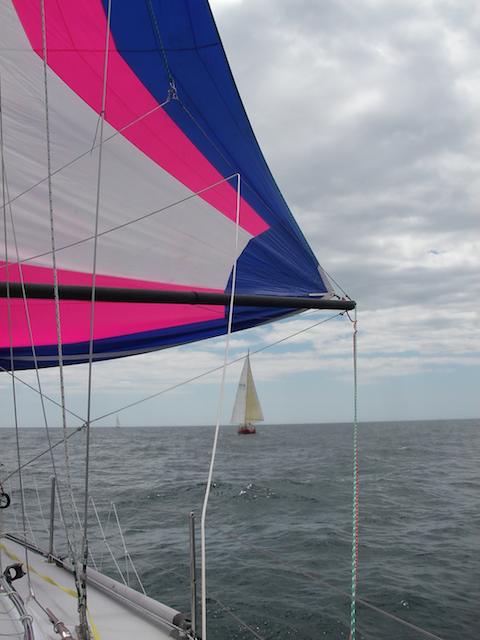 ADHARA and I sailed in sight of each other for much of the race: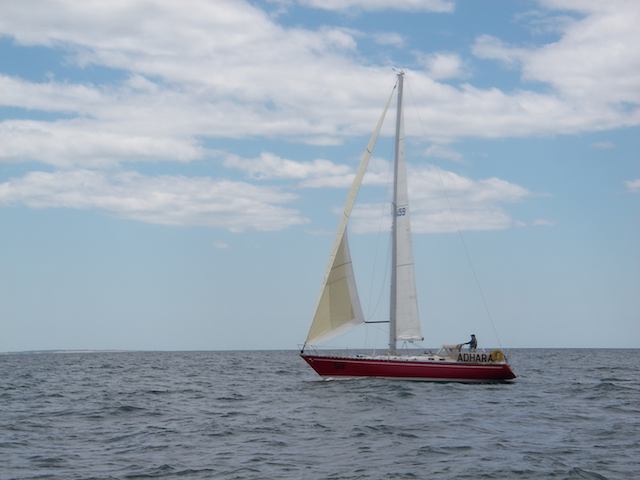 So here we are running wing and wing before 20 to 25 knots of wind: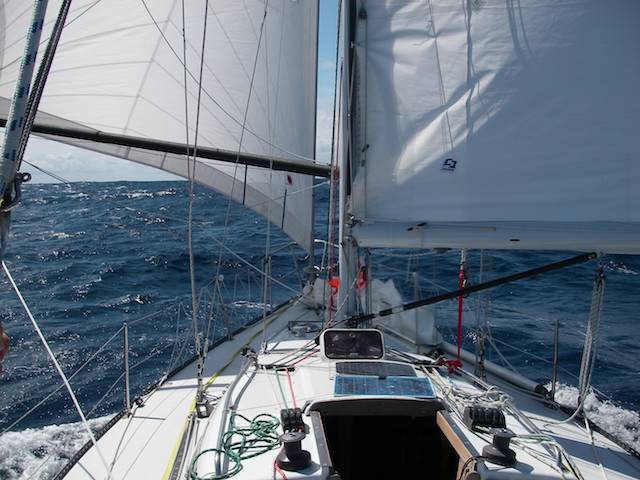 And here we are anchored off the St. Georges Dinghy and Sports Club in Bermuda:
---
My tiller pilot jury rig: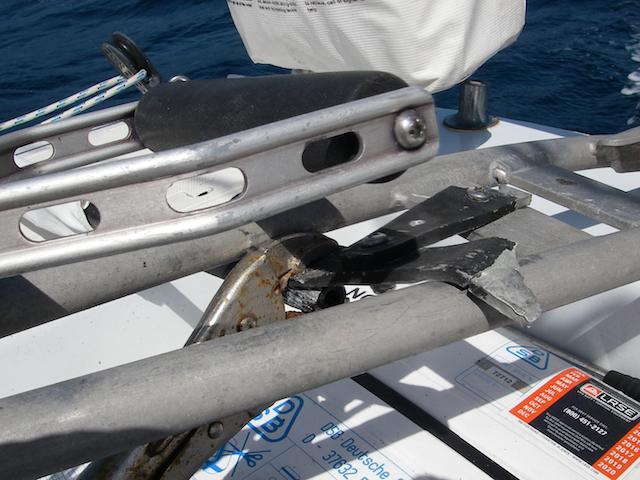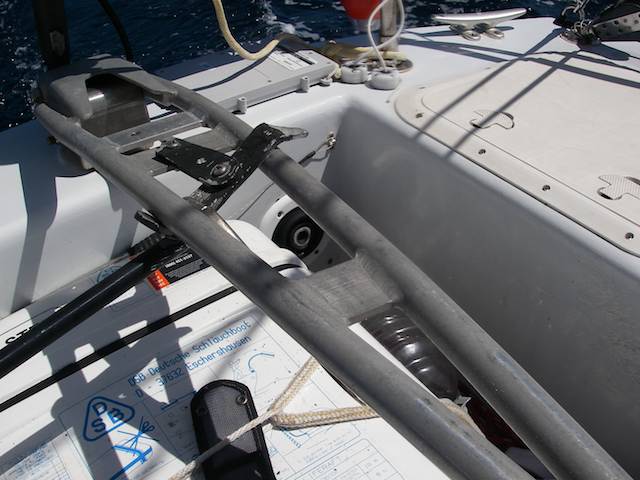 And from underneath: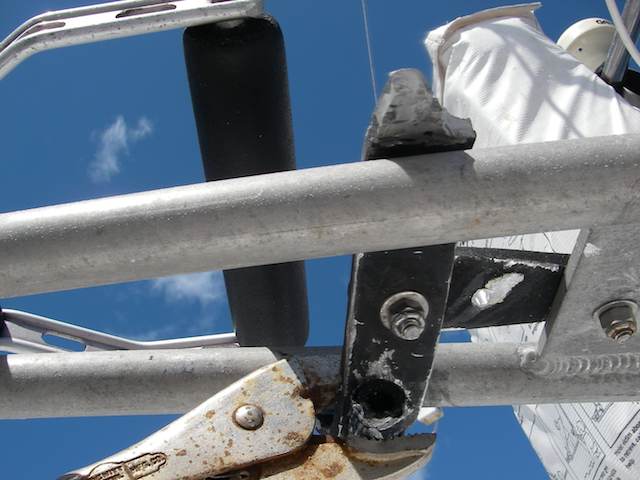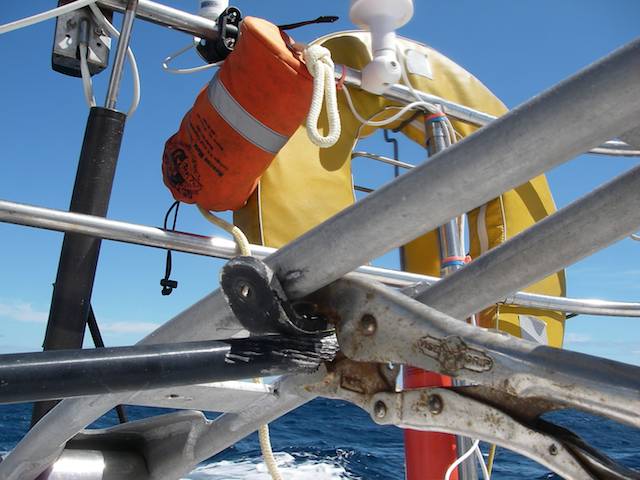 Originally, where you see the bolt with nylock nut, I had used the tiller pin pointed down, and held the pilot pushrod's tip up on that pin with some ties. But the ties would loosed up and the pushrod would fall off the pin. So I used the vice grip to clamp the pushrod on. The plastic tip that hooks on to the tiller pin eventually sheared off, so I just clamped the pushrod itself directly to the tiller as seen here. Eventually the nut on the tillerpin worked loose and the whole thing came apart.
As designed, the tillerpilot pushrod is supposed to pivot on the tiller pin. With my clamping arrangement there was no pivoting between the tiller and the pushrod, which had two effects -- One, the clamped joint worked a lot and the vice-grips would occaisionally fall off and I would have to restart everything (get the pushrod centered again by pushing buttons on the AP control, clamp it up, and then reprogram the AP, all while the wind and waves are pushing the boat around, so I had to work quick to prevent a round up or worse). Two, some of the stress of the non-pivoting joint must have been taken up in the bearings of the tiller-pilot pushrod.
Also, the manufacturer's installation instructions specify that the you install the ram to be horizontal. Most tillers are pivoted to swing up, so if the pushrod isn't horizontal it has a tendency to push the tiller UP as well as off to the side. So I had this problem with my jury-rig system, so I ran a tight line over the top of the tiller to hold it down.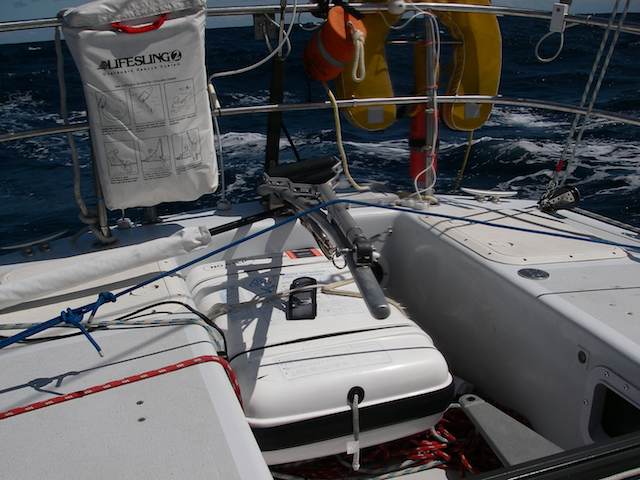 I have no complaints about the software or computer parts of the system, but when it comes to real boats on a real ocean, the mechanical bits seem to be nothing but a cheap toy.
---
Thu Jun 16 07:29:17 EDT 2011 -- Bermuda to Newport Double-Handed Race Preview
Hey everybody,
We're getting ready to start the race back to Newport from Bermuda beginning at 11:00 EDT, when the Class 1 boats will cross the line inside St. George Harbor (GREYHAWK in Class 3 will start at 11:20 EDT). We'll race out through the Town Cut, and then head off as best we can towards Newport, leaving the Mills Breaker, Kitchen Shoals, and Northeast Breaker to Port.
The wind forecast has the wind on the nose and going light for this first part of the race, eventually filling in strongly from the southwest as we're approaching the Gulf Stream, but probably going light again as we straggle back in towards Newport. Our analysis of Gulf Stream currents suggests a head current right on the rhumb line for most of the first half of the race, so the question of the evening is, take a flyer well to the east in search of favorable currents around eddies and meanders, or how far west do we have to work to get out of the head current and possibly pick up a favorable counter current? The wind filling in from the SW suggests the western side of the course will be favored, but to get there will involve sailing to windward in light air and bad current. Who will be able to do that well?
Although the boats raced down here to Bermuda singlehanded, we'll be racing back double-handed. As the new crew have been arriving, the dynamic at the Dinghy Club has been really interesting as everyone has been scoping out the competition all over again. There are quite a few husband-wife and father-daughter teams. My double-handed partner, my wife Wendy, is a great sailor, quite athletic, and very competitive. It will be a whole new race back to Newport!
One of the things everybody likes to do in Bermuda is to rent scooters to get around. But every year it seems somebody has a scooter accident that impacts the race. Unfortunately, Dave Sherman on Palangi, who finished first in Class 3 and second in fleet after the first leg, will be flying home instead of racing back with us...
Tuesday night was the awards ceremony for the single-handed leg. Greyhawk won the Goat Island Yacht Club Commodore's Cup for the best singlehanded leg corrected time finish for a first time entrant. We were also surprised to win the St. George's Dinghy and Sports Club Crystal Catfish Trophy, in recognition of my auto-pilot jury-rig efforts. Quite a treat!
Now to download the latest weather and gulf stream data, and then row out to the boat and prepare to cast off....
Regards,
Tim and Wendy
Thu Jun 16 19:38:48 EDT 2011 -- (no subject)
Well here we are .. aimed for Halifax. Cordelia is headed for Spain. They just can point with the rest of us, and for the most part the rest of Class 3 can't quite point with us on GREYHAWK, although Beau Blue is close. They say we must have mermaids dragging us up to windward. But up ahead in Class 1, I hear that it is Resolute that is the windward boat. The leeward boats are starting to encounter a foul current that appears to be associated with a cold-core eddy south of the Gulf Stream. We're hoping for the wind to clock and give us a header so that we can tack away, but so far we've had more lifts than headers. We started out in 15 knots of wind, but it has been moderating now in late afternoon/evening. The wind waves are down, but there is a short period swell that is making things a bit lumpy now. All in all it has been a beautiful sunny day and pleasant sailing. Wendy describes the color of the water as aqua-navy. We were taking turns hand-steering most of the afternoon, but now Otto is doing a fine job (thanks to the beefy new bracket).
All the best from GREYHAWK out here in the Atlantic Ocean
Fri Jun 17 07:21:23 EDT 2011 -- No Wind
Last night and this morning, we were making as much progress back towards Bermuda or towards South Carolina as we were towards Halifax. In any case, we were not making much progress towards Newport! There was very little wind, and miscellaneous current, and we were left hunting and pecking. With the sunrise came a nice gentle breeze of 6 to 7 knots that allowed us to make way on our course, but as the sun climbs higher, that is now gone and we are left bobbing along as best we can. But it seems most of the rest of Class 3 is in a similar situation, and we are still ahead of Aggressive, Beau Blue, and Island Girl, Cordelia is well to the east and must be in different wind and current than the rest of us...
Fri Jun 17 19:51:14 EDT 2011 -- Slow Progress
We did get some wind today, a little bit, and we've been reaching or running under spinnaker most of the day. Looking at the latest position reports, it may seem like we're falling behind, but it is all part of our strategy....
uh huh, that's it.
No really, we've been trying to get west to stay out of the gulf stream currents that are running down right along the rhumb line, and so far the currents we've seen and what's been reported by others all seem to be in congruence with our analysis of the available data, and so we're sticking to our game plan and hoping that it pays off.
If you're following our track on iboat, you probably see some jogs where we first put up the spinnaker and took off, or where a wind shift forces us to go one way or another, and periods of acceleration when we're able to reach up. But today's track should look a lot better than last night's! Aggressive described the cookie-crumb trail on his GPS plotter screen as a perfect dollar sign! He said he took a picture of it. I don't think we drew any dollars signs (or hearts or turtles) on the ocean with our track last night, but definitely some switchbacks and maybe a loop-de-loop...
We did have some dolphins visit us earlier in the day. It was very cool to see them swimming in the very clear blue water down below the boat, as well as surfacing next to us.
As evening settles, we're hoping that there will be enough wind through the night to keep going with the spinnaker. The chat on the radio, though, is about Herb Hillenberg's forecast of possible gale force winds by Sunday evening for the Gulf Stream region... The other forecasts we have do suggest strong winds (20-25 knots) on a beam reach in another day or two, but we would prefer it not be a gale...
We do appreciate the short notes of encouragement that people have sent to us at 881622483078 at msg.iridium.com, the free SMS text messaging service that comes with our sat phone.
Regards,
Wendy and Tim
GREYHAWK
Sat Jun 18 07:30:33 EDT 2011 -- Another Beautiful Night
Stars overhead, succeeded by a nearly full moon, clouds around but not over us. We continued under spinnaker until about 3:30 this morning, and are now jib reaching at near hull speed in 15 knots of wind from the SSW, having logged over 60 miles since sending out our last update. Right now we are experiencing a warm current of 2+ knots headed SW, so perpendicular to our course -- but this is all part of our plan, we're right where we want to be; the boats to our east are experiencing a continuous head current and are having to dodge squalls and the like.
Keep those text messages short! Lucy walked w ??? We assume Tahoe. Rick's message ended with "Thanks for the explanations. Did"....
Tim and Wendy on Greyhawk
Sun Jun 19 08:29:27 EDT 2011 -- (no subject)
HI all,
Wendy here, Tim is finding it hard to be below, motion wise, I understand we will see how long I last. Please forgive typos I may not fix them.
We have been moving along on a reach since yesterday - 6-8 knots! Our main is reefed. last night 11 ish we reefed the jib. it slowed us down a knot, but made it less scary. It amases me how fast we are moving through the water.
It's been wet ride. A wave (6-10 ft. seas) comes up the side every 15 30 minutes- it's a warm wave.
I just talked to Aggressive, sounds like were have made some time. He says it will be a drag race to Newport.
I'm wondering how Cordilia is doing, we did not download any information last night.
Tim had a flying fish join our crew from the windward side last night. After figuring out what it was,he was able to toss it back - this is doublehanded not triple.
Right now we are in the middle of the Gulf Stream, current now more with us than against us. The auto helm is generally working well, we do have a hold-down line across the top of the tiller though.
To quote Gail " Fly Greyhawk Fly!"
Wendy & Tim
Mon Jun 20 08:23:08 EDT 2011 -- Through the Gulf Stream
Just as we were in the max current of the Gulf Stream, 81F water moving at 4 knots or more to the ENE, we encountered one of the Gulf Stream's infamous thunder squalls. Boy oh Boy was it impressive. Raining buckets, and I mean buckets. Lightning all around (fortunately we didn't take a strike). Winds gusting up to 35 or more knots. We struggled to get the sails in but keep the boat moving. We can't stay on course and bear off to the east a bit. Eventually the wind settles down, the lightning and thunder fade away, slowly the rain diminishes. This squall appears to be associated with a frontal boundary sweeping around the Low that was dragging with it all the SW and SSW winds we've had for the last day or two. Now the wind has shifted to NW, and we adjust our course and sails for it, continuing to make tracks for Newport. But as we sail on, the wind veers back SW.
We have clearly sailed out of the Gulf Stream, over the north wall, big decline in temperature to 72F. The seas have flattened out significantly. We have picked up another positive current this time from the cold-core eddy that is north of the stream. With the moderate winds from just abaft the beam, we decide to try a spinnaker. Up it goes, but our increased speed brings the apparent wind forward and we can't keep our course to Newport, so we bear off a bit -- the forecast has the winds shifting to NE so moving more easterly should be OK. With the spinnaker up, we follow the wind around, making good speed but getting progressively farther from our desired course. The winds have been clocking ahead. So we drop the chute, and set off close-hauled on port tack back more or less on course. The winds continue to clock around, and again we end up sailing progressively further east from our desired course. I have just made dinner, and I would like Wendy to have a chance to eat her share while it is still hot. I take the tiller but realize that we really need to tack. Eat fast Wen. She says let just do it, it won't take long to tack, and puts her dish down. We tack, she takes a few more bites, but now the wind has filled in fairly strongly. We need to trim the outhaul, backstay, halyards. Wendy decides she has had enough to eat and takes the tiller so I can do all the trimming. The true wind speed is only 14 or 15 knots, but we are close hauled and moving fast with this current, so the apparent wind speed is much higher, and the rail is in the water. We decide to put a reef in the main. The boat is still sailing on her ear, but we are making good speed. Wendy goes below, she has not had a nap all day. But within the hour, the wind has picked up to 18 or so. I decide to set up the inner forestay and staysail just in case. I tell Wendy my plan, and that she doesn't have to get up, but she decides she needs to watch to make sure I don't get washed off the foredeck.The foredeck light goes on (it's dark now) and I crawl up there with both long and short tethers clipped, brace my feet against the toe rail and spinnaker pole, loop my arm through the bow pulpit, and struggle to get the inner forestay lined up, pinned, and the hyfield lever thrown, while getting doused with each wave crashing over the bow. I crawl back and ask Wendy to send up the staysail. I crawl forward again and somehow get the sail out of its bag, hanked on to the stay, and tied off to the lifelines, without it or me getting washed off the deck. I crawl back. The next thing I need are the sheets. I crawl forward with those, get them tied off and lead through the blocks, but by now the wind has eased back to 14 or 15 -- after all that work! -- so we leave the staysail lashed down and continue on under genoa. Wendy goes back to bed, although she complains of having trouble falling to sleep -- she's not comfortable with the boat being so much on its ear, the bashing to weather jumping through the waves like a flying fish, all the strange creaking and whining noises...
As I stand watch, the wind eventually picks up to 18+ again, so I crawl forward to clip the halyard to the staysail and remove the sail ties. Crawl back and roll in the genoa, hoist the staysail, get it trimmed, and we're off again still moving very fast, but not quite so much on our ear. Wendy is able to sleep. The wind varies from 18 to 22 -- if it goes higher I contemplate puttng a second reef in the main, but we're OK for now, and making tracks -- our WCV is generally well over 7 knots! Let's see, about 230 miles to go, at 7 knots, we'll be in Newport in no time -- if this keeps up... It does through most of the night. But it is wet and cold. Wendy doesn't want to go up. I tell her to stay in bed, I am already all wet, I've got it covered.There's nothing to do but periodically check that we're on course and that the telltales are flying. Occasionally I punch the autopilot up or down a few degrees to keep us on the shortest path to Newport. Our success in playing the Gulf Stream currents and pressing the sail has put us a few miles ahead of Aggressive (our competition), and we want to stay there, stretch it out if we can. I cuddle up in a corner of the cockpit trying to get out of the wind, but I just get wetter. I go below and put on more layers. Still I can't keep warm. I finally settle on going below and standing by the ladder, periodically sliding the hatch and popping my head up. Sitting on the companionway sill with the hatch slid closed into my lap isn't too too bad, it's just my shoulders and head that are exposed. I am envious of boats with dodgers. Heck, some coamings to keep the water from sluicing into the cockpit would be nice, too. It is getting light to the east, dawn will soon be upon us. The wind is easing a bit. Finally, I tell Wendy, it's your turn -- it's getting light and is not so scary anymore. She suits up and comes up. I go below and strip off all my wet gear, jump into the bunk, pull a blanket over myself and fall asleep.
Two hours later, Wendy calls me up -- she is trying to shake the reef in the main and can't get it to go up. I struggle out of bed, and pop up in the companionway to grind the winch for her. I see that she has already rolled out the genoa and struck the staysail. The reason the sail won't go up is because both reefing lines were pulled in and so both clutches need to be opened. I grind, Wendy tails, and the sail goes up. Wendy thanks me, not just for helping shake the reef.
I am up, so I download the latest position report and weather files. Aggressive is only a mile or so behind! The winds are going to get light and shifty as the day goes on, and when we eventually finish this race it will probably be on the opposite tack. Cordelia is well ahead, but her speed suggests that she may already be experiencing the coming light conditions. OK, well the computer is open and I've got the sat phone hooked up, so why don't I finish writing the update I had started yesterday? And so here we are. We can see Aggressive off our port quarter -- the first time that we have seen another boat in the race for days (we did encounter a boat with the Marion to Bermuda race, and I saw a few others on the AIS as well that I recognized from having raced against them in the Lobster Run last year). As the wind gets lighter, I don't know if we can still call this a drag race to the finish, but we will have to work hard to keep the boat moving and on course to stay ahead. We still have a long way to go -- 159 miles or so -- another night at least, but hopefully we'll finish sometime on Tuesday (fingers crossed).
Tim and Wendy on GREYHAWK
Mon Jun 20 17:41:31 EDT 2011 -- Bobbing Along
Today has been quite different from the last few days and nights -- sunny, gentle breeze (or no breeze), calm seas - just enough swell to rock the boat and cause the sails to slat maddeningly. But it's warm and a chance to open hatches, air out the boat, dry our wet gear, and attend to other house keeping. Aggressive is on the horizon off our port quarter behind us, moving about as slowly as we are. We have been using all our light-air tricks, to good effect when we had 2 to 4 knots of wind. But now there is zero. At least we continue to drift in the right direction -- I think we're still catching a positive current from the cold-core eddy north of the stream.
We've seen a number of ships traverse the area. But the most exciting thing was coming up on a family of whales bobbing along the surface. At first we couldn't make out what it was -- one whale? A school of dolphins? There were small blows, too big for a dolphin, but not big enough for a whale? There were several distinct humps that would rise out of the water simultaneously -- were the all attached to one big creature (and if so, what was it's orientation?), or were they separate animals? As we drifted closer it was clear there were several distinct animals. One of them, probably the largest, raised its square-ish head (could it have been a sperm whale?) and then dove showing us it's tail and flukes. A moment later it rose up out of the water a litte further off and came down with a big splash, breaching as if just to show off for us. The other humps were individual smaller whales who swam off after the bigger one without too much show, but what a truly incredible site!
The wind has shifted and we're now on port tack The cloud cover to the west suggests a warm front moving in. We're getting close enough that we can start to pick up NOAA weather broadcasts on the VHF, as well as the USCG talking to distressed boaters. Unfortunately, our cockpit mic has bitten the dust -- too much salt water -- and I'm not sure I can resurrect it. Other damages include a tear to our big 3/4 ounce spinnaker during the takedown yesterday, and the tail piece of the windex arrow broke off in yesterday's thunderstorm. Although it would just be doing pirouettes right now, we could use it in this light air. Now what's left of the arrow just points to the direction in which the boat is heeling... Fortunately none of our other electronics suffered any damage from lightning or other, and we do still have our Nexus wind instrument to keep us clued in.
Just under 132 miles to go; the weather gribs suggest we will have some wind -- not much but some -- now that we've gone through most of the shift. Let's hope. 5 knots would be nice -- we could really do a lot with that.
We'll get there eventually!
Tim and Wendy
Tue Jun 21 06:41:39 EDT 2011 -- Fickle Winds
Fickle winds -- that sums up last night.
What happens when a bird flaps its wings? It flies, right? Well I don't know if you would call it flying, but this old bird Greyhawk does seem to propel herself along when the sea causes her to flap her wings. We always had just enough water flowing over the rudder that the autopilot was able to keep the boat aligned to the desired magnetic heading. Of course, the direction the boat is headed has no relation to the direction the boat is actually moving. Fortunately we were generally moving more or less in the right direction, at least in the same quadrant (except for that one time when we were going south). But the winds would tease us every now and then. We were flying the light staysail "windseeker" but at one point I thought we had enough wind to roll out the genoa; then it looked like I needed to put it out on a pole, but by the time I got that all done (in the dark), the teaser wind had gone away, and I had to take it all down and set the windseeker again. I was not so easily fooled the second and third time the wind teased. The official race log book asks us to give the wind direction and speed with each entry, so we have a couple question marks for direction and 0 to 1 for speed.
With the lightening sky of early pre-dawn a gentle breeze began to fill in from the SSW, slowly clocking to SW as it built, and now with the sun up we are making 5 to 6 knots on a close reach aimed for Newport. We can't see any of the competition, which means either we're ahead or they are ahead, or they've fallen off further west, or they've snuck behind us to the east, or.... We will download the latest position report with this round of e-mails and find out just how the night went.
Tim and Wendy on GREYHAWK now 108.9 miles from the Brenton Reef Buoy off Newport with a bearing of 347° - the finish line!
Tue Jun 21 19:40:17 EDT 2011 -- 40 miles to go
We're now just under 40 miles out from the finish line. Nice winds and pleasant sailing all day, but now the winds have gone south, literally and figuratively, down to about 5 knots or less from the SSW. So as the sun sets, we're flying the 1/2 ounce spinnaker, right now with the pole all the way forward. With any luck hopefully we'll get in before dawn. A big congratulations to Roy and Gail on Cordelia, who have won the class. Aggressive is close on our tail and still has a chance to correct ahead of us. By my calculations, we need to beat them in by something on the order of 3 hours. So we're setting up for a chilly damp night of tending the chute. Hopefully we can keep it off the headstay and out of the water (there are lots and lots of red jelly fish here...).
Tim and Wendy on GREYHAWK
Wed Jun 22 20:01:41 CDT 2011 -- And done!
Twenty-four hours I ago I left you with this:
On Jun 21, 2011, at 7:40 PM, Tim Allen GREYHAWK wrote:
...So we're setting up for a chilly damp night of tending the chute. Hopefully we can keep it off the headstay and out of the water (there are lots and lots of red jelly fish here...).
We started out in light air, but the wind built to 7, then 8, then 9 .... 10, 11, 12 knots, up and down through the night -- when the wind got up to 12 we were closing the finish at well over 7 knots, which was awesome, but there were still a few wind holes we had to go through, too. But we succeeded in carrying the spinnaker the whole way, staying on course for the Brenton Reef buoy, through shifts, lulls, and all, our closing speed rising and falling with the wind speed. We could only hope that our competitors behind us were getting stuck in the expanding wind holes (surely they must be expanding!). We used our cell phone rather than the radio to call in to the race committee to announce our impending arrival as we didn't want to give away any information that might help further motivate the boats following us. While the phone was out, we also called US Customs in Houghton, Maine, to let them know of our arrival too. I'll leave it to the government to explain why one is supposed to call northern Maine when arriving in southern New England.
We crossed the line at 0306, for a total elapsed time of 135 hours and 46 minutes. What a long race! So now after 5 days and 5 nights of continuous racing, Wendy says the "little" overnight races we do up in Maine are really not such a big deal anymore.
We proceeded in to the Newport Yacht Club, and Roy Guay directed us to a slip and helped us tie up. The Customs Officer was also there waiting for us (at 4:20 in the morning!). So we took care of our paperwork, and then went back to the boat to crash for a few hours. It was 4:35. I awoke a little after 6:15 and got ready to go in for a shower. Wendy got up too, and when we went up to the club we noticed that Aggressive had just tied up (Beau Blue was also just in). A quick calculation in my groggy head suggested that Aggressive had probably finished only about 2 hours after us, not the three that we would need to be ahead on corrected time. So shave and shower, then breakfast at Belle's at the Shipyard. Wendy was very impressed by the Puma boat there, loving the graphics especially the puma cat coming out of the wave on the bow, but also the orange Berg propellor on the bottom. Finally back to the boat to start cleaning up, and catching up with some of the other skippers. So we finished 2nd elapsed in class, 14th elapsed in the fleet (29 boats started from Bermuda), and 3rd on corrected time in class (corrected time results for the whole fleet hadn't been calculated yet, because not all of the boats had finished yet...).
So again, big congratulations to Roy and Gail Greenwood on Cordelia (DH leg winners in Class 3), and to Ray Renaud and Roger Defelice on Aggressive who gave us a great race. Also congrats to Tristan Mouligne and his brother John Jay on Samba (winners in class 1, and presumed overall fleet winners for the DH leg, based on preliminary incomplete results), Patrick Jones and his daughter Macy on Adhara (winners of class 2), and Jon Greene and John Keane on Jeroboam (presumed winners in class 4, and close behind Samba for the overall fleet win).
The final awards presentation will take place on Saturday evening at the Newport Yacht Club. Then Greyhawk head back to Maine for the rest of the season!
Regards,
Tim and Wendy, off GREYHAWK and back home.
---
Pictures from the Bermuda 1-2 Leg Two on GREYHAWK
Class 3 going through the Town Cut out of St. George's Harbor, Bermuda -- Photos by Patrick Paley (the snorkel guy):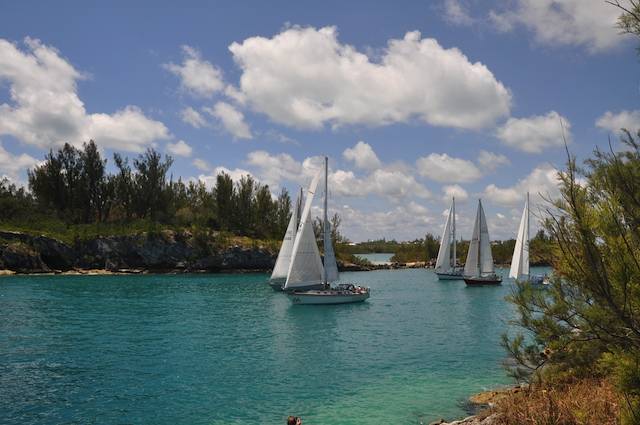 All five Class 3 yachts heading into the Town Cut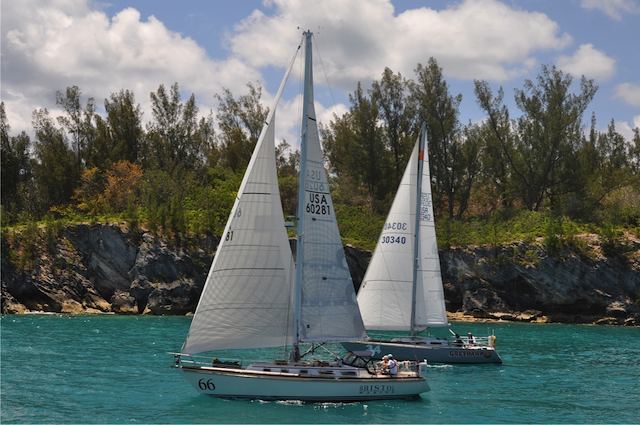 Greyhawk trying to sneak past Beau Blue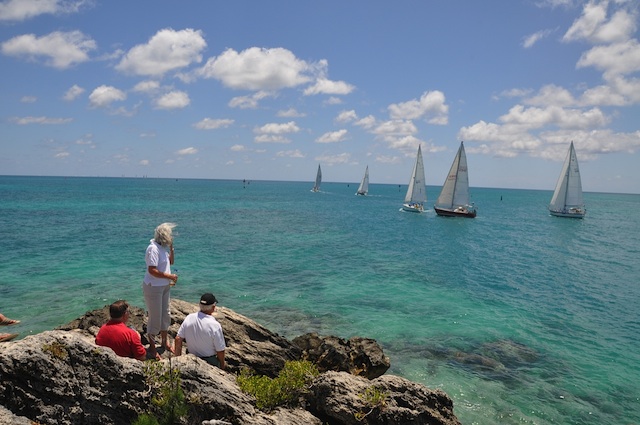 and we are off!
Check out these tracks from the first night, when the wind went light. Note the dollar sign inscribed on the ocean by Aggressive. Greyhaawk just made a switchback (and some other wandering around), until we learned too late that having the autopilot in wind vane mode when there wasn't much wind probably wasn't such a hot idea!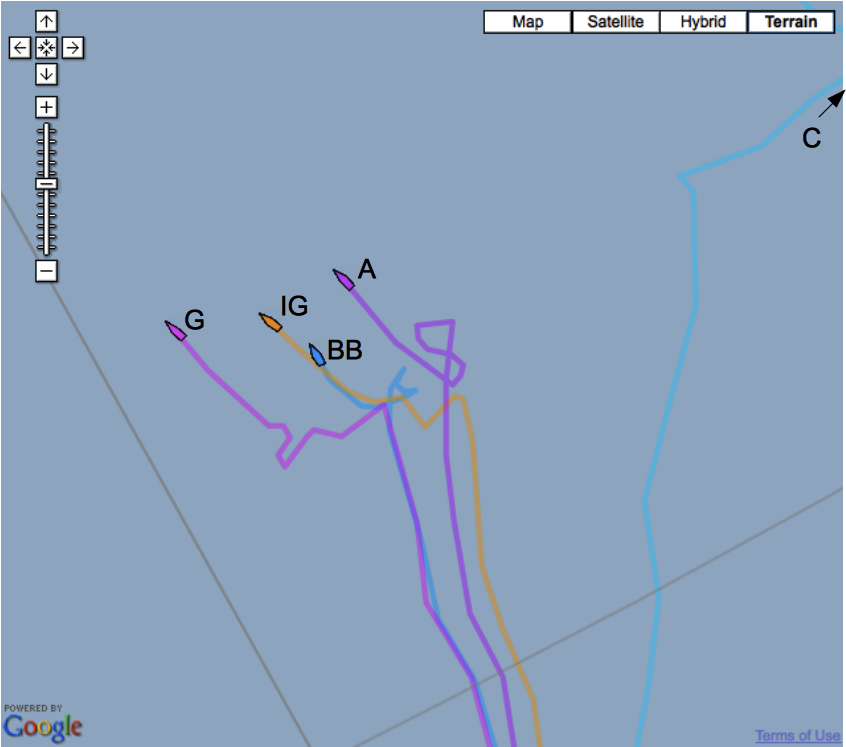 It wasn't until the end of our last day that Wendy remembered that all her Facebook friends would want to see pictures from the race.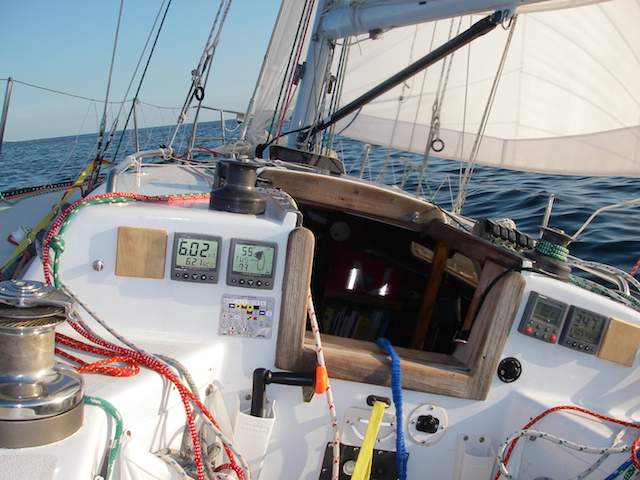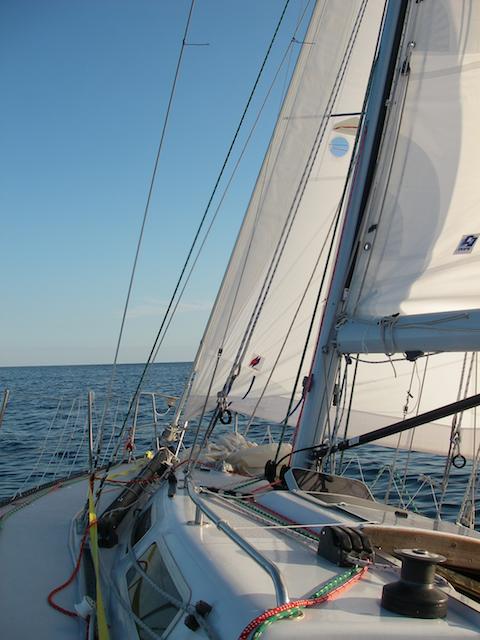 Telltales are flying! (Wendy is happy)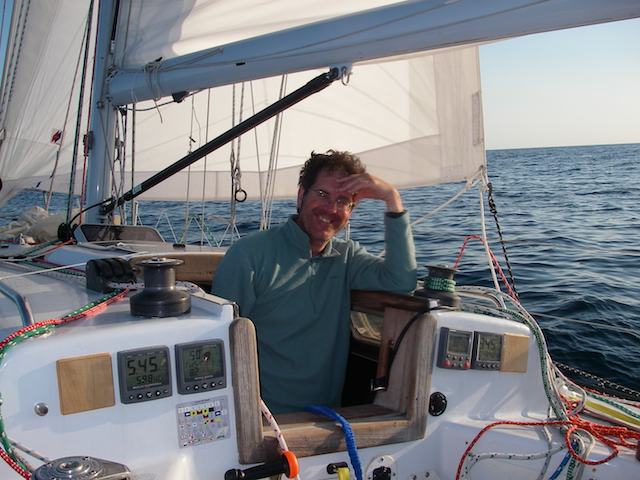 Tim just up from a nap!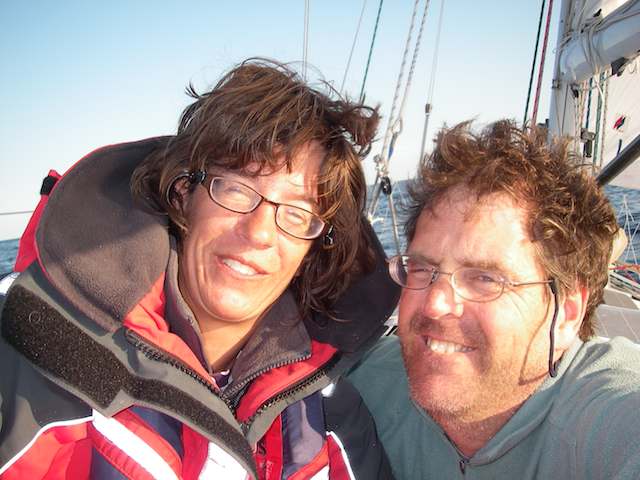 Awww, what a nice family portrait!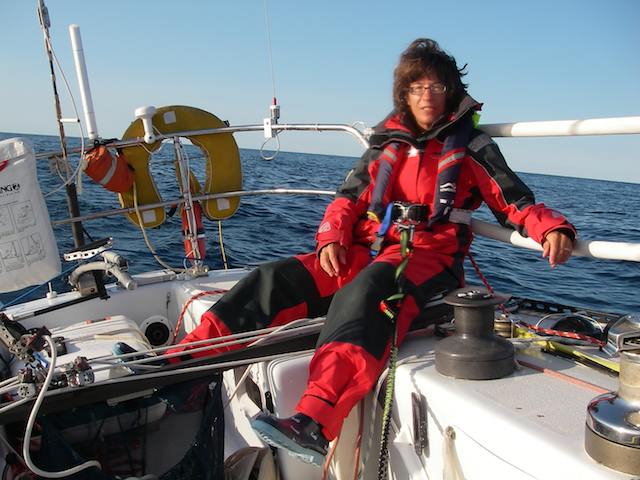 Wendy's turn to have her picture taken.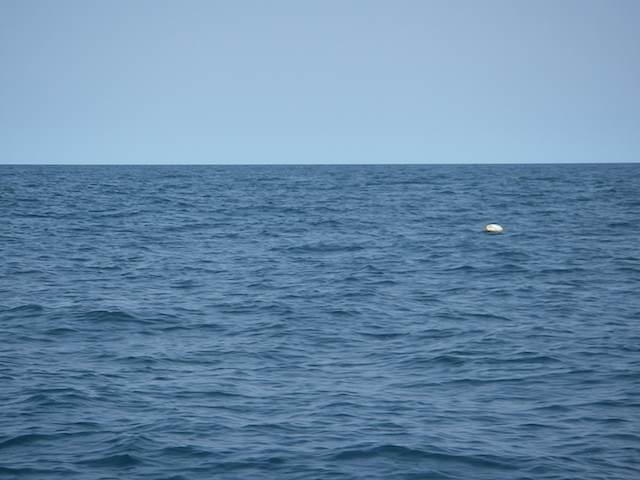 You know what happens when you let a helium baloon go and it drifts away in the sky? It ends up out here in the Atlantic Ocean! We saw a ton of these out here.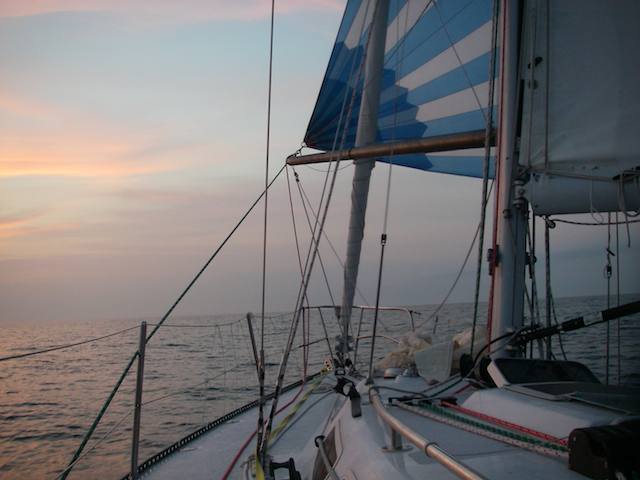 Beginning of the End -- spinnaker launched as the sun set on our last day.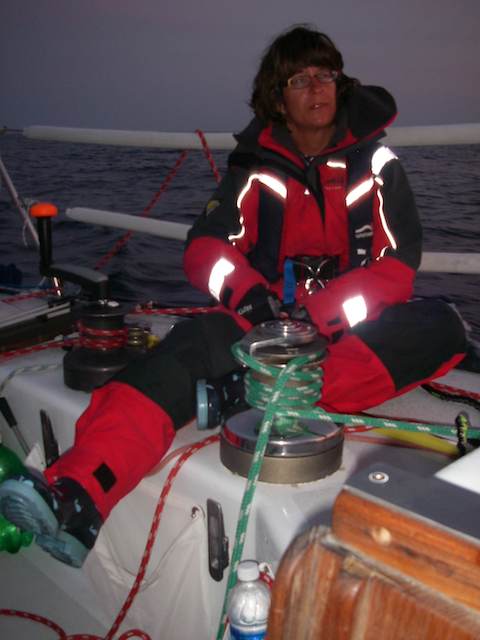 With the pole guy led to the forward primary winch (the foreguy in reach on the side of the house), and the spinnaker sheet led across the cockpit to the aft secondary winch, you could sit between the two winches, keep an eye on the luff curl and the wind instrument, and control just about all aspects of the sail.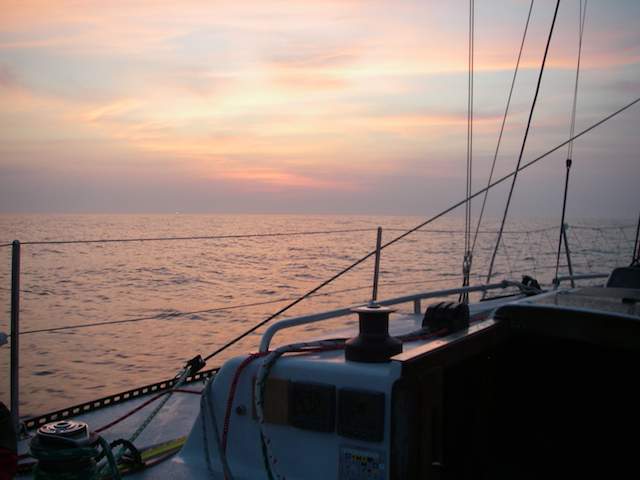 The photo of Wendy trimming was taken with flash -- it wasn't quite that dark out yet; here's the sunset.
And finally, here is what the autopilot tiller connection is supposed to look like: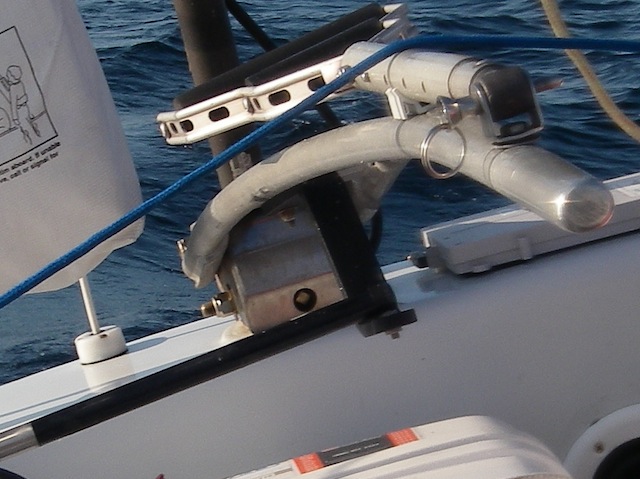 The new bracket is much beefier (3/8" vs. 1/4") and inspires a lot more confidence.
---