Boatyard | Greyhawk | latest | next | 2005-07 | previous | oldest
GREYHAWK
1980 Peterson 34 offshore racer/cruiser sloop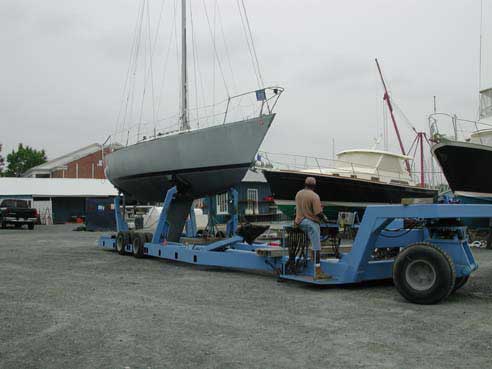 Purchase Process
We purchased GREYHAWK in July of 2005 in Oxford, Maryland. Here's how the process went:
I found the boat on Yachtworld.com, had a question about the listing, and e-mailed the broker. He sent back the details I was looking for.
I did research on the boat model, and decided it was a boat I was interested in. The boat was in Maryland and I was in New Hampshire, so to justify the trip down, I decided to go ahead and make an offer sight unseen, contingent on my own inspection and a satisfactory survey. I called the broker and he gave me some further information about the boat, and I offered 2/3 of the asking price. The broker faxed me their standard contract, I filled it in with dates and conditions of my offer, and mailed it back with a deposit check (10% of the offer).
A few days later the broker called me up, as he had received my check and presented my offer to the seller. The seller wanted to split the difference between my offer and his asking price, but the broker confided that he thought the seller would come down to my offer "on survey issues." He did say that my offer was as low as the seller would likely go.
My response was to stick to my offering price, and say that the survey would be a buy-it or walk-away deal rather than a point for further price negotiation. I knew that the price was already at rock bottom. The seller accepted this.
So with a signed contract in hand, I made arrangements to travel down to Maryland to see the boat, and also made appointments to see other boats while down there, just for comparison purposes. I also refined my self-survey checklist and packed up my tools.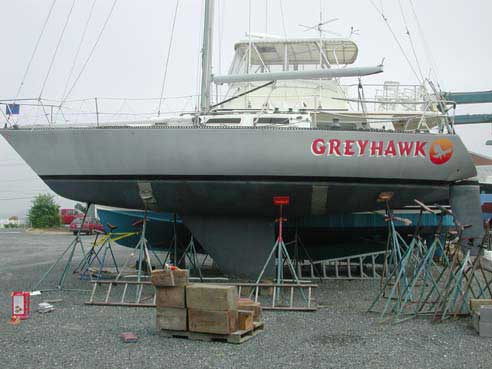 I spent three or four hours inspecting the boat in great detail. It was obvious that the boat had been sailed hard and put away wet for much of its life, and would need a lot of work, but I knew this going into the deal. It was a "project boat," but it appeared to have good bones. I did not uncover any major flaws, and decided to proceed to the next step and hire a surveyor.
I had previously identified potential surveyors in the area, so I just had to call them up for a quick interview and make my decision who to hire. I chose one who had been highly recommended by a respected boatyard manager in the area. We set a date, and I called the broker to make arrangements -- the boat was on the hard and would need to be launched for a sea trial. One of the big unknowns following my inspection was the condition of the engine. It was reported to start every time, but I wanted confirmation before finalizing the purchase.
Since the survey was a make it or break it thing, and since I planned to be present for the survey, I felt comfortable in making my decision to purchase or not on the day of the survey without waiting for the surveyors full written report. I confirmed with the broker what the closing costs would be, and got a bank check for that amount. Then it was back to Maryland again for the survey.
The surveyor pointed out numerous issues that needed attention, but nothing I wasn't already aware of or prepared to deal with. He was able to confirm that the hull was "dry" (another concern I had). Eventually the boatyard got the boat in the water, the seller showed up, and we all went out to motor about for a bit. Indeed the engine did start, and it actually ran pretty well. We then returned to a slip at the boatyard, the surveyor went up the mast to check the rig, and completed other parts of his inspection.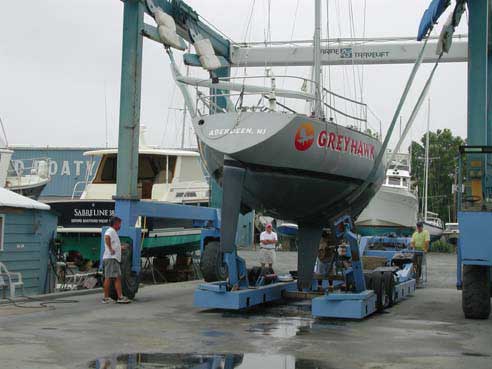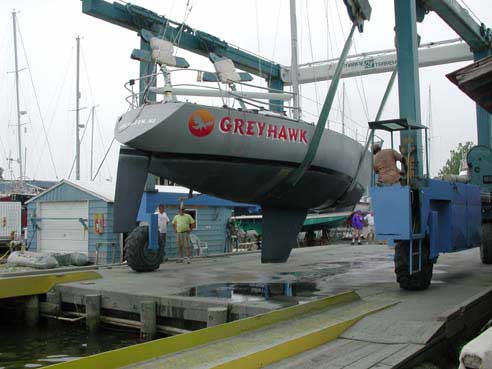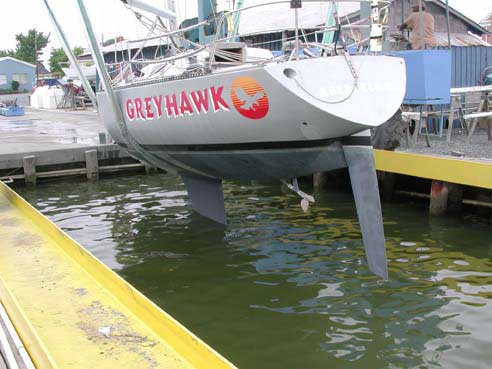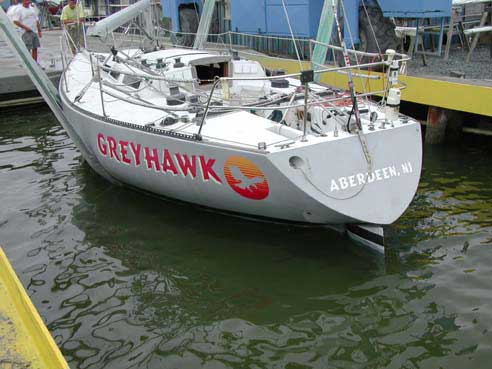 Walking back to his truck, the surveyor asked me if I was going to go for it, and I replied that I was -- he hadn't uncovered anything that turned me off from it. Then he asked me what I wanted him to list as the market value in his report! He said the broker had told him how much I was paying, and it was clear from these comments that he thought I was getting a good deal. I had looked up BUC, NADA, and Boat/US ValueCheck values, as well as reviewed the listings for sister ships on the market, so I had a figure in mind. More than what I was paying, for sure -- much more!
Following this, I went over to the broker's office where the seller was waiting, and handed over my check, and we signed all the paperwork, and the boat was mine. I should point out that I was paying cash and no bank or other financier, nor any insurance company, was involved in the transaction. In addition to the outstanding balance on the agreed-upon sales price, closing costs included title search and abstract from the Coast Guard (for a documented vessel), State of Maryland sales tax, title and registration fees, and the broker's notary fee. Additional costs included paying the surveyor, paying the boatyard for putting new zincs on before splashing the boat, and I also decided to re-document the boat in my name with the Coast Guard (which I handled myself separately). I had previously made arrangements for a berth for the boat and for deliverying it from the boatyard where I purchased it to its new home, so we then carried out those plans.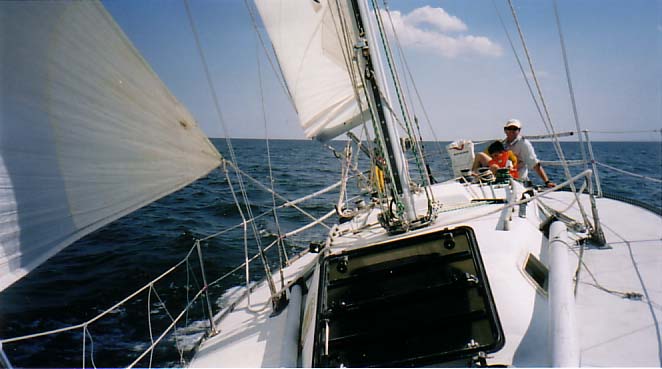 ---
What I was looking for in a boat?
My ultimate plan is to take a year-long sabbatical leave and sail a "North Atlantic Circle" (something like late summer in the Baltic, winter in the Mediterranean, spring in the Caribbean). In the meantime, I can envision a trip to Bermuda and back, and a summer cruise to Newfoundland, and such.
My father owned Cape Dory 36 cutter that I've cruised on a fair bit (we sailed her to Newfoundland and back in 2003). I wanted something different for my own boat -- a boat that could sail to weather, not just across the wind, and one that could sail well in light airs but still hold her own in the heavy stuff, and I wanted a reasonably fast boat (to sail circles around my Dad, of course). I wanted a smaller boat, but that would be big enough, and seaworthy enough, to qualify for Category 1 ocean sailing (just for example, the Cruising Club of America's Newport-Bermuda race requires a "waterline length" of 27.5' or greater and an "Limit of Positive Stability" of 115 degrees or greater, not that I intend to ever compete in such a race). I also needed a boat that I could actually afford. I was lusting after a J35 but couldn't afford one. C&C 35's were appealing, and a swedish-built Norlin 34 came on the market but was sold before I could learn much about it; then I discovered a very affordable Peterson 34 -- GREYHAWK -- which seemed to fit the bill.
Doug Peterson designed the Peterson 34 in 1976 as a racer-cruiser, "...to deliver about eight people quickly and safely from point A to point B (such as Newport to Bermuda)..." (Clarke, 10/2004), but she performed so well on the race course that the cruiser part of the mix has apparently been overlooked by many.
GREYHAWK had been seriously raced, and raced hard, for most of her life. The boat needs some real TLC, but while there are certainly issues with her condition, her basic underlying structure is sound and she came with a lot of high-quality (albeit aged and well-used) hardware and a decent suit of sails. The previous owner may not have maintained or upgraded some systems, but he did take good care of those things that made her a fast sailing machine -- her bottom, sails, and rigging.
We've begun overhauling her to convert her from an old racer into a fast and fun family cruiser and, ultimately, offshore voyaging boat. As the bills pile up, I take some comfort in the fact that when I bought her my surveyor set the "current market value" at 2.5x what I paid for the boat.
---
Selecting a Surveyor
We live in New Hampshire. We bought a boat in Maryland. How did we find a surveyor? Even if we were buying a boat closer to home, how would we go about finding a surveyor? You want the most detail-oriented and experienced curmudgeon you can find to survey your potential purchase for you.
Boat/US maintains a national directory of marine surveyors from whom they accept survey reports for their insurance business (see http://www.boatus.com/ insurance/survey.htm). In addition, most professional surveyors are a member of either National Association of Marine Surveyors (NAMS): http://www.nams-cms.org/, and/or the Society of Accredited Marine Surveyors (SAMS): http://www.marinesurvey.org/. Both organizations maintain on their websites searchable directories of their members. But still, how do you choose from among the many who will be listed among these sources?
One can always go on to internet forums, discussion boards, and mailing lists to ask for recommendations from fellow boaters. But not many boaters regularly buy and sell boats, and so their experience with surveyors may be limited. Certainly, you should be wary of any recommendations you might get from any brokers involved in the transaction. When I bought Greyhawk, the selling broker respectfully declined to offer any names when I asked. But maybe you could try asking the broker which surveyors they would NOT use, and why -- it may be that such a surveyor is exactly who you DO want!
Besides brokers, the people who will likely have had a lot of interaction with the various surveyors in the area are boatyard repair managers. You could call up several boatyards -- those not involved in the transaction you are about to make -- and ask their service department about who they would recommend for a surveyor and why. But how do you know whether you can really trust these recommendations? What is the reputation of the boatyard making the recommendation? This is where referrals from other boaters help. Walk the docks and talk to other boaters about the boatyards they use for repairs. If you are not in the area, contact local sailing clubs and yacht clubs to see if they can put you in touch with any of their members, or can tell you which yard most of their members use.
Once you've identified a well-respected boatyard manager, go ahead and ask him (usually) who he would hire to survey a boat he was buying, and why. Also ask who his second choice might be, and perhaps who he would avoid.
By now, you should have some good strong recommendations, from several sources, and one or two names should rise to the top. Call them up and/or visit their websites. Ask for (or download) a sample survey report for a boat similar to the one you are looking at. Certainly ask about their qualifications, their procedures, and what you can expect. Ask about their pricing and their availability (the best surveyors are often the busiest -- it may be worth the wait). Make your choice, schedule a date, and make every effort to be present for the inspection. Good Luck!
In the Annapolis, Maryland, area (including the eastern shore -- Oxford, St. Michaels), I can recommend David Manning, of Manning Marine Survey, PO Box 4414, Annapolis, MD, 21403, telephone 410-263-5852, fax 410-268-3183.
---
Boatyard | Greyhawk | latest | next | 2005-07 | previous | oldest
---
website by thorpeallen.net
January 2010