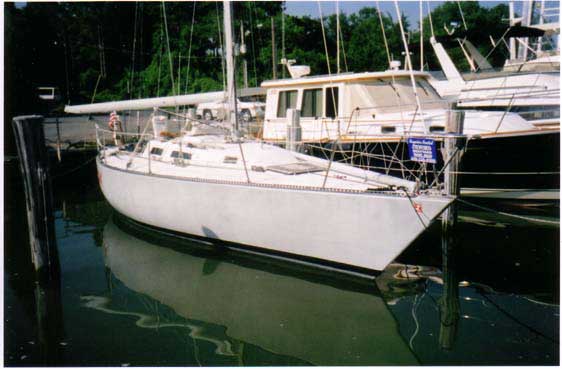 The Peterson 34 | Greyhawk's History | Equipment & Specifications
---
The Peterson 34
Doug Peterson, one of the most successful yacht designers of his era (see a listing of his designs here), designed the Peterson 34 in 1976 as a racer-cruiser, "...to deliver about eight people quickly and safely from point A to point B (such as Newport to Bermuda)..." (Clarke, Chesapeake Bay Magazine, October 2004). The boat performed so well on the race course that the cruiser part of the mix has apparently been overlooked by many.
At least ninety-two boats were built between 1976 and 1981 (there may have been additional Peterson 34 hulls completed as late as 1985), by Composite Technologies (established by boatbuilder Andy Green), which was acquired "1976ish" by boatbuilder and rigger Marion Hayes, who renamed the company Island Yacht Corporation, and moved production to League City, Texas. Composite Technologies/Island Yacht Corp. was in business from August of 1973 until December 1985 (http:// www.uscgboating.org/recalls/mic_detail.aspx?id=CTE).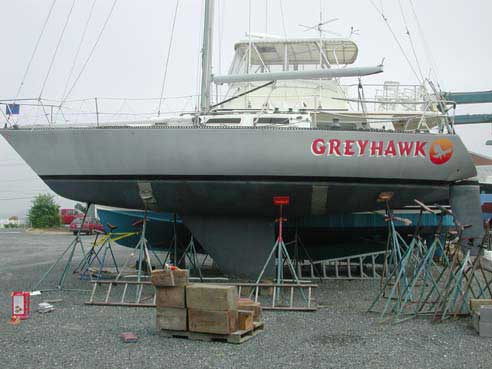 The Peterson 34 has a reputation for good windward sailing ability and performance in both light and heavy air, although -- given the disproportionate share of sail area in the foretriangle typical for designs of that era -- she requires frequent "changing of gears" as the wind picks up (a full complement of #1, 2, 3, and 4 headsails). Her fine bow and deep sections slice through the waves, so she does not pound, but that can mean a wet ride for the crew on deck. She also has a reputation for being difficult to handle reaching under spinnaker in heavy air and seas when the bow can dig in and the boat broach. None-the-less, she is better behaved than many of her more extreme IOR contemporaries.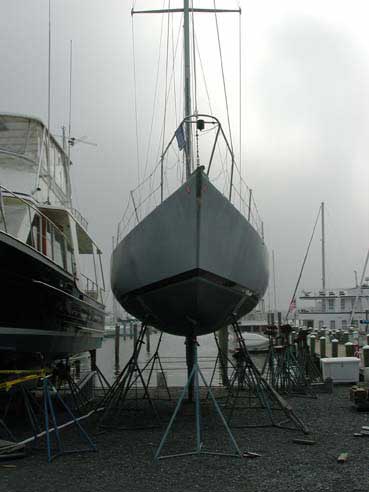 Although light in weight, due to use of advanced (for the time) construction techniques and materials (e.g. unidirectional roving; but according to Kevin Hayes, the rumours of Kevlar reinforcement are unfounded), the solid hulls were built to take it in any sea and are very strong.
Peterson 34s have successfully competed in a variety of offshore races, including Annapolis to Newport, Annapolis to Bermuda, Marion to Bermuda, etc..., and have cruised as far as Thailand and Malaysia -- "She's a proven offshore performer with many 190 mile days under her belt." (http://www.boat- world.com/boatads/819843384.html)
More References for the Peterson 34
Principal Dimensions
| | | |
| --- | --- | --- |
| LOA | 33' 11" | 10.34 m |
| Beam | 11' 3" | 3.43 m |
| LWL | 28' 3" | 8.61 m |
| Draft | 6' 3" | 1.91 m |
| Displacement (est.) | 10,000 lbs | 4536 kg |
| Ballast | 5,000 lbs | 2268 kg |
| I | 46.5' | 14.17 m |
| J | 14.6' | 4.45 m |
| P | 41.3' | 12.59 m |
| E | 11.7' | 3.57 m |
| Sail Area | 581 ft2 | 54 m2 |
| mainsail | ~242 ft2 | ~22.5 m2 |
| 100% jib | ~339 ft2 | ~31.5 m2 |
| 155% genoa | ~526 ft2 | ~48.9 m2 |
| spinnaker | ~1222 ft2 | ~113.5 m2 |
Other Parameters
PHRF Base Rating
117
D/WL
213
SA/D
19.02
Theoretical HullSpeed
7.13
Velocity Ratio
1.1
Capsize Ratio
1.98
IMS Calculated
Limit of Positive Stability
121
Brewer Comfort Ratio
22.01
---
Greyhawk's History
We purchased GREYHAWK in July of 2005 in Oxford, Maryland. The boat had been seriously raced, and raced hard, for most of her life. The boat was in need of some real TLC, but while there were certainly issues with her condition, her basic underlying structure was sound and she came with a lot of high-quality (albeit aged and well-used) hardware and a decent suit of sails. The previous owner may not have maintained or upgraded some systems, but he did take good care of those things that made her a fast sailing machine -- her bottom, sails, and rigging.
GREYHAWK (previously owned by N. Smith, Aberdeen, NJ, since 1986) -- previously named PEQUOD (E. Fleming, Brookline, MA, 1984), LOOSE GOOSE V (M. Frigard, Marblehead, MA), and ANDURIL (J. Foster, Marblehead, MA, 1981) -- was hull number 82 of the series. She was "custom" built for racing: special deck and house molding, large deck-level racing cockpit, with mid-cockpit traveller, and lightened in the ends (minimalist interior, no v-berth, shortened cabin house, etc...) -- a bit different from the "standard" Peterson 34. According to an old IOR certificate found among the ship's papers, GREYHAWK's hull was reportedly completed in December of 1980, and the rig was commissioned in May of 1981.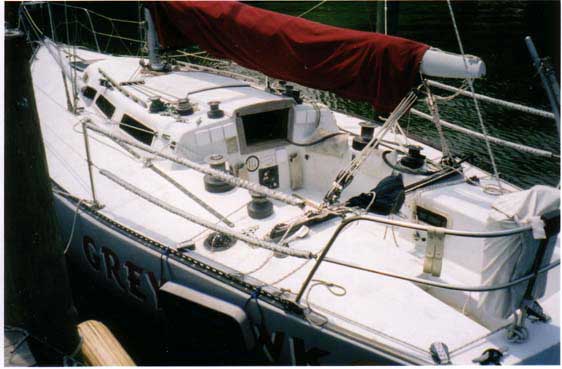 Custom Racing Deck and Cockpit Molding
Advertised as ready "to race anywhere, in any category, under any rule," Previous owners Foster, Frigard, and Smith all had good success racing the boat. In her first year, as ANDURIL, she reportedly came second in the Houston PHRF fleet sailing under an arbitrary rating of 109. As LOOSE GOOSE, she won her class in the Monhegan Race. GREYHAWK was a regular in the Around Long Island Race, and reportedly won that race as well. Smith used GREYHAWK as a platform for teaching yacht racing to newcomers, and developed a detailed Crew Manual (PDF, 680 Kb).
---
Equipment and Specifications
Greyhawk's Sail Inventory
Dacron (squareweave) Mainsail (North Sails 2000?), bi-radial construction, two full battens, two partial battens, 2nd reef point added 2007
older Dacron main with partial battens and 2 reef points (not set up for Strong Track)
135% Genoa for roller furler (Maine Sailing Partners 2008), tri-radial construction of 6.3 ounce Dacron square-weave, foam luff pad, sunbrella sun cover
#2 Genoa (135%) cross-cut (1994?) modified for use with roller furler (Luff 43'8" Leach 41'6" Foot 20'11" LP 19'7" Area ~428 sq.ft.)
#3 Jib (110%) with reef point (Haarstick? 1981)
Heavy Weather Staysail (Maine Sailing Partners 2008), cross-cut construction of 7.4 ounce Dacron, Wichard snap hanks, fluorescent orange visibility patches (200 sq. ft.)
Storm Jib -- Luff 18'8" Leach 14'10" Foot 10', LP 7'10", 6 hanks; about 73.8 sq. ft. (generally recommended size for the boat is between 64 and 108 sq ft.)
Storm Trysail, storm orange dacron (Pope Sails and Rigging, 2010)
1.5 oz. Spinnaker by Shore Sails (1999?) -- Luffs 45'6" Foot 25'8"
0.75 oz. Spinnaker by UK (1991) -- Luffs 45'11" Foot 25'11" Max Girth 26'4"
0.5 oz. Spinnaker by Haarstick (1981)
Laminar "Bigboy" Staysail (Hood 1987) -- Luff Rope 42'10", Leech 38'6", Foot 14'3", LP 12.7' =87%
0.5 oz. Blooper (Haarstick 1981)

Main Sail Cover (Tim Allen, 2008)
Miscellaneous Sail Bags and Spinnaker Turtles
Several other sails that came with the boat have been sold...
Mast and Rigging
Hall Spars(?) mast, adapted from a J-35. Double in-line spreaders. Completely re-built and re-painted by Chesapeake Rigging, March, 2006.
Navtec Nitronic 50 Rod Rigging (-10 size all around) -- all new turnbuckles and rod, March 2006.
Hydraulic adjustable backstay, controlled by Navtec System V manual hydraulic panel (rebuilt March 2006).
check stays (8 mm T-900, March 2006)
Removable inner forestay (9/32 wire and ABI Forestay Release Lever) and running backstays (10 mm T-900, June 2008)
I2 is about about 38'or about 11.5 m
J2 is about 12' or about 3.8 m
mast is about 45' tall above cabin top, so given mast-top instruments and antennas, and height of cabin top above water, required bridge clearance is probably about 53 feet!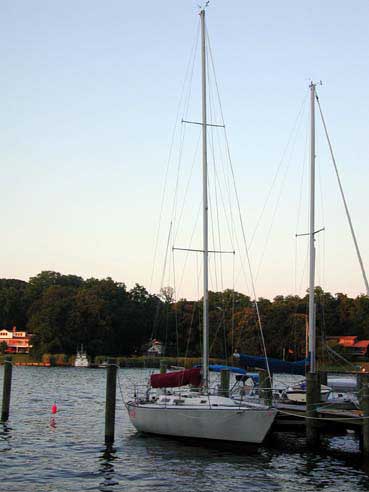 Sail Handling
2 Lewmar 55 3-speed winches (primaries)
2 Lewmar 44 3-speed winches (secondaries)
2 Lewmar 30 2-speed winches (halyards and controls)
Tides Marine Strong Track Luff System for main sail
Separate sail track for Storm Trysail (2010)
retractable spectra lazy jacks, new March 2006
Carbon Spinnaker Pole (new 2010) changing from dip-pole gybes to end-for-end gybes
Aluminum Spinnaker Pole (set up for end-for-end gybes)
Schaefer System 2100 Headstay Roller Furler (new March 2006) (5/16 or 8 mm furling line)
Adjustable Genoa lead system
Harken windward sheeting Traveller
6:1 mainsheet system
main cunningham and outhaul tackles
Hydraulic Boom Vang, controlled by Navtec System V manual hydraulic panel (rebuilt March 2006)
NicroMarine/Ronstan Snatch Blocks
lines led aft to cockpit with Harken ESP deck organizers and Spinlock XTS clutches (2008)

Ground Tackle
Fortress FX-23 anchor (#15 aluminum), with 12' of 5/16 G-3 chain and an estimated 200' of 1/2" nylon 3-strand rode.
35# Delta anchor, with 30' of 5/16 G-4 chain and 300' of 5/8" nylon 3-strand rode
12' Para-Tech parachute-style sea anchor, in deployment bag, with 50' retrieval line. Includes swivel and snatch blocks for use with the anchor rodes listed above.
36" GaleRider Storm Drogue
Rode Rider and weight for Kellett
Fenders and Docklines
Auxillary Power
Yanmar 2QM15G Marine Diesel Engine, raw-water cooled, water-lift exhaust. A rebuilt engine was installed as new (e.g., 0 hours) in April 2009. Kanzaki Marine Gear KBW10 transmission, 2.83 ratio. External strut-supported 1" stainless steel shaft driving a 16x12RH 2-blade folding Martec bronze propellor, conventional packed stuffing box with Gore GFO packing. 12-gallon aluminum fuel tank (cleaned January 2007).
Electrical System
House Battery Bank: three Odyssey 31M-PC2150 TPPL AGM 12-volt batteries for total nominal capacity of 300 amp-hours (20-hour rate).
Dedicated Start Battery: Odyssey 34M-PC1500 TPPL AGM 12-volt battery with 880 cold-cranking amps, and a 20-hour capacity of 68 amp-hours
Amptech AM-S125Se 125A alternator
Sterling Power ProReg D advanced alternator regulator
Xantrex Digital Echo Charge
Xantrex XBM Battery Monitor
Genasun GV-10 MPPT solar charge controller
two 10-watt solar panels
ProMariner i1230 Battery Charger
Lighting
Orca Green Marine LED Tri/Anchor (with photocell) masthead light
Aqua Signal Series 40 bow light, 25-watt incandescent, pulpit mounted
Hella Marine stern light, 10-watt incandescent, pulpit mounted
Forespar ML2 combination steaming and deck light, 25-watt incandescent, mast mounted
Alpenglow 9-watt flourescent Overhead Light with red LED and dual power options, in main salon
Dr. LED Nighthawk white and red LED chart light at Navigation Station
three Alpenglow LED reading lights (pilot berths, and quarter berth)
10-watt incandescent lights in galley, head, forepeak, and engine room
Electronics, Navigation and Communication
Installed Nav/Comm Equipment
Garmin GPS76 (with external antenna) interfaced to Nexus NX2 system and the DSC Radio (2000)
Nexus NX2 networked instrument system with Wind, Speed, and Depth transducersFDX Server, two Multi-Control Displays, and a Wind-Data display. The system receives position information from a GPS, and also communicates with the laptop computer, and Autopilot. (2009 & 2010)
Raymarine X-5 Smart Pilot GP tiller pilot (2010)
West Marine AIS-1000 Transponder (with GPS and VHF antennas mounted on stern pulpit) (2010).
Vesper Marine AIS WatchMate (2010)
Standard Horizon Quantum fixed-mount VHF with DSC and remote cockpit microphone (June 2009), masthead antenna (2006)
ICOM M700 Marine SSB Transcevier with AT130 antenna tuner, isolated backstay antenna, ground plane to keel bolt.
Si-Tex Nav-Fax 200 SSB Receiver, with Metz whip antenna mounted on stern pulpit.
Garmin Fishfinder 140 (April 2006)
two Ritchie F-500 Globemaster compasses, deck mounted port and starboard (rebuilt, winter 2006-2007)
Robert E. White Instruments Precision Barometer
Navigation Table to starboard of companionway ladder, with fold-out seat; cabinetry also houses electrical distribution panels and engine controls
Portable Nav/Comm Equipment
Garmin 12XL handheld GPS as backup
SeaRanger RadioFix Mark V handheld RDF
Standard Horizon HX350S handheld VHF
Tamaya Sextant
MacENC plotting software running on a Mac Powerbook laptop
Nantucket Sounder Bronze "Lead" Line
hand bearing compass
Nikon Ocean Pro 7x50 binoculars (with compass)
two Hi-Powered Spotlights (one rechargeable, one plug-in)
Cabin

2 settee berths and 2 pilot berths, with full blue acrylic canvas lee cloths, and 4-inch foam cushions covered in nice gray and marroon fabric upholstery.
foam backrests for the settees, covered in nice gray and marroon fabric upholstery.
Force 10 "Cozy Cabin" diesel-kerosene heater with 2 gallon pressure tank
2 aft pipe-frame berths with 3-inch foam cushions covered in blue acrylic canvas (angle adjustable with block and tackle system)
1 forward pipe-frame berth (fixed angle)
removable forward double v-berth, with 4-inch foam cushions covered in nice gray and marroon fabric upholstery.
fabric curtain separating forward cabin from main salon.
hand-holds throughout
compartmentalized storage cubbies with clear plastic doors
Large forward double-opening Bomar cast-aluminum deck hatch
Lewmar Ocean series ventilation hatch over salon table
Sogeman Bug Busters Screens for Hatches and Compnaionway
Opening port above storage cubbies
Opening ports aft, by pipe berths (open into cockpit footwell)
Caframo Bora 3-speed low-draw Fan
Nicro DayNight 2000 Plus solar-powered vent
Galley
Force 10 model 60151 two burner CNG gimballed cooktop with broiler
rail-mount Magma charcoal grill
15 gallon fresh water tank
Fynnspray WS-63 manual pumps for fresh and sea water at galley sink
use a portable cooler for storing perishables...
Head
foot-operated Whale Gusher fresh water pump at head basin, with handheld shower
Lavac Popular manual marine toilet (new Fall 2006)
20 gallon flow-thru holding tank
fabric curtain instead of door
Opening port
Safety Equipment
DSB 6-man self-righting ISAF life raft in cannister (2010)
Lifejackets
Harnesses with tethers, and Webbing Jacklines
Stainless Steel Bow Pulpit and Stern Pushpit; and double lifelines (uncoated 316 stainless steel 1x19 wire, 3/16" diameter, turnbuckles at forward ends, lashings at stern ends).
crew-overboard "Pony" horseshoe buoy
crew overboard flag pole, stored in stern tube
crew overboard floating Strobe Light
LifeSling2 crew overboard recovery system
Davis Echomaster Radar Reflector
canned-air fog horn
Stowaway Emergency VHF antenna
Henderson Mark V manual bilge pump, operated from cockpit
Whale Gusher 8 manual bilge pump, operated from main cabin
two 5-pound dry chemical fire extinguishers, one 2.5-pound dry chemical fire extinguiser, and one 2.5-pound halon fire extinguisher
Medical Kit
ACR GlobalFix 406 MHz GPS-equipped EPIRB (new 2003, serviced 2008)
Ditch Bag, including PuR Survivor 6 manual watermaker, emergency rations, etc...
SOLAS Parachute and Hand-Held Flares, and Smoke Signals
Miscellaneous Flares and Smoke Signals (outdated, as backup)
Signalling Mirror and Distress Flag
Cyalume Glow Sticks (chemical lights)
Documentation
United States of America Documented Vessel 630980: GREYHAWK, Keene, NH
State of New Hampshire Registration
State of Maryland Title
US Sailing Offshore Sail Number 30340
FCC Radio Call Sign WDE9040
MMSI Station Identiy 367412680