Restoration of Laser #811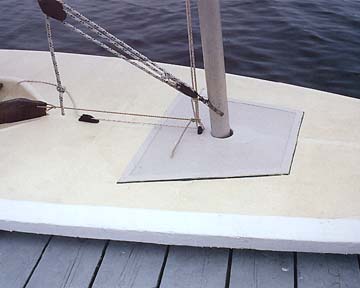 The new mast-step installed. It consists of a trapezoidal deck piece with a tube attached for the mast. It gets glassed to the reinforcing block installed on the bottom of the hull and to the flange installed on the underside of the deck. All of this work must be accomplished through an inspection port, and the piece is "clamped" simply by piling weights on it.
---
For more information about Laser sailboats, check out the Laser FAQ, the Laser Class Association, and Vanguard Sailboats
website by thorpeallen.net
Last modified July 23, 2000.