Restoration of Laser #811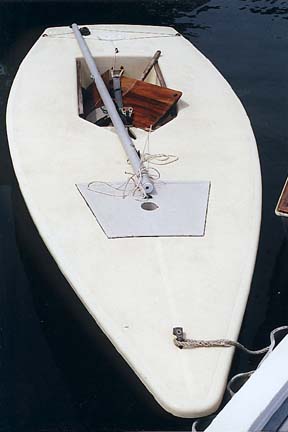 Another view of the new mast-step installed. You can also make out the access ports we installed, one on the stern deck beneath the traveller, and one next to the centerboard trunk (port side). This mast-step repair has not been without problems: it appears to leak around the joint between the new mast-step and the old deck; the gel-coat on the new mast step has chipped right at the top of the tube (you can see it in the photo, port side); and as of June 2000, the new mast-step's tube has cracked (you can't see it in the photo, though). The old deck is starting to delaminate just outside the new mast-step deck piece, too.
---
For more information about Laser sailboats, check out the Laser FAQ, the Laser Class Association, and Vanguard Sailboats
website by thorpeallen.net
Last modified July 23, 2000.