Restoration of Laser #811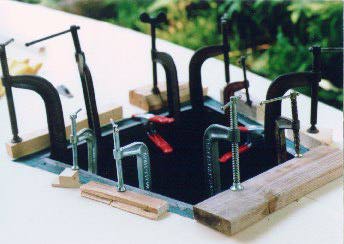 Installation of the mounting flange that will be used to hold the Mast Step Repair Kit deck-and-tube piece in place. (As Norm Abram says, "You can never have too many clamps!")
Unfortunately we do not (yet) have any pictures of the tube-and-deck piece in place. It gets glassed to the reinforcing block installed on the hull and to the flange installed on the underside of the deck. All of this work must be accomplished through an inspection port.
---
For more information about Laser sailboats, check out the Laser FAQ, the Laser Class Association, and Vanguard Sailboats
website by thorpeallen.net
Last modified July 23, 2000.