Boatyard | Greyhawk | latest | next | 2010-09 | previous | oldest
GREYHAWK's Sailing Adventures
September 2010
Epic Adventures and Good Times: Single-handing the Maine Rocks Race
September 22, 2010
So I drove over to Maine Wednesday night, spent the day Thursday installing a new alternator and tending to some other chores. I finally got underay around 18:00 Thursday evening to deliver the boat up to Rockland -- I had an appointment with Doug Pope for Friday morning to measure for some new sails. The sail up was great, except for when it started raining. Got in to Rockland around 01:00 Friday morning and grabbed a mooring to sleep on until daylight, when I brought the boat in to the docks at the public landing. Spent the day Friday talking to Doug about sails, shopping, and preparing the boat for the race. Friday evening was the race reception and skipper's meeting, and then I went out to dinner with some of the guys.
Saturday morning, motoring out to the start I discovered that my autopilot wasn't working -- I think the rain Thursday night had caused some corrosion in one of the connections. I substituted a spare tiller arm and got it to work (phew!). Started in a Northeasterly breeze on port tack at the pin end, about 20 or 30 seconds late, but was still the first boat in the single-handed fleet to make it to the weather mark. Rounded Monroe Island and set the spinnaker for the reach down Penobscot Bay, but soon ran out of wind. The new wind filled in from the SE, so I doused the chute and got to work beating down to Matinicus Rock. The highest apparent wind speed I saw all weekend was only about 12 knots -- true wind ranging between 5 and 10 knots. These were great conditions for GREYHAWK, and great for single-handing.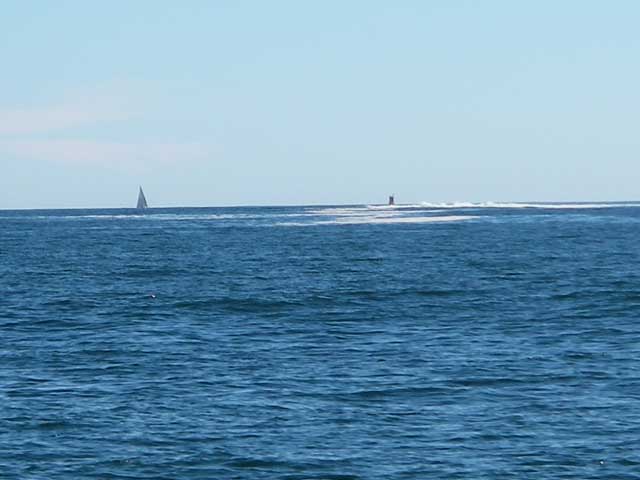 Walkabout (DH) beyond Bantam Rock off Matinicus Island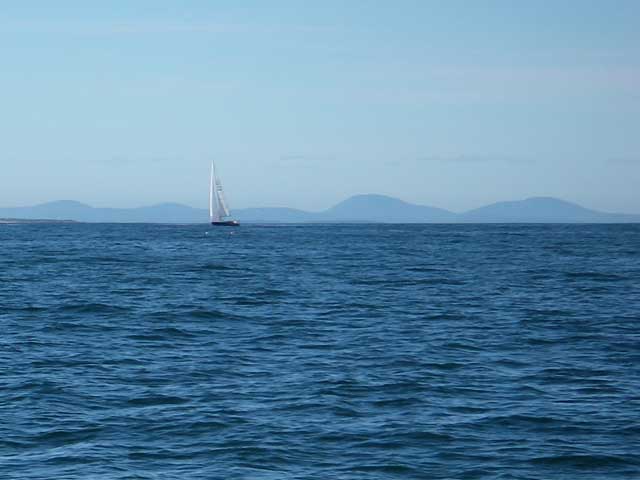 Badger (DH) with the Camden Hills in the background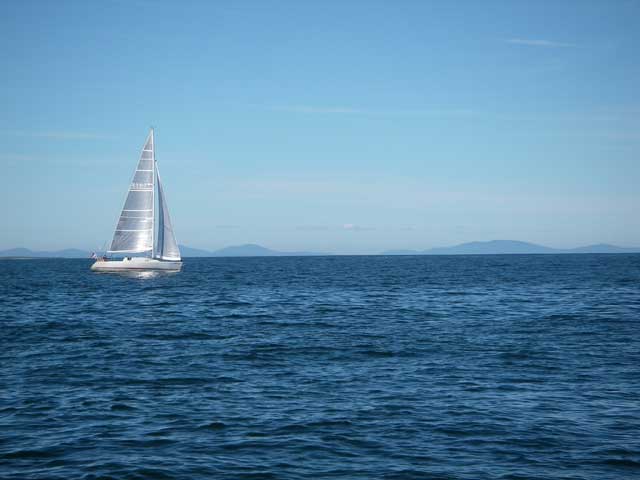 Mainstay V (SH) and the Camden Hills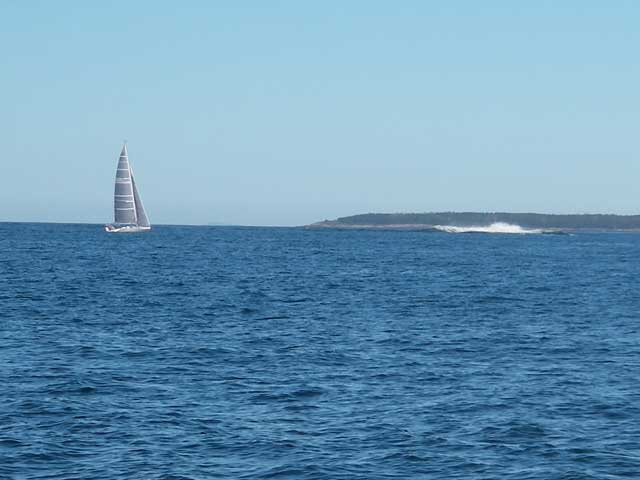 Mainstay V flirting with Bantam Rock off Matinicus Island

Mainstay V doing a sail change as Badger overtakes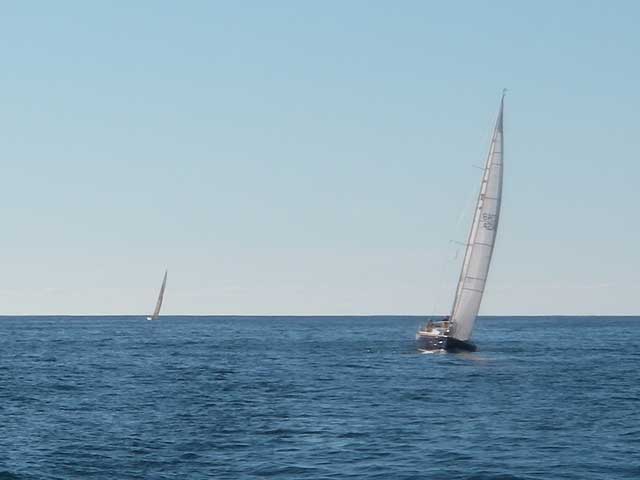 Badger and Mainstay V following GREYHAWK beating in towards Matinicus Rock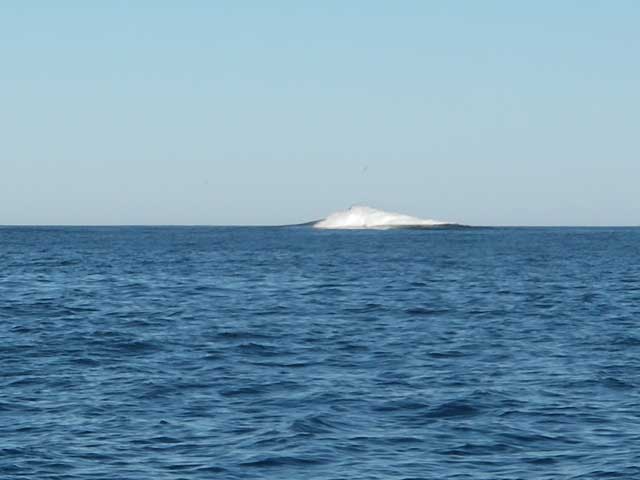 Hurricane Igor's swell showing off on the South Breaker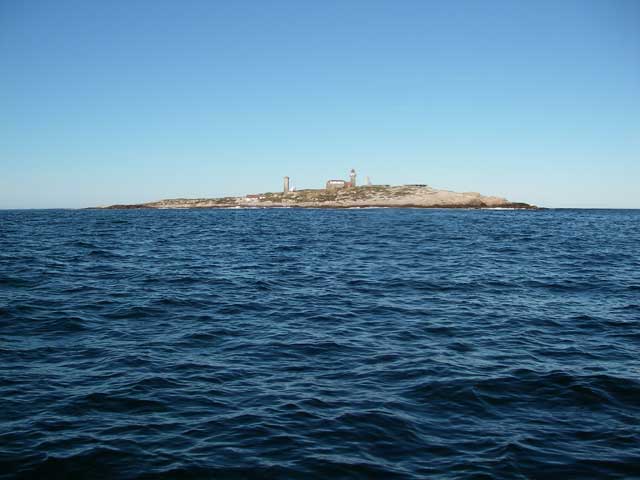 Matinicus Rock in the late afternoon sun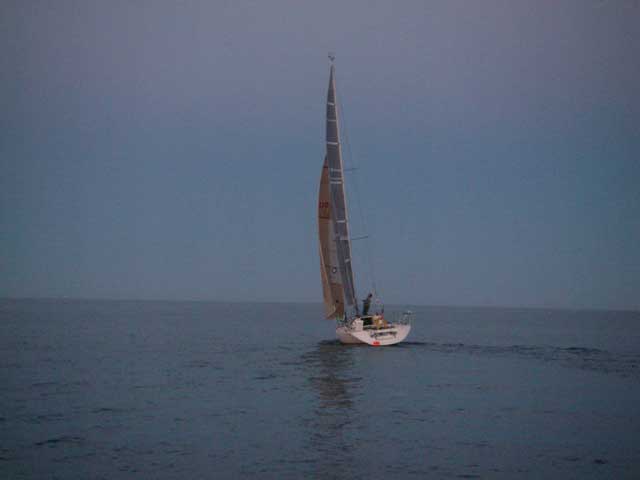 Mainstay V passing GREYHAWK by (I passed him back a short while later)
After rounding Matinicus Rock, the wind was still too far forward to carry a spinnaker, but eventually it went SSW so up went the chute again. At this point I was well ahead of the rest of the single-handers, and one of the doubles, chasing after Walkabout and Cat's Paw (who had been carrying their spinnakers much earlier than I!). So off we went into the night.
Got to Mount Desert Rock a bit after mid-night. There was a big long-period swell coming in from Hurricane Igor this weekend, and there had been some impressive breakers on some of the rocks earlier, but here the surf was really incredible. The wind went fluky, so I went to take my spinnaker down but it got tangled up in the shrouds at the spreader, half the sail in the cockpit, half still up in the air. I pulled this way and that way, but no go. I tied the sail off at the base of the shrouds, and got the jib out, got around the Rock, and got the boat sailing on its way close-hauled back to Matinicus Rock. Then I started trying to figure out how to get up to the spreader to untangle the sail, which I needed to do before the moon set so I could still see what I was doing. I had ruled out using my ascenders (aka jumars) as too complicated, and I'm not man enough to just scamper up there, so I tried hoisting myself up with a block and tackle. I tried the preventer tackle first, but it wasn't long enough. Then I remembered the MOB lifting tackle that came with the LifeSling. That was long enough! I hoisted one end up on the staysail halyard, clipped the other to my climbing harness and then started hauling myself up. But this tackle didn't have any kind of cleat (e.g. a cam cleat like on the preventer tackle), and half way up, the I lost my grip on the rope, slide down the mast to the bottom, the rope running through my hand leaving a wicked burn right in the crotch between two fingers. Well, that hurt, but I really needed to get that sail down, so I hoisted myself back up again, this time hitching the line off to the carabiner every three or four feet. Got the sail untangled (it was just jammed in between the cap and the diagonal shrouds just above the first spreader), and then worked on letting myself back down, struggling to untie the series of hitches I had made on the way up.
Well, that was an adventure. But it was one of those things that you just have to do when you're single-handing. There's no questioning it; it has just got to get done. This single-handed racing is pretty crazy!
So I packed the spinnaker and found some "kooleaburn" wrap in my first-aid kit to cover my burn. By the time I got everything settled and went back up on deck to look around, I couldn't see any others of the fleet (Walkabout was right behind me going into Mount Desert Rock -- I was sure they were going to catch me back up in all my shenanigans). No one was around. So I just kept sailing on toward Matinicus Rock.
Approaching Matinicus Rock after sunrise, I noticed that there was another sail ahead of me -- it had to be Cat's Paw! It was a relief to not be totally alone out there. They rounded and set their chute for the run up Penobscot Bay; I was about a half hour behind them, took my time getting my chute up to make sure I cleared the South Breaker, and then set off after them. I knew I wasn't going to make it up the bay on one gybe -- the wind was too light to sail that deep, but being along I wanted to minimize the number of gybes I had to make, and I wanted to stay in open water so that I wouldn't be under any pressure. Cat's Paw elected to stay on the left side, chasing a weather front that got pushed back, but by gybing back and forth in close to the rocks they were able to stay out of the adverse current. I had forgotten about the tide until I was half-way across the bay after my first gybe and realized that I'ld just shot myself in the foot. I finished about an hour and 15 minutes behind Cat's Paw, having lost a lot ground on this last leg of the race. I kept looking back to Matinicus Rock, waiting for the boats that had been close behind me the night before to come around, but they took forever to show up, and then they just didn't seem to be making any progress up the bay at all. I finished at about 13:35 and kept waiting for the next boat to come in, but they never did. I guess I just sucked up all the wind on my trip up the bay, because the wind had died and they were all stuck out there. Eventually four of the boats gave up and turned on their motors. Two stalwart single-handers stuck it out, eventually finishing around midnight -- by which time I was already well on my way motoring back to Boothbay Harbor, having left Rockland at about 19:20 after the cookout and awards ceremony. I Got into to Boothbay about 02:15, slept for a bit, and then drove back to Keene, getting back into town just in time to teach my 14:00 lab.... I had plenty of time between my finish and the cookout to put the boat to bed, get a shower, etc....
So my elapsed time in the race was about 27.5 hours. I think I must have gotten a few 15 to 30 (maybe 45) minute naps in -- at least one that left me feeling pretty refreshed. I tried napping below but couldn't do it; it was better to just lay out on the deck or huddle up in the cockpit and sleep there. I had a timer that I set for two hours to remind me to make a notation in my log book. I only slept through it once. The autopilot did almost all of the steering for me. I'm really glad I spent all that money on my new batteries and the charging system to go with it.
Epic Adventures and good times!
Electrical System Upgrades
September 16, 2010
For the "house" bank, I have installed three new Odyssey 31M-PC2150 batteries, each with a 20-hour rating of 100 amp-hours. These are "thin-plate pure-lead" AGM batteries that have incredible charge acceptance rates and numerous other advantages. Their disadvantages are that they are very expensive, require careful charging, and can't offer the number of cycles that a traditonal flooded wet-cell deep cycle battery might. I also installed a new Odyssey 34M-PC1500 battery as the engine start battery.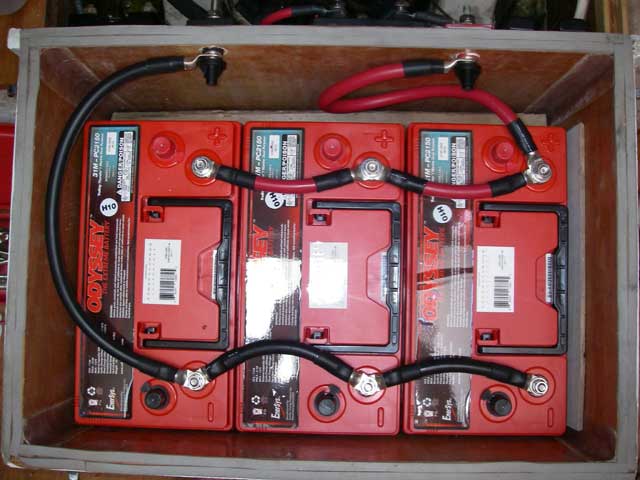 To charge these batteries, I also installed a new Amptech S125e alternator rated at 125 amps. This is quite a beast to power with a single 1/2" belt on my old 14-horsepower two cylinder diesel, but it works!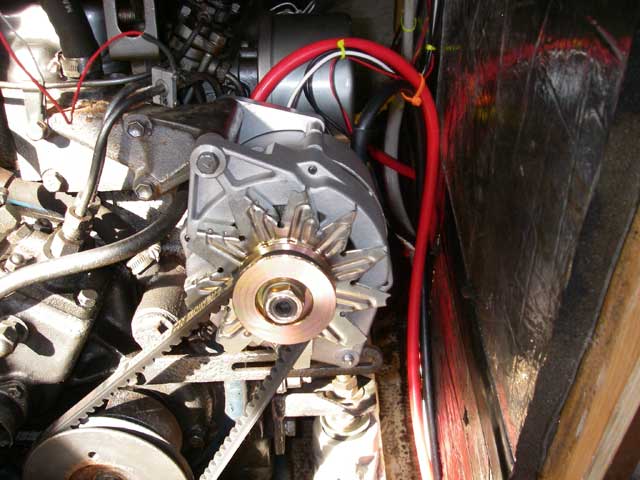 The alternator is regulated by an external Sterling Power Advanced Alternator Regulator (red thing hiding behind hoses in picture below). In addition, I have installed a Genasun GV-10 solar charge controller (above the regulator) to regulate the charge coming from my small solar panels, and a ProMariner i1230 shore-power charger (aft of the regulator). I keep track of what goes in and out of the batteries with my existing Xantrex XBM battery monitor (upper right in photo). The batteries, alternator, regulator, and solar charge controller were all supplied by my friend Bruce Schwab of Bruce Schwab Rigging and Systems. Bruce was really helpful in helping to spec out the system and in providing support for the installation.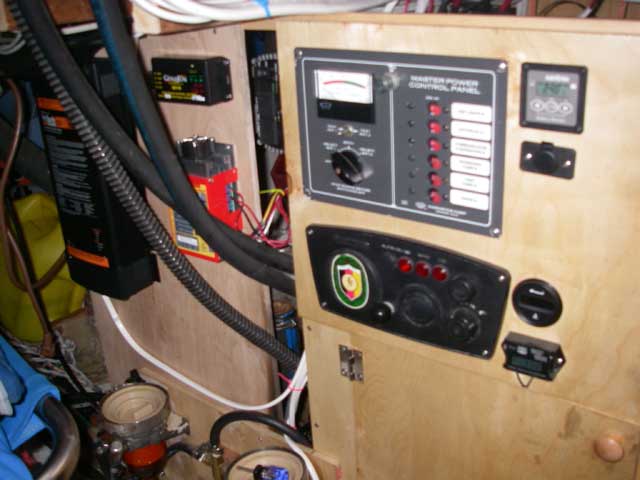 While I was at it, I also upgraded my old Autohelm ST4000+ tiller pilot, replacing it with a new Raymarine X-5 SmartPilot GP tiller pilot.
Points East Magazine Cover
September 6, 2010
I didn't notice this at first, but look who is on the cover of the September issue of Points East magazine?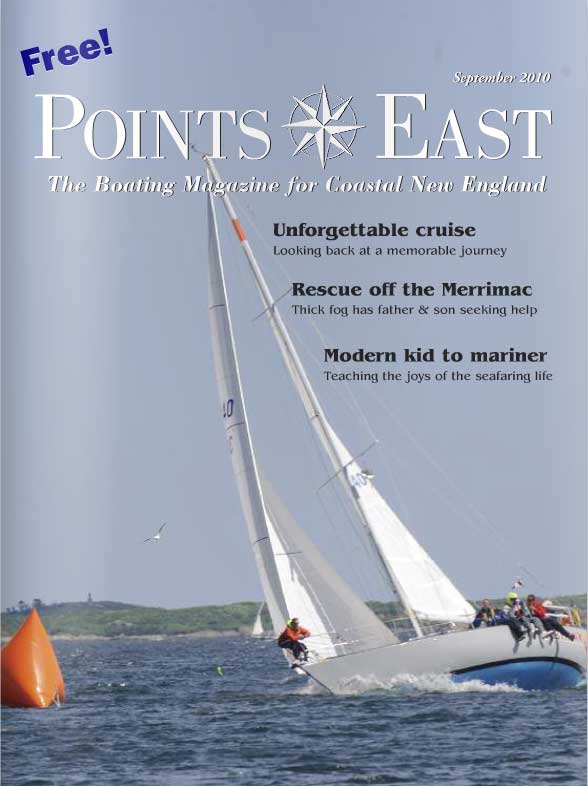 We are also featured in a an advertizement in the magazine (lower left):