Boatyard | Greyhawk | latest | next | 2010-08 | previous | oldest
GREYHAWK's Sailing Adventures
August 2010
Northeast Harbor Race
Steve Ribble and I raced from Portland to Northeast Harbor doublehanded over a ~100 nautical mile course, finishing in first place by about 25 minutes corrected time.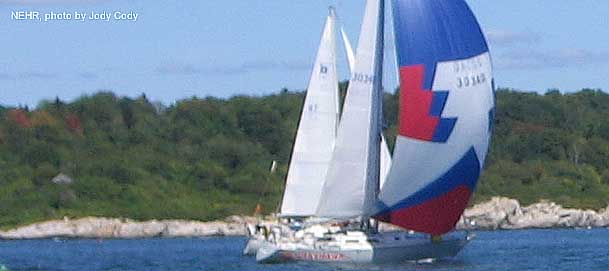 GREYHAWK reaching under spinnaker at the start of the Northeast Harbor Race, slipping past the Pearson 34 IMAGINE. Photo by Jody Cady for www.gmora.org.
MS Harborfest Regatta
August 21, 2010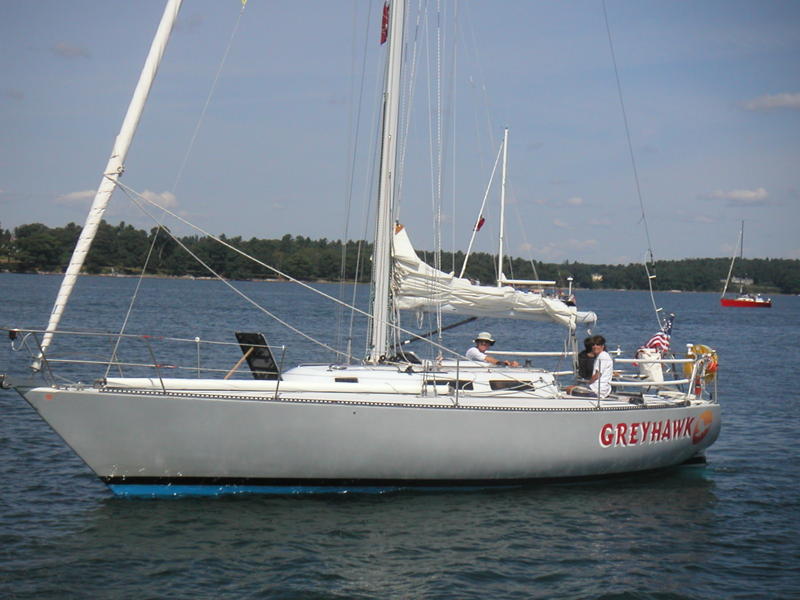 MS Harborfest Parade of Sail. Photo by Chris Loader, Southern Cross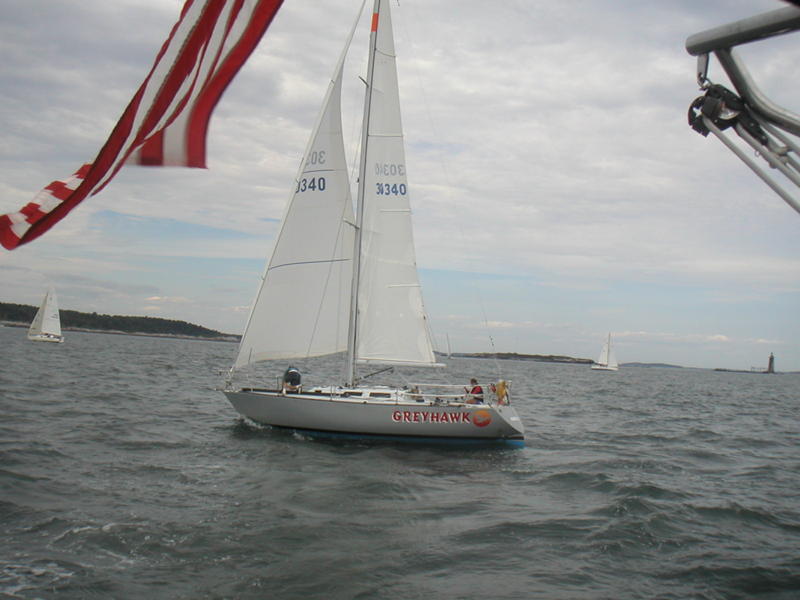 MS Harborfest Regatta Pre-Start. Photo by Chris Loader, Southern Cross
GREYHAWK finished 2nd place in Cruising Division 2; kudos to the crew on WHITEHAWK!
Monhegan Regatta
August 15, 2010
Family-friend Fred and I delivered GREYHAWK from Boothbay Harbor down to Falmouth on Thursday before the race and checked in at the Portland Yacht Club.We were racing triple-handed: myself, my wife, and our 12-year old son, who had been running a fever all day Thursday, but was fever-free Friday morning. So we dropped the dog and cat off at a kennel and drove back to PYC for the skipper's meeting. It turns out we were the slowest rated boat in the Seguin Island Race (Cruising Canvas Division, aka jib and main only).
We got a pretty good start, and held our own with the rest of the fleet (most of whom owed us 30 seconds per mile or more) on the beat down to our first turning mark in a pretty good sea breeze.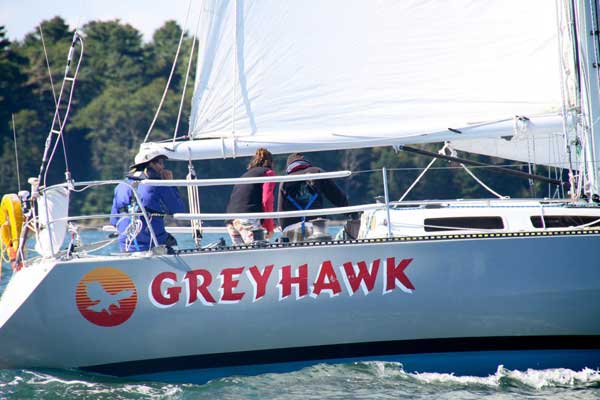 photo by Shirley Fox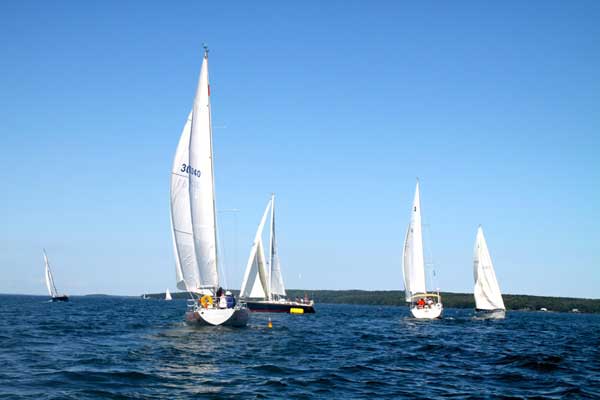 photo by Shirley Fox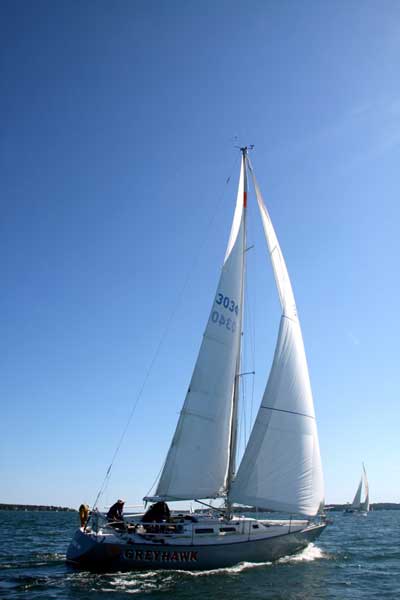 photo by Shirley Fox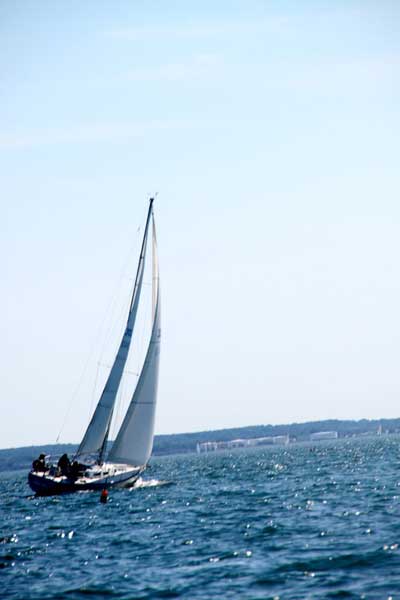 photo by Shirley Fox
After the sea breeze died, we anticipated a land breeze filling in (the weather was perfect for it) so we went in closer to shore than the rest of the fleet, reaching up pretty high to keep the sails drawing. It payed off when sometime after midnight we got 7 knots of breeze that no one else had and we just zoomed (that's a relative term) away from them. We carried this breeze well up into Casco Bay until we could run wing-and-wing dead down wind to Seguin.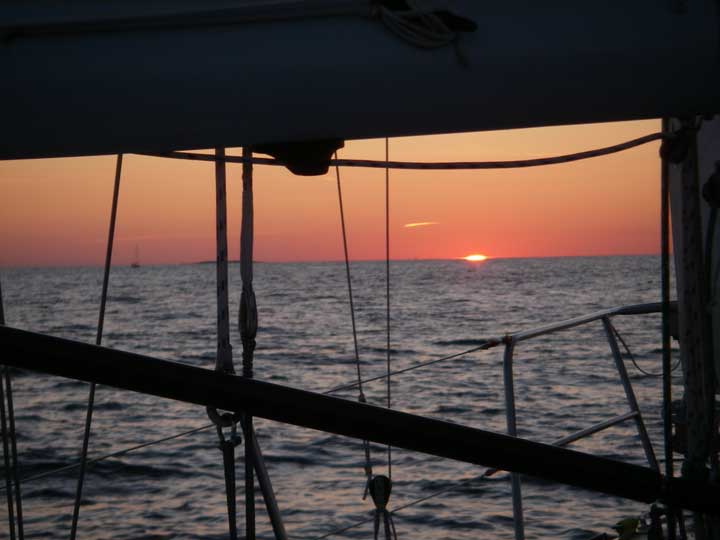 Sunrising next to Seguin Island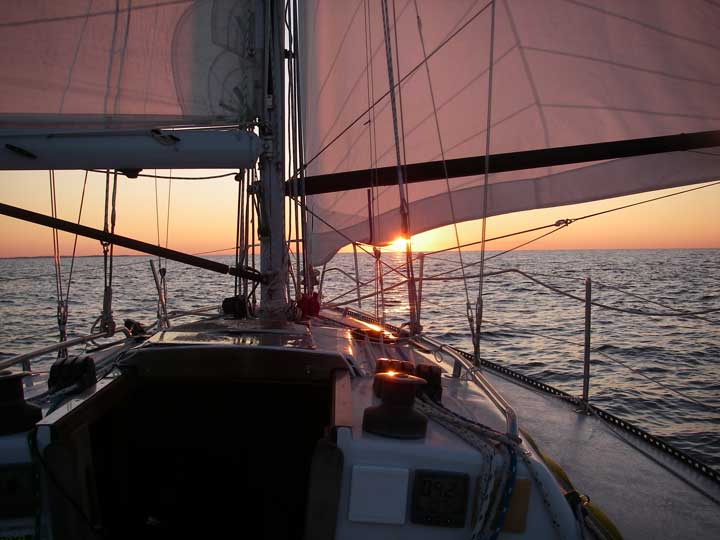 Sailing into the sunrise...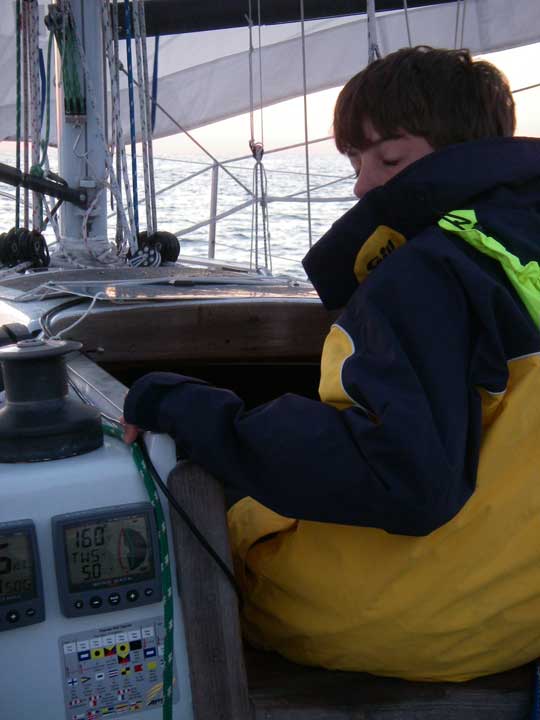 Running wing-and-wing dead downwind and the true wind speed is only 5 knots (if that)....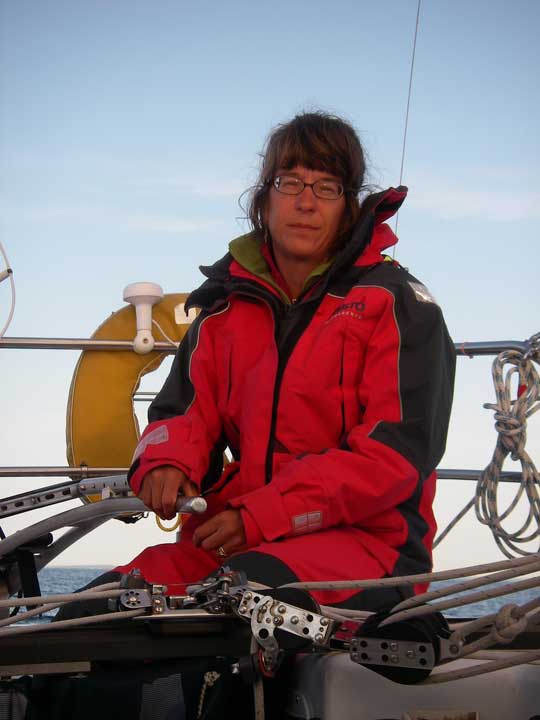 Sailor Chick of a Lifetime!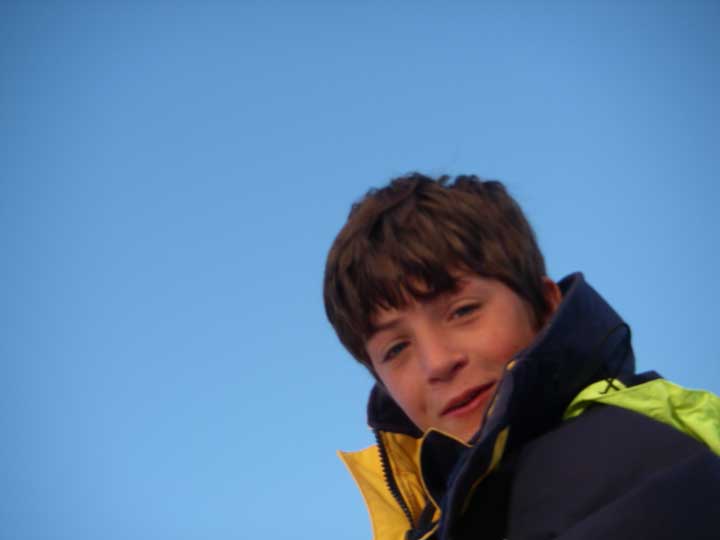 No Fever Today!
It was pretty light through Saturday morning (after the shore breeze died down), but we seem to be pretty slippery in this kind of stuff. Closing in on the mark, as the afternoon sea breeze started to build, we reached up again to keep ourselves positioned between the boats behind and the mark. Taking the times on the two boats ahead of us, it was clear we were well ahead of them on corrected. We rounded the 20ML buoy and sailed close-hauled for the finish line. Some of other boats were tacking out further offshore in hopes of getting more of the building sea breeze, but we didn't want to tack into their bad air and the breeze was filling in nicely so we stayed on the rhumb line since we could point well enough to lay the finish. So now it was just a drag race to the finish, hoping that the two faster boats ahead of us wouldn't be able to open up enough gap to make up the time we had on them. The faster boats behind us were never able to catch up.
End result, we took first place by about 12 minutes after some 25 hours of sailing on a 70-mile course against some much bigger and faster boats!
This is the third year we've done the Monhegan Race (Mananna class in 2008, Seguin Double-handed last year, and Seguin this year), and we just want to rave about the Portland Yacht Club's hospitality. This really is a great event, and they (and we) would love to have more boats come out for it!