Boatyard | Greyhawk | latest | next | 2010-04 | previous | oldest
GREYHAWK's Sailing Adventures
More Planning for the 2010 Season
April 14, 2010
The Gulf of Maine Ocean Racing Assocation (GMORA) published their calendar of sanctioned races, and formally announced the Ocean Planet Trophy. for Short-Handed Racing in the Gulf of Maine
I have committed to doing The Corinthian's "Lobster Run" race from Stonington, CT, out around Nantucket Shoals, to Boothbay Harbor, ME -- about 332 nautical miles -- even though it won't count towards the OP Trophy. I've been working on assembling a crew and bringing the boat into compliance with requirements in the ISAF Offshore Special Regulations for Category 2.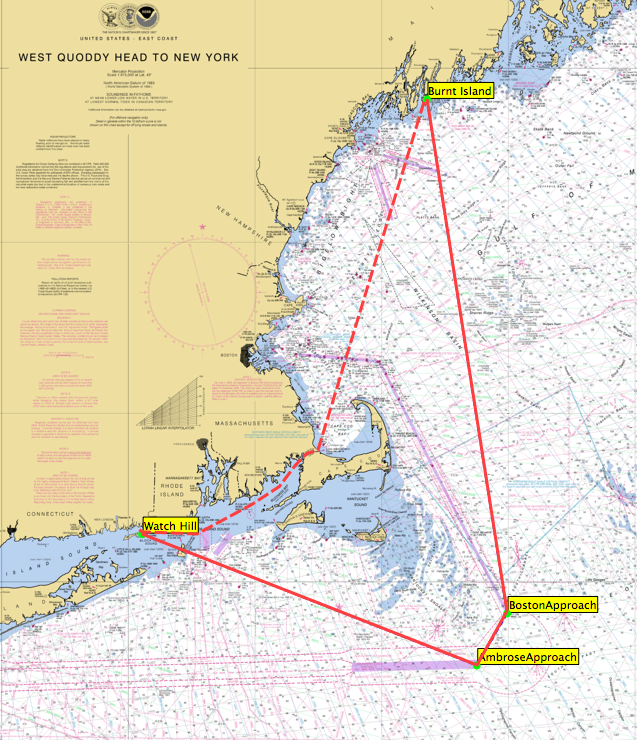 A new life raft is on order from LRSE; Pope Sails and Rigging is building a new Storm Trysail; and Maloney Marine Rigging has installed a dedicated sail track on GREYHAWK's mast for the storm trysail (this winter, they also put together a new carbon-fiber composite spinnaker pole, as well!). I am also installing a new AIS "transponder" system, and making numerous other upgrades as well. There's always something to do!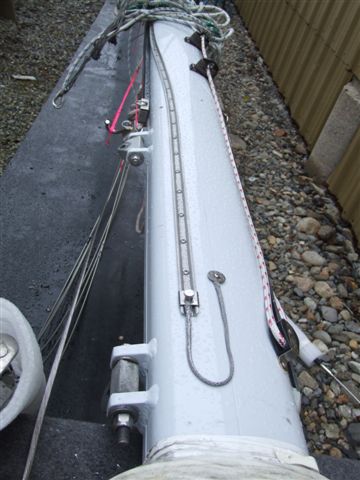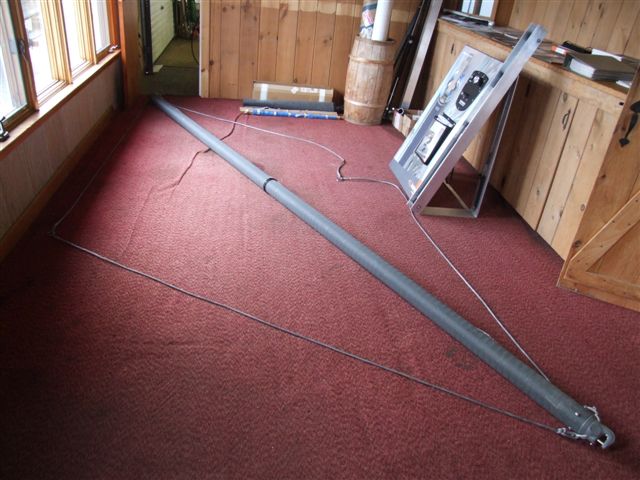 GREYHAWK's launch has been set for Wednesday June 9, although the mast might not get stepped until Thursday June 10...
I am hoping to get my Lobster Run crew together in June for a weekend of training and practice. Then the two weeks following the July 4 weekend, Wendy, Bennett, Tahoe, Scamper and I will go cruising, with a goal of making it to Rocque Island (way down east) and back in time for the Boothbay Harbor Yacht Club's Regatta, July 17 & 18. Immeadiately following that, my delivery crew and I will sail GREYHAWK down to Stonington, CT (

), for the start of the Lobster Run on July 23 (

).
After finishing the Lobster Run, I would like to take GREYHAWK up to the Camden (

) for the Penobscot Bay Regatta, July 31 and August 1. The next big race would be the Portland Yacht Club's 70 nm Monhegan Regatta, August 12 to 15 (

). I think I may try to leave the boat down in the Falmouth/Portland area for the next two weeks so that we're in position to do the Centerboard Yacht Club's 120 nm Northeast Harbor Race, August 27 & 28 (

). Since we're already there, maybe I'll drive back over for the the MS Regatta on August 21. Following the finish of the Northeast Harbor Race will be a long delivery back to Boothbay Harbor (

), and then back to work as KSC's fall semester starts on August 30!
Probably the last race of the season for GREYHAWK will be the Rockland Yacht Club's 113 nm Maine Rocks Race (

), September 18 &amp 19, with day-long deliveries before and after, as well (

).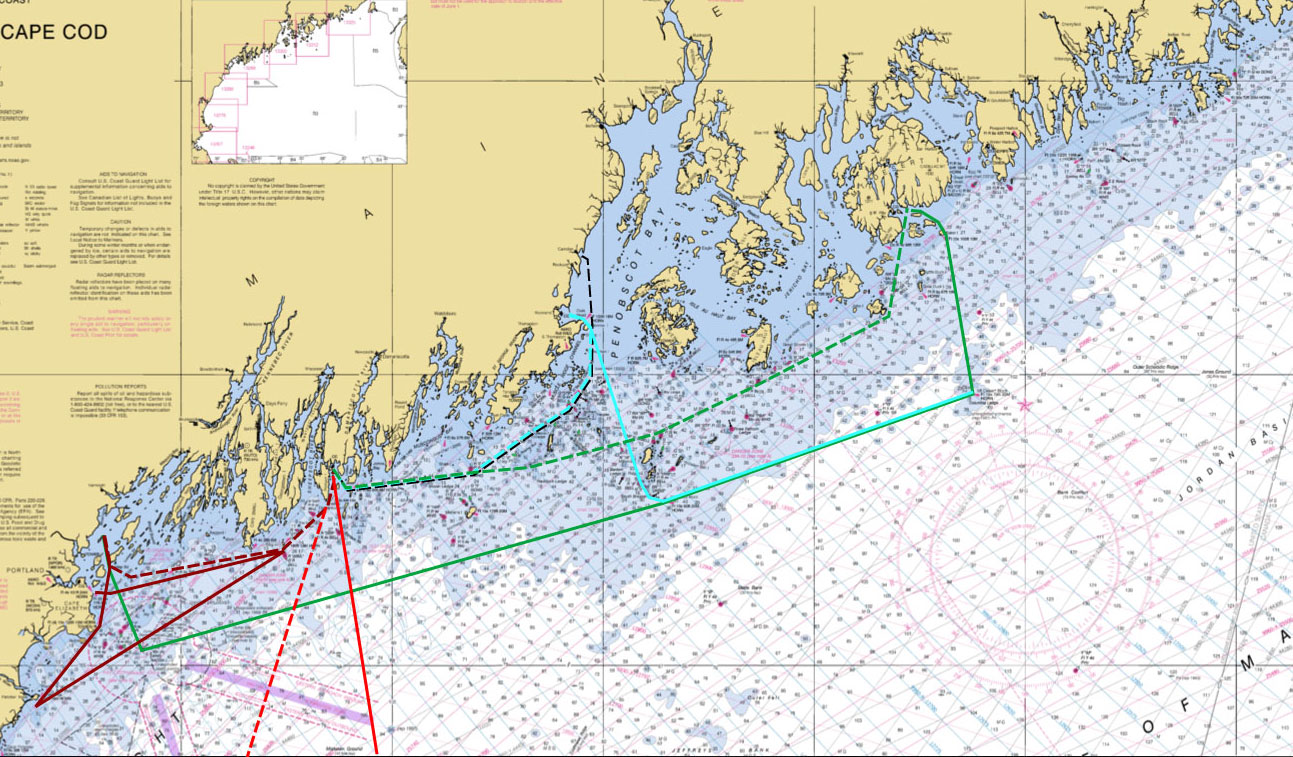 click for a larger version
Tentative 2010 Schedule
June 9 & 10: launch and rig boat

June 19 & 20 (alternate date, June 12 &amp 13): sail training weekend for Lobster Run crew (tentative)

July 5 to July 16: Allen Family Cruise on GREYHAWK

July 12: Northeast Harbor Fleet MDI Series Race? (20 nm?)

July 17 & July 18: Boothbay Harbor Yacht Club Regatta

July 19 to July 21: Delivery to Stonington, CT (225 nm, )
July 22: Check-in and Skipper's Meeting for the Lobster Run
July 23 to July 27: The Lobster Run (332 nm, )

July 30: Delivery to Camden (45 nm, )?
July 31 & August 1: Camden-Penobscot Bay Regatta?
August 2: Delivery back to Boothbay Harbor? (45 nm, )

August 13: Delivery to Falmouth (35 nm, )
August 13 & 14: Portland Yacht Club's Monhegan Race (70 nm, )

August 21: MS Regatta?

August 27 & 28: Centerboard Yacht Club's Northeast Harbor Race (120 nm,
August 29 & 30: Delivery to Boothbay Harbor (70 nm, )

September 17: Delivery to Rockland (40 nm, )
September 18 & 19: Rockland Yacht Club's Maine Rocks Race (112 nm, )
September 20: Delivery to Boothbay Harbor (40 nm, )

October XX: deliver boat for haulout -- where and when has yet to be determined!