Boatyard | Greyhawk | latest | next | 2010-03 | previous | oldest
GREYHAWK's Sailing Adventures
March 2010
Blast from the past
March 22
We just received this photograph of GREYHAWK passing through the Cape Cod Canal back in 2006: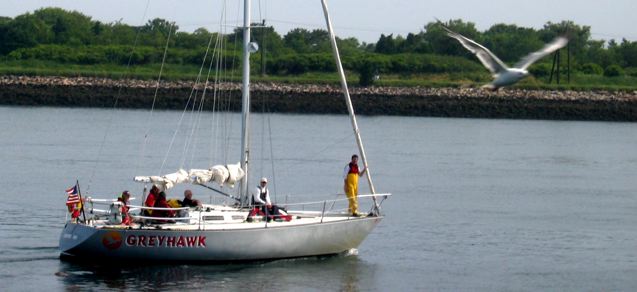 Photo by Dave Howes, Sandwich, MA
---
Planning for the Lobster Run
March 14 -- updated March 25
I am planning to enter GREYHAWK in the 2010 Lobster Run, a 332-nautical mile race from Stonington, CT, out around Nantucket Shoals, finishing in Boothbay Harbor, ME. See http://www.lobsterrun.org/ for race details.
To do a race like this (ISAF Category 2) requires significant advance preparation of both boat and crew.  We (boat and crew) have to meet a whole bunch of requirements, spelled out in the Notice of Race (NOR) and the Offshore Special Regulations (OSR). There are significant costs, and it requires a significant time commitment.
Schedule
I propose the following tentative schedule leading up to the race:
Saturday and/or Sunday, May 22 and/or 23 (tentative): a day or weekend of boat work, crew training, and generally getting to know each other, to take place in Boothbay Harbor, Maine (overnight lodgings for Friday and/or Saturday nights would be available gratis in one of the cottages at Harborfields). The boat will still be on the hard, and one of our jobs will be to prepare the bottom...

Saturday and Sunday, June 19 and 20 (first choice; alternate date - June 12 & 13): a weekend of on-the-water crew training, likely including an overnight sail out of Boothbay Harbor over Saturday night (Friday night accommodations could be had on the boat, or possibly in a Harborfields cottage)

Monday to Wednesday, July 19 to 21: delivery of the boat from Boothbay Harbor down to Stonington.

Thursday, July 22: Check-In and Skipper's Meeting in Stonington. Crew not on the delivery would need to get themselves to Stonington before the day is over.

Friday, July 23: Race Start

Tuesday, July 27: Finish Time Limit (hopefully we'll finish much earlier!), and Awards Party
Obviously, the minimum time commitment is the race itself -- show up in Stonington by the end of the day on Thursday, July 22, and free to leave whenever we get in to Boothbay Harbor. But it would really be great if the whole crew could make it to the June training session -- that's pretty much mandatory -- and it would also be great if you could come to the May session as well. The delivery is less critical (I have other crew interested in helping with that), although that would be another chance to get to know the boat and some of the crew.
Crew Requirements
I would ask crew to supply their own personal gear, including Foul Weather clothing, PFD/Harness and Tether, all in compliance with the requirements of the NOR and OSR. Make sure to get a refill kit for your inflatable PFD! (We do have a limited supply of some gear that you might be able to borrow if this is a real problem.) In addition, please bring (and use, as necessary) whatever anti-seasickness treatment is most effective for you -- some of which may require a prescription from a doctor, e.g. scopolamine patches.
Crew would also need to get themselves to Stonington for the race start, and home from Boothbay Harbor after the finish. I would, of course, try to help with arranging those logistics. For example, I do have some non-race crew who are interested in helping to deliver the boat from Boothbay Harbor down to Stonington for the start, and they would be able to drive crew vehicles from Stonington back to Boothbay Harbor. Also, I should be able to arrange a ride for crew after the race from Boothbay to Portland, where you should be able to arrange for planes, trains, or buses.
The race entry fee is $700 plus $50 per each crew-member. That is a lot of money (to me, at least), and it does not include $20 per person for the Stonington Welcome Reception, plus another $20 per person for the Boothbay Awards Ceremony! So in addition to providing your own personal equipment, it would be great if each crew member could kick in $90 for these per-person costs (I'm assuming you would want to go to the receptions!) -- that would really help!
I will take care of provisions on the boat, although you are most welcome to contribute in-kind if you wish. On the other hand, meals out on shore -- such as the receptions mentioned above, or during work and training weekends, for example -- would normally be each crew member's responsibility.
We've got the requirements for Safety at Sea and First Aid training covered, but we won't turn you away if you come with either of those! However, all the crew need to have an ISAF Classification, basically a determination as to whether you are a professional sailor or not. It's free: http://www.sailing.org/classification/first-application.php
It should also be understood that GREYHAWK is intended to be a smoke and drug-free environment, and we drink alcoholic beverages only after we're done sailing, and then only in moderation.
Boat Details
start here (or here if you want to follow the whole story from the beginning).
For the last two years, we have raced with a PHRF-NE Handicap of 123 racing, 138 cruising. These handicaps include a 6-second credit for a "recreational" sail inventory. One of the limitations with that, however, is that we only get to declare one spinnaker!
Philosophy
I just plain enjoy sailing, and part of that is trying to make the boat go faster. But I am also conservative and reluctant to push the boat too hard when conditions build, or in tight manuevering with other boats -- wipe-outs are slow, fouling or being fouled by other boats is slow, breaking the boat is slow, and breaking the crew is slow -- and none of these are really all that fun, either. I'm doing this for fun -- and of course adventure, I do love a good adventure!
If you are really interested, here is an old post I made on Sailing Anarchy that I think explains where I'm coming from.
Crew Information Form
I've put together an online form to collect needed information from crew and prospective crew, which you can fill out here...
---
The Rest of the 2010 Schedule?
Tentative
May 22 & 23: work weekend for Lobster Run crew (tentative)

June ?: launch and rig boat

June 19 & 20: sail training weekend for Lobster Run crew (tentative)

June 26 to July 3: Wendell-Thorpe Family Vacation on Great Pond
July 3 to July 5: Wendell Family Reunion on Eggemoggin Reach

July 5 to July 16: Allen Family Cruise on GREYHAWK

July 12: Northeast Harbor Fleet MDI Series Race? (20 nm?)

July 17 & July 18: Boothbay Harbor Yacht Club Regatta (2 x 12 nm)

July 19 to July 21: Delivery to Stonington, CT (225 nm)
July 22: Check-in and Skipper's Meeting for the Lobster Run
July 23 to July 27: The Lobster Run (332 nm)

August Week 1: Allen Family Vacation at Harborfields

July 30: Delivery to Camden (45 nm)?
July 31 & August 1: Camden-Penobscot Bay Regatta (2 x 25 nm)?
August 2: Delivery back to Boothbay Harbor? (45 nm)

August Week 2: Allen Vacation at Harborfields

August 13: Delivery to Falmouth (35 nm)
August 13 & 14: Portland Yacht Club's Monhegan Race (70 nm)
August 15: Delivery back to Boothbay Harbor (35 nm)

August 20: Delivery to Portland (35 nm)
August 21: MS Regatta?

August 27 & 28: Centerboard Yacht Club's Northeast Harbor Race (120 nm)
August 29 & 30: Delivery to Boothbay Harbor? (70 nm)

September 17: Delivery to Rockland (40 nm)
September 18 & 19: Rockland Yacht Club's Maine Rocks Race (112 nm)
September 20: Delivery to Boothbay Harbor (40 nm)

September 24: Delivery to Falmouth? (35 nm)
September 25: Portland Yacht Club's Lightship Race (25 nm)?
September 26: Delivery to Boothbay Harbor? (35 nm)

October XX: deliver boat for haulout -- where and when has yet to be determined! anticipating needing to get the boat to Newport, RI, by the end of May 2011...