Boatyard | Greyhawk | latest | next | 2008-09 | previous | oldest
GREYHAWK's Sailing Adventures
September 2008
---
Delivery, Rockland to Boothbay
September 20, 2008
I met famous solo ocean racer Bruce Schwab at the Rock's Race skipper's meeting last week, and hired him to consult with me on GREYHAWK's set-up. We met at Harborfields, and then Wendy drove us up to Rockland, where we rowed out to the boat, and got underway back to Boothbay Harbor. Bruce tuned the rigging and gave me all kinds of suggestions about things we could do to improve short-handed boat handling. It was a great sail, and I learned tons. Thanks, Bruce!
---
Maine Rocks Shorthanded Race 2008
September 12-14, 2008
Dick Wicken and I sailed from Northport down to Rockland on Friday, beating into 25 knots from the south, which made for rough seas when the tide was running out.
We finished 7th of 8 finishers (9 starters) in the innaugural edition of this instant classic race.
---
Around Isleboro Race
September 4-7, 2008
Dick Wicken and Paul Gaudet, and their wives Lou and Janet, met me at Harborfields on Thursday night. Dick and Paul were going to help me deliver GREYHAWK to Northport Yacht Club, while Lou and Janet shuttled my car up for me. The girls left that evening, and Dick, Paul and I got underway at 6:00AM on Friday. We had a good sail from Boothbay up into Penobscot Bay (60 nm), arriving at Northport Yacht Club in time for the Around Isleboro Race (AIR) pre-race party. I had previously made arrangements with Don and Katie Radcliffe (cruising on KLONDIKE) and Jeff Wilson to crew in the race, and we were also joined by Ann C.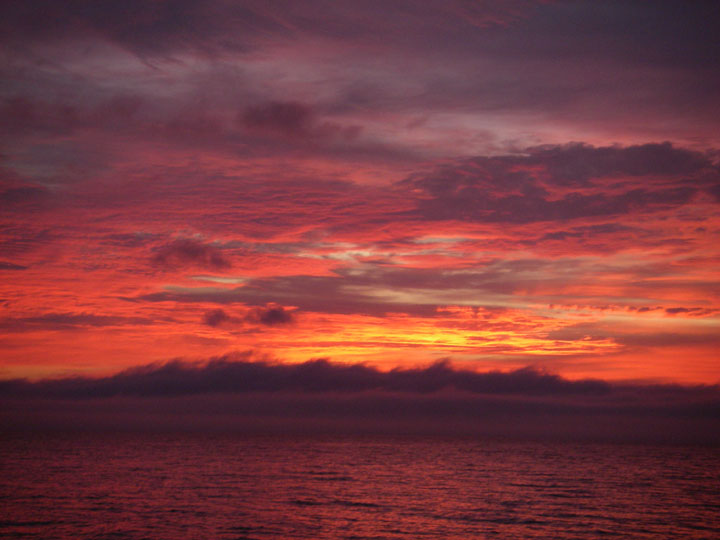 Despite the beautiful sunrise Saturday morning, the start was shrouded in fog. We managed to find the line and get off to a good start, rounded Turtle head in good position, but sailed into a wind-hole in East Penobscot Bay. We managed to extricate ourselves from that, and headed for Pendelton Point and Brackett's Channel. We jibbed it through there, and made ground on other boats that had tried to carry their spinnakers. We didn't set the chute until in the relatively open water of Gilkey's Harbor, and then it was a downwind sprint to the finish. We ended up fourth across the line, corrected 4th of 8 in our division, and 4th of 25 or so in the whole fleet. (Results PDF)
We left the boat at Northport for the week in anticipation of racing in the Maine Rocks Shorthanded Race the following weekend.