Quasar, a San Juan 21 (#555)
---
Top | 1999 | 2000 | 2001 | 2002 | 2003 | 2004
---
1999
bringing the boat home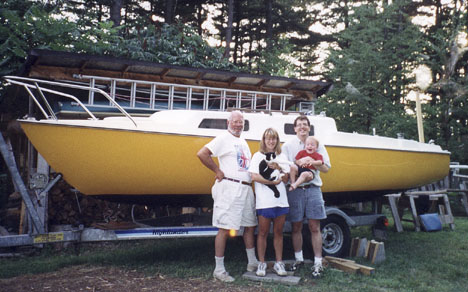 Quasar on her trailer in Keene, NH, September 1999. You can just barely see the inverted hull of our Laser (behind the ladder), taking shelter in our woodshed.
The boat had belonged to my father-in-law ("Cappy"), all it cost us was a drive down to Annapolis to get it and bring it back. (He had moved in with his new wife, and had sold his old house and needed to move the boat out of the garage there -- the new wife didn't want it in her yard, and besides they already had at least 3 other boats between them).
Much of Quasar's deck core turned out to be rotten. Over the summers of 2000 and 2001, we undertook to repair her deck, as documented here. Since then, we've undertaken additional repairs and improvements, such as replacing the windows and cushion covers. Previous "project boat" experience included installing a mast step repair kit in our Laser #811.
---
Top | 1999 | 2000 | 2001 | 2002 | 2003 | 2004
---
2000
ripping out the old deck core
Almost all of the deck from the about the mast step back was rotten. The culprit leaks included the handrails, the slides for the companionway hatch, and deck hardware mounted at the rear of the coach house roof (e.g. halyard rope clutches, jib sheet cam cleats). Note the area of core removed leading up to the mast-step, discussed below.

I decided to work from the inside so as not to ruin the exterior cosmetics (e.g. non-skid pattern), and because the inner skin is a lot thinner than the outer one. I found I could peel away the paint (and a layer of fiberglass) -- and the remaining laminate was translucent enough that I could see where the rot was.

My primary tool in this work so far has been a 4.5" angle grinder, using a thin grinding blade as if it were a saw blade, and using lots of sanding disks. A tyvek coverall, dust mask, goggles, and hearing protection are mandatory! (see our Laser repair project, for an example)

The worst part about working overhead is taking out the old. Nothing like sitting inside the boat on the hottest, most humid day of the summer (isn't it always that way?), craning your next as you're working with the grinder over your head cutting away the fiberglass and getting showered with bits and pieces of soaking-wet rotten balsa wood raining down on you! (In many spots, the deck was totally delaminated -- the wood, what was left of it, was not sticking to either skin!)

No core damage associated with any of these holes at the mast step, rather the nick in the gel-coat in the lower right of the image above was a culprit.

The bolts holding the jib lead tracks did leak, but for whatever reason the rot was not extensive here.

The hinges for the forward hatch were also a problem, and much of the deck core around the back and sides of this hatch is rotten.

More rotten balsa wood!

I almost thought about cutting the whole coach house roof right off the boat, so I could flip it over and take it inside the shop to rebuild it there, and then gluing the whole structure back on the boat later, but I haven't done that yet...

We have also thought about rolling the whole boat over, but we didn't do that either...
That's about as far as I got during the summer of 2000 as other projects (e.g. work & family) assumed precedence.
Next steps are to finish grinding down the area and feather all the edges, epoxy some new balsa core in place (working upside down over my head!), laminating a new fiberglass inner skin (again, working upside down over my head! As per Gougeon Brothers' WEST System manuals, I'm planning to use epoxy thickened with collodial silica so it'll hang on to the overhead surface. The trick will be in devising appropriate props and supports (spring poles) to act as clamps.), painting it all pretty, and re-bedding (properly this time!) all the hardware. I will also fill in the instrument holes in the bulkheads (just so I can cut new ones...), install an outboard motor bracket, and other such tasks. Then, while still tons to do, I think we'll at least be able to go sailing! (Hopefully early in summer 2001)
---
Top | 1999 | 2000 | 2001 | 2002 | 2003 | 2004
---
2001
installing the new deck core
We went on vacation to Harborfields in West Boothbay Harbor, Maine, for the last two weeks in June. I took Quasar, and all my tools and supplies with me, with the intention of getting far enough along on this repair project to go sailing before our vacation was over.
Next steps were to finish grinding down the area and feather all the edges, epoxy some new balsa core in place (working upside down over my head!), laminating a new fiberglass inner skin (again, working upside down over my head! As per Gougeon Brothers' WEST System manuals, I used epoxy thickened with collodial silica so it'll hang on to the overhead surface.
After I finished grinding, I started fitting and gluing up new core material. I used blocks of end-grain cedar for the fore-deck area. After wetting out both surfaces with unthickened epoxy, I used a notched trowel to spread thickened epoxy on the underside of the deck and on the cedar blocks, and then just stuck them up as one might with ceramic tile in a bathroom!

For the main part of the cabin roof, I used Baltek "KontourKore" balsa, applied in a similar fashion although in larger sheets. I found that spring poles or clamps weren't necessary, as long as the epoxy was thick enough the stuff would stay up by itself (the bonding might have been better with clamps, though). I should point out that before applying the fiberglass, I used thickened epoxy putty to fill all the gaps and edges -- you can see some of that filling on the left side of the image.

Looking back from inside. You can see how I've ground a tapered edge around the instrument hole in the bulkhead.

Fiberglass lamination done! Yahoo! This was very tricky and required at least four hands. We would wet out the surface with unthickened epoxy using brushes or a roller, then stick the glass cloth or mat up into that, and roll over it with slightly thickened epoxy. We found that the mat was a real mess to work with. One solution was to use some plastic sheeting so that the mat wouldn't stick to your fingers and that worked very well. Another thing we learned is that we needed to give the epoxy a little time to set up before trying to stick the glass up into it -- if it's too liquid, the glass will just fall down under the influence of gravit, but just before the epoxy starts to kick, the glass will stick.

Multiple laminations around the foredeck hatch.

While giving the epoxy a little bit of time to cure, I turned my attention to other projects

While giving the epoxy a little bit of time to cure, I turned my attention to other projects like installing the new motor mount.

If I ever have to work on the inside of the transom again, I'm cutting a hatch through the backwall of the cockpit!
There's a whole story about the launching that I'll save for another day, but we got her in the water late on Wednesday evening of our second week of vacation (my father-in-law took some pictures, which I hope to post here eventually). I finished installing hardware while tied up to the dock the next day. Finally, just before sunset, we took her for a sail across the harbor and back! Yippee! (Unfortunately, we don't have any pictures of Quasar sailing, but here are some pictures of her at the dock after that first sail.)
You can see the patched instrument holes in the foredeck, etc...

We haven't routed all lines back to the cockpit yet -- eventually...

The view from the Harborfields dock looking east across Boothbay Harbor at Sunset

Ready for another sail!

We did sail her again Friday afternoon -- back around the point and Mouse Island into Townsend Gut to be hauled as our vacation was about to end and it was time to take her home to land-locked Keene.
Still to do: painting and cosmetic work -- like cleaning up those instrument holes, rebuild the forward and companionway hatches -- both of which also have rotten cores and/or delamination of skin(s) from core, and numerous other projects. But at least now we can go sailing!!!!!
---
Top | 1999 | 2000 | 2001 | 2002 | 2003 | 2004
---
2002
The major projects on Quasar this year were to paint the interior with Petit EasyPoxy topside paint (gloss white, see photos below), clean up the exterior a bit, and install a new Suunto compass. We took the boat with us on our annual two-week vacation to Harborfields in West Boothbay Harbor, Maine. There I got in a fair bit of sailing with my friend Harold Smith, including a long sail around Southport Island.
We beat out of Boothbay Harbor into a 20 to 25 knot breeze with seas building to 4 feet or more. We were sailing under full main and working jib at a steady 25 degree angle of heel, bounding over the waves. By the time we cleared the Cuckolds, the wind had abated somewhat, but the seas had continued to build. We sailed up Sheepscot Bay, against an outgoing tide, on a broad reach surfing down the large following seas at speeds occaisionally topping 8 knots!
We ducked into Ebencook Harbor, where the seas were flat and the wind was light, to find the Windjammer fleet at anchor and the powerboats buzzing about. By the time we rounded Cameron Point to head down Townsend Gut, the tide had turned and was now coming back in against us. With little wind, and a narrow channel to make through rocks both port and starboard at the head of the Gut, it was time to start the outboard. The old (circa 1972) Johnson 4 horse two-stroke was particularly recalcitrant, but eventually we coaxed it to run, and puttered on down Townsend Gut through the lobster pots. When we reached the swing bridge across the Gut, however, the outboard died just as the bridge was opening for us. We contemplated trying to sail or paddle through, but then a large power yacht passed by and threw us a tow line. Once through the bridge, we dropped the tow line and waved our saviors goodbye. We tacked back and forth through the narrow part of the Gut, sailing into both wind and tide, and eventually beat our way back into Boothbay.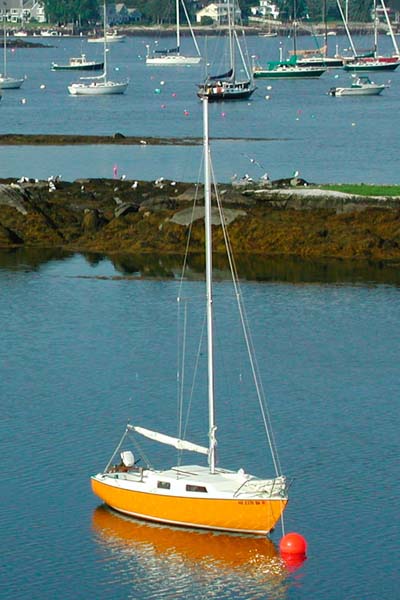 Quasar on her mooring at Harborfields, West Boothbay Harbor, Maine, June 2002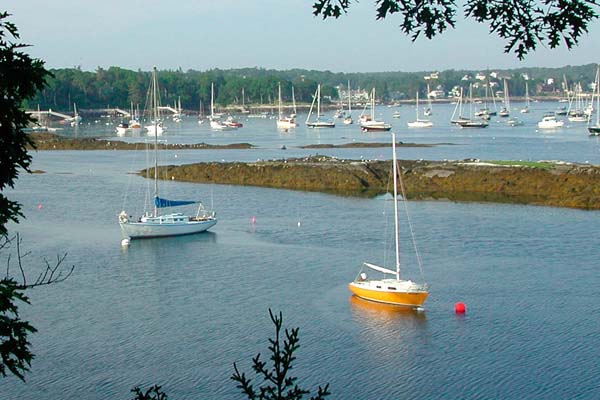 Quasar with her big sister Galaxy, at Harborfields.
---
Top | 1999 | 2000 | 2001 | 2002 | 2003 | 2004
---
2003
This year, little work got done on Quasar, as most of my efforts were directed toward preparing for a voyage to Newfoundland and back with my friend Harold Smith, and my Dad and step-mom aboard their Cape Dory 36. I did, however, invest in a new Nissan 4 horse four-stroke long shaft outboard. What a difference! It is especially great to have neutral gear (the old Johnson didn't have any shifting). Upon my return from Newfoundland, my wife, son, and I went once again for two weeks at Harborfields in West Boothbay Harbor, Maine, with Quasar in tow.
My father-in-law, "Cappy," Quasar's original owner, enjoyed sailing her again: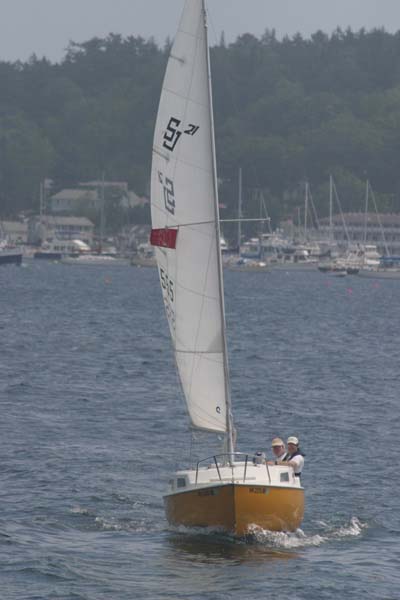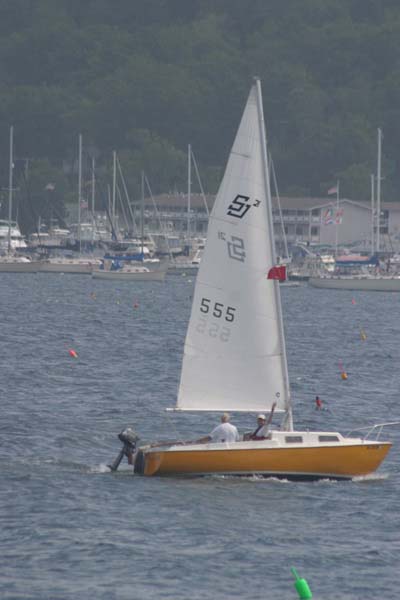 Heading out of Boothbay Harbor, Maine, in a fresh breeze under mainsail alone, August 2003
---
Top | 1999 | 2000 | 2001 | 2002 | 2003 | 2004
---
2004
new windows and cushion covers
This year we were anticipating my sister and her two boys coming to stay with us for part of our annual vacation at Harborfields. Since some of them are allergic to cats (Catamount and our dog Baxter both go to Harborfields with us), we though they might like to sleep on a boat instead of in our cottage. This was the motivation for finally getting around to making new cushion covers for Quasar. But if I was going to put new covers on the cushions, I needed also to stem some of the leaks into the cabin. The windows were major culprits!
So one day I impetuously started drilling out the rivets holding the old windows and frames in their openings in the cabin sides. Those old frames were very cracked, and the sealant had long ago given up. The window frames were a breeding ground for green algae and mold. I was so glad to get rid of them, and now having unprotected openings in the cabin sides would force me to complete the new windows.
Using the old windows with their frames as patterns (adjusted for problem areas), I cut new windows from 0.22" plexiglass obtained from Home Depot. I cut them using both a table saw and a band saw, then rounded over the outside edges using a router table. I marked the windows for holes to match the old rivet holes in the cabin house sides, and drilled the holes with a drill press. I didn't have time to finish mounting the windows before our scheduled departure for Maine, so I screwed them over the openings in the cabin on a temporary basis, to keep at least some of the rain out as we trailered the boat to Maine.
You can find a much better selection of stainless steel hardware, at a better price, on the coast than inland, so I waited until we were there before buying most of the stainless machine screws and nuts I would need to attach my new windows. With those in hand, we cleaned everything with acetone, ran two beads of Silicone cauking around the windows, and screwed them in place on the cabin house sides. My wife was inside the cabin putting the nuts on, and I was outside tightening the screws. Through the clear plexiglass, I could watch the beads of silicone ooze together and see the air leave as I tightened, and would stop tightening as soon as the gasket was complete. The windows turned out great, and the seal is awesome! I am amazed at just how much water does NOT come into the boat anymore when it rains. There are still some other leaks to be attended to (e.g. genoa tracks), but not from the windows anymore. It is SO much better than it used to be!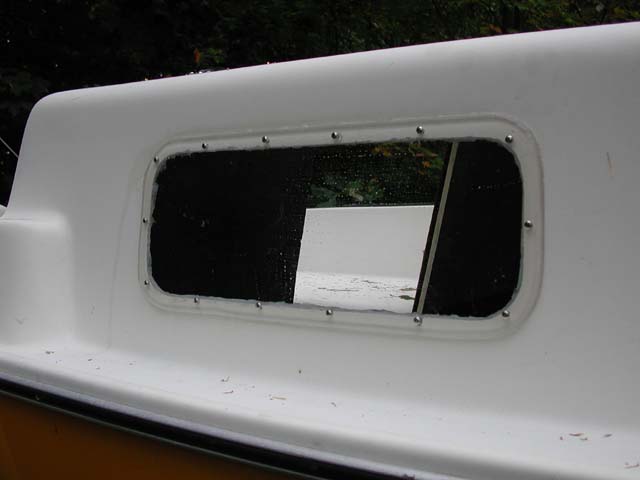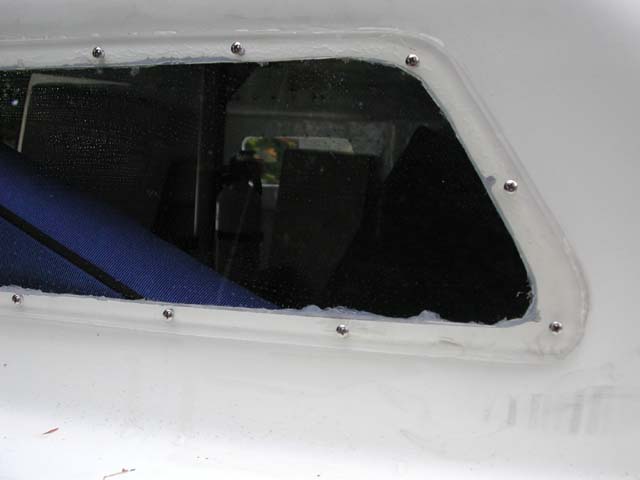 On to the new cushion covers. Don Casey has some good discussion about making cushion covers in his book, This Old Boat, which was very helpful. Of course, I already owned a heavy duty sewing machine (my Grandmother's Bernina Zig-Zag from the 1940's!), and had done a lot of sewing projects (backpacks, etc...) in the past. I ordered Sunbrella, zippers, needles and thread from SailRite and had it shipped directly to Harborfields. I did have to make a couple of trips to the local fabric store for more thread, and for a pre-made welting. (I thought I might have enough material to make my own, but I didn't, and the ready-made stuff was a much better way to go.) I gave up on using the old covers as patterns, and just used the foam itself (per Don Casey). It took me the better part of two or three days to get all four cushions covered. The hardest part was adjusting the thread tension to get an acceptable stitch in the Sunbrella. But they came out looking pretty sharp, if I do say so myself, and really help spiff the old boat right up. MUCH nicer than the dirty old orange vinyl-covered cushions.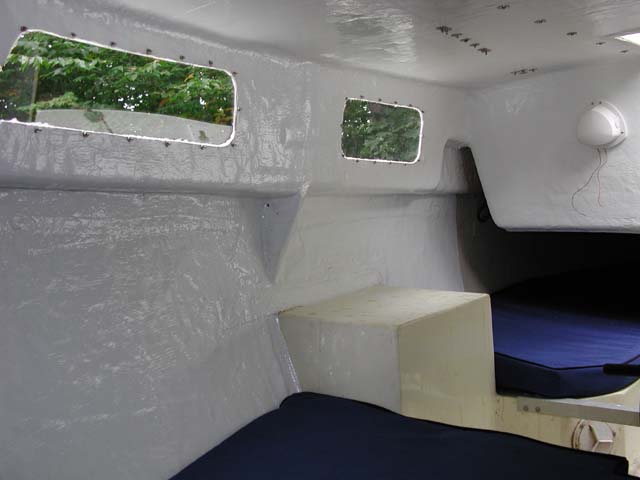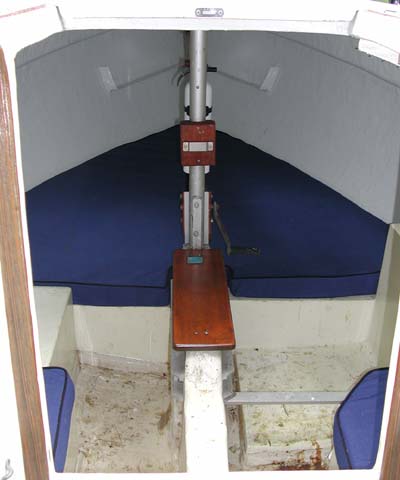 On our trip to Harborfields this year, we decided to take both the Laser and Quasar: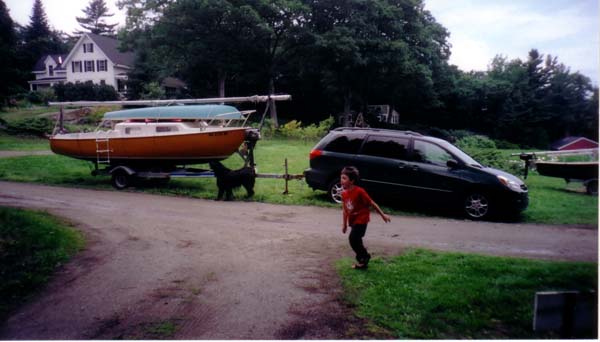 With Baxter (the big black dog), Bennett (age 6 and 1/2), and our new tow vehicle.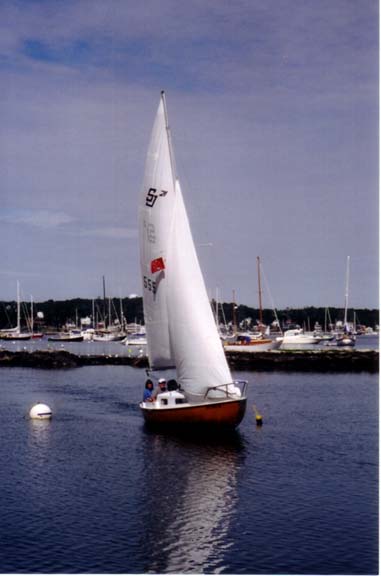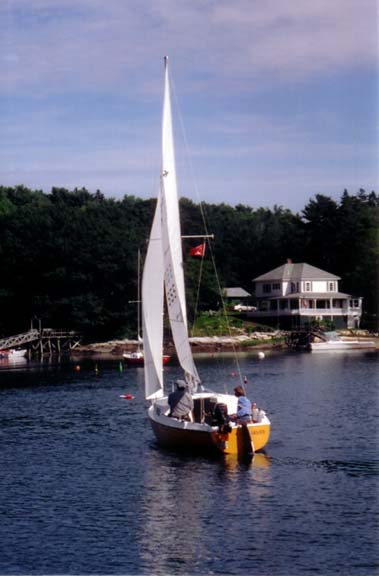 Wendy (at the helm) and Tim (manning the jib sheets) sailing manuevers in front of Harborfields, West Boothbay Harbor, Maine, August 2004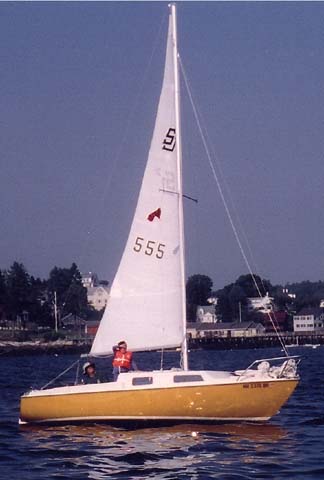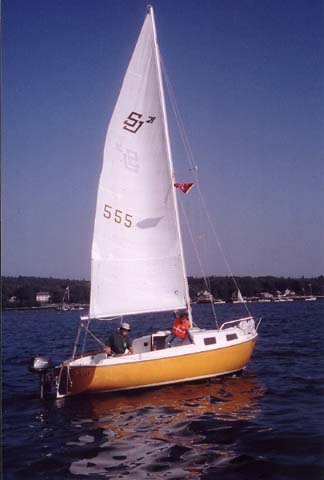 Bennett having fun sailing with his Daddy at Harborfields, West Boothbay Harbor, Maine, August 2004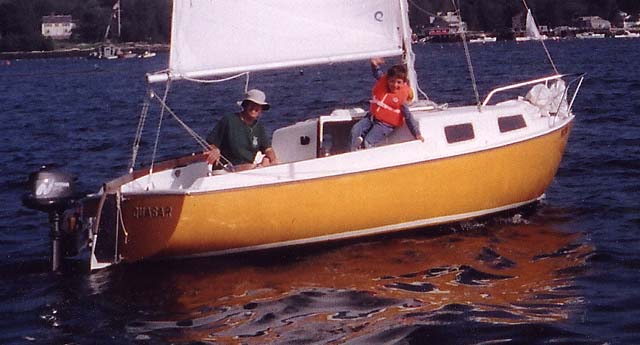 ---
Top | 1999 | 2000 | 2001 | 2002 | 2003 | 2004
---
---
QUASAR, and another San Juan 21 ("Greysar") are now available for rent from West Harbor Recreation, Inc., on Boothbay Harbor, Maine!
---
website by thorpeallen.net
Last modified November 2014.