Restoration of Laser #811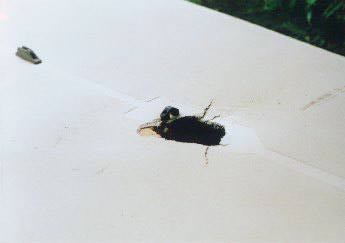 Broken mast step and wrecked deck.
The mast step failed while somebody was sailing the boat (of course). Water getting in the hull, through holes in the mast step and other places had rotted the wooden blocking the reinforces that bottom of the mast step where it sits on the hull. When the thing let go, the mast cracked some of the deck, too.
To repair this, we got a "Mast Step Repair Kit" which included the mast step tube attached to a deck piece a little less than 1 meter square, a mounting flange, a plywood block with a hole for the bottom of the mast step, and a template with instructions on getting the proper rake, etc. We had to supply bondo, fiberglass and resin.
(We got our Mast Step Repair Kit from Team One Newport of Rhode Island.)
---
For more information about Laser sailboats, check out the Laser FAQ, the Laser Class Association, and Vanguard Sailboats
website by thorpeallen.net
Last modified May 14, 1999.