Boatyard | Greyhawk | latest | next | 2010-05 | previous | oldest
GREYHAWK's Sailing Adventures
Another Blast from the Past
May 15, 2010
Found this photo of Greyhawk (from the 2008 Monhegan Race) on the Portland Yacht Club photo gallery: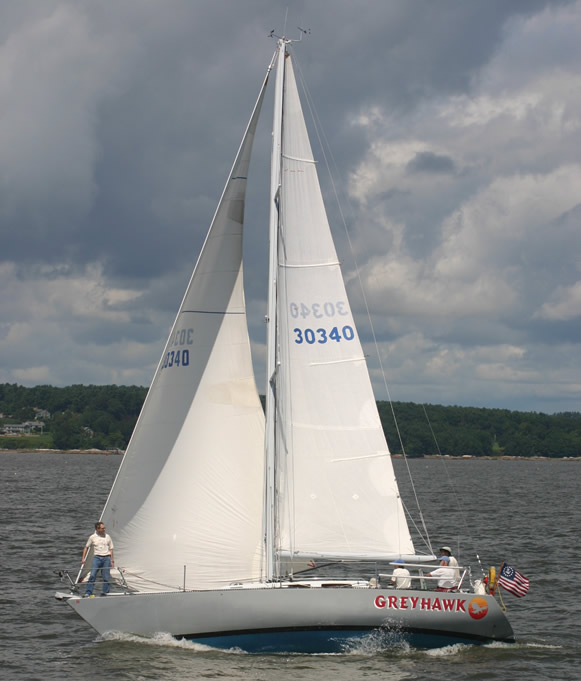 ---
Crew Get-Togethers and Schedule Changes
May 24
I got together with the Connecticut/New York contingent of my Lobster Run crew (Alec, Eric, and Matt) for a dinner in Windsor, CT, on Wednesday, May 19. Great to meet you guys!
On Friday May 21, I went over to Boothbay Harbor to put in a long weekend of work on GREYHAWK, staying through Monday May 24. Eric came up from New York to help. We got the topsides cleaned and polished, the bottom sanded, dings in the keel repaired, and a coat of bottom paint rolled and tipped. I also got some wiring, plumbing, and deck hardware installation done, too. (Thanks again Eric!) We met up with another of the Lobster Run crew, Steve, and on my way home I stopped off to see the final member of the crew, Bob. It looks like we won't get all six of us together on the boat until the day of the start for the race.
This same week, I was asked to sail in the Newport to Bermuda race aboard another Maine-based boat (they had some crew drop out due and needed somebody to fill in at the last minute). The crew chief and I got together briefly on Sunday May 23 while I was working on GREYHAWK up at Harborfields. I hope to go sailing with these guys this coming weekend. Doing this race means re-scheduling the Lobster Run Crew Practice weekend, and it's going to make for a very hectic month of June!
Saturday May 29: sail with Bermuda race crew(?)
Sunday May 30: work on GREYHAWK
Tuesday June 1: meetings at KSC
Wednesday June 2: meetings at KSC
Thursday June 3: meetings at KSC
Saturday June 5: sail with Bermuda race crew
Sunday June 6: work on GREYHAWK
Tuesday June 8: work on GREYHAWK with my Dad
Wednesday June 9: LAUNCH DAY
Thursday June 10: Rig the boat
Friday June 11: meet up with Lobster Run Crew and sail to South Portland
Saturday June 12: Centerboard Yacht Club Regatta, and sail back to Boothbay Harbor
Sunday June 13: Gulf of Maine Ocean Racing Association Safety Seminar
Wednesday June 16: travel to Newport, RI, to meet up with my boat
Thursday June 17: Bermuda race crew practice
Friday June 18: Start of the Newport to Bermuda Race
Friday June 25: Fly from Bermuda to Manchester via Washington
Saturday June 26: family vacation to Great Pond, Belgrade, Maine!
except for the night of June 25, it looks like I'll be away from home from June 16 through August 15th!!