Boatyard | Greyhawk | latest | next | 2009-01 | previous | oldest
GREYHAWK's Refit continues
January 2009
Engine Pull
Saturday, January 3, 2009
Today my Dad came down to help me pull the engine out of GREYHAWK.
First step was to get it off it's mounts and slide it forward from under the cockpit so that it could be lifted up through the companionway. We built a set of "rails" out of 2x8s on which to slide the engine forward, used a big crowbar to lever the engine up, and a block and tackle to pull it forward on the rails.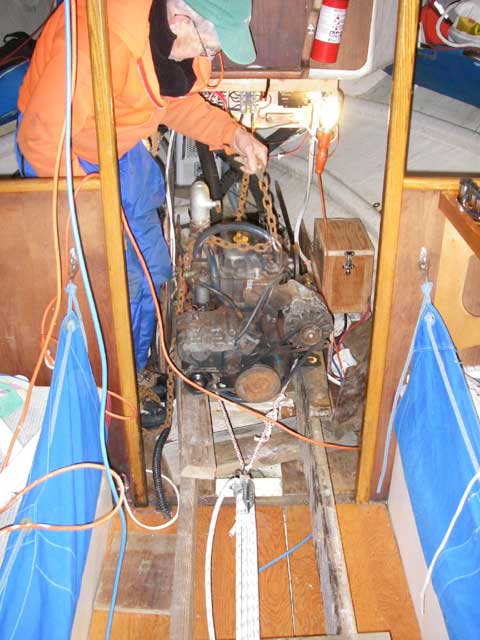 My Dad had hade made a roller assembly to support his chain hoist from a beam. So in the fall after building stairs and balcony, I had built a support framework over the companionway, and off the aft quarter of the boat, supported by post made up of 2x4's screwed together and tied into the structure of the boat tent. I made a beam out of two ten-foot 2x8's screwed together which supported the roller and spanned between the supports. This assembly made a gantry crane with which we could lift the engine up through the companionway, slide it across the cockpit with the roller on the beam, and then lower it down to the ground off the side of the boat.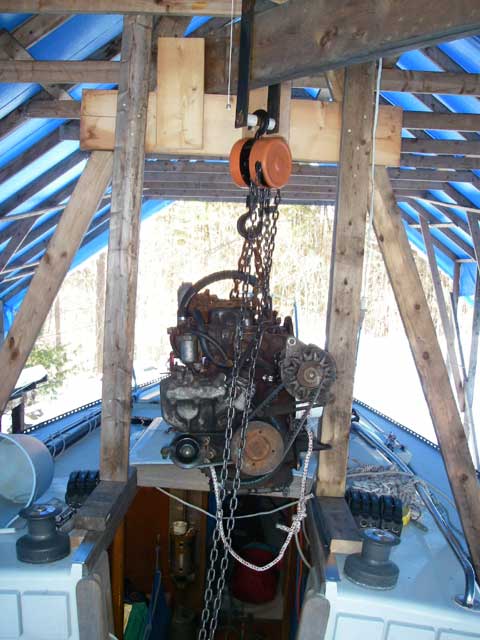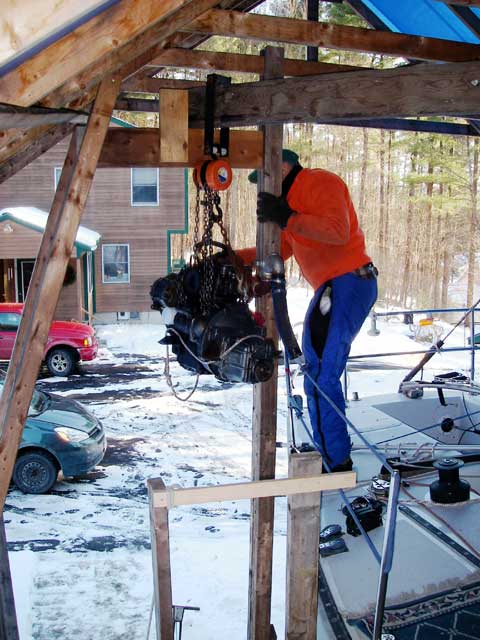 The height above the ground was greater than the fall on the chain hoist, so we needed an extra chain to support the engine while we rigged more chain onto the fall of the chain hoist.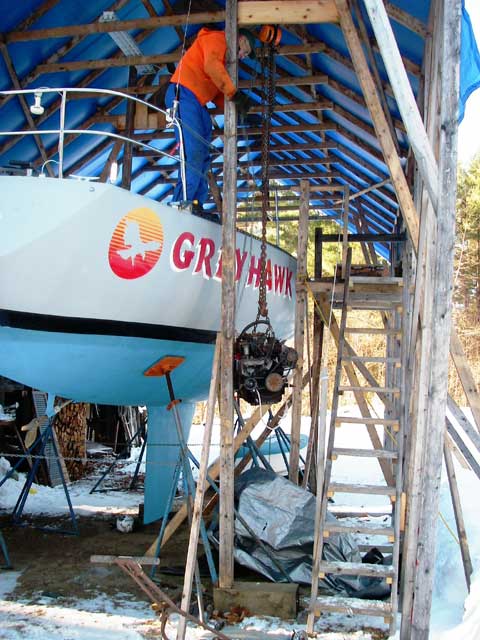 On the ground, we set the engine onto my Dad's special Engine-Moving Dolly -- an old lawnmower deck! It worked great!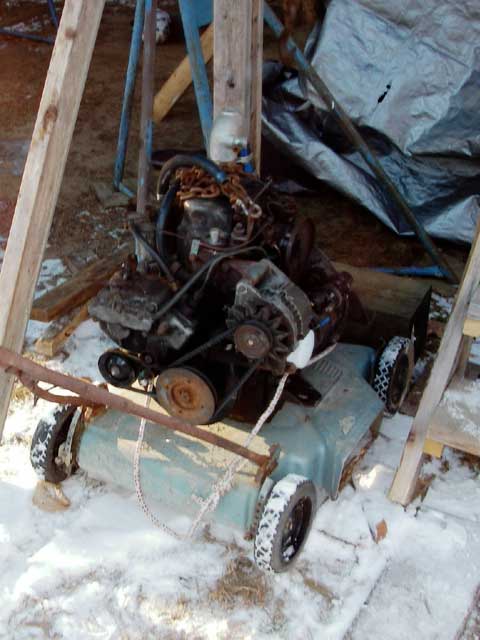 The engine is a Yanmar 2QM15G diesel, which weighs in at about 320 pounds. Once it gets started, it runs fine, but it takes quite a bit of cranking to get it started (the colder it is the more cranking it needs) indicating poor compression. I plan to replace it with a re-built 2QM15G that I bought off eBay a couple years ago, but I've got to swap a couple of parts between the two (transmission, exhaust mixing elbow, mounting brackets...) So now the two engines are sitting side by side in my garage (semi-heated) where I can work on them easily.