Boatyard | Greyhawk | latest | next | 2006-08 | previous | oldest
Another Bash to Windward on GREYHAWK
Boothbay Harbor, Maine, to Marblehead, Massachusetts
August 2006
The four of us met in Marblehead at 14:30 on Sunday afternoon and all piled into the car of one of the crew in order to shuttle ourselves to Boothbay Harbor, arriving there at about 17:45. My son would stay at Harborfields in Boothbay Harbor with his grandparents while I and two crew would be sailing the boat down to Marblehead. We went out to dinner at a local lobster wharf, and then spent the evening going over some of the boat's systems with the new crew.
Monday
We arose around 06:00 on Monday morning, and worked on re-rigging the boat for the trip. We finally got underway under power at 08:30, raised the main off Mouse Island, rolled out the jib off Burnt Island, and cut the engine off Squirrel Island. The course to our destination, Marblehead, Mass., was directly into the wind. So set off beating into the southwesterly breeze on Starboard Tack, heading out into the Gulf of Maine. The winds offshore were forecast to build but shift to more southerly, which would give us a lift when we changed over to Port tack. Eventually the land disappeared over the horizon astern.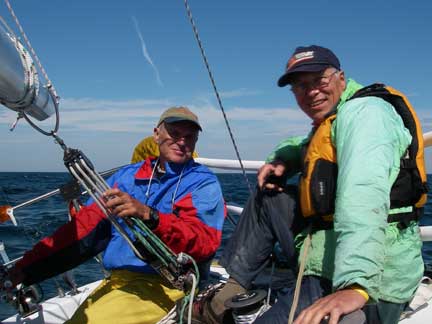 My two crew
Sometime in early afternoon, we got headed and backed the jib, so we re-set the sails for port tack and continued on. But this course brought us back towards shore, and the expected southerly shift never materialized. Nonetheless, the winds and seas continued to build. As it got dark and we reduced sail, we lost some of our pointing ability. We ended up sailing inshore of Boon Island (although the lighthouse was apparently out!), and tacking back to Starboard once we'ld cleared it.
Tuesday
Conditions were rough through the night -- winds of 25 knots (on our nose) and closely-spaced seas of 5 feet. One of the crew, athough he'ld previously made a passage from Bermuda to Long Island, said these were the roughest conditions he'ld ever encountered! GREYHAWK and I, of course, have been out in this kind of stuff before. We ended up dousing the main and sailing under just the jib, well rolled up. But because our course was on the wind, a bit of lee helm was noticable, and our pointing ability was basically shot. We were not making as good progress as I would have liked.
By morning it was raining, and we were still north of Cape Ann, sailing on Port tack back to the west. Eventually conditions moderated in the Lee of Cape Ann, we tacked back to starboard and made a course for the outer marks off the cape. Conditions continued to improve through the day, and we had a quite moderate (and leisurely) sail up Massachusetts Bay past Gloucester to the Salem Channel, where we dropped the sails and motored the rest of the way into Marblehead. We tied up at Marblehead Trading Company's Cliff Street boatyard at around 15:00, rather exhausted from lack of sleep over the past 30 hours of hard sailing.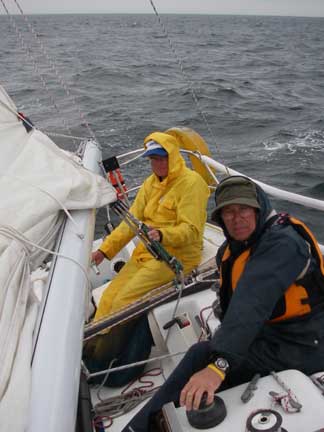 The crew after a hard night
We spent an hour de-rigging the boat, and then headed off in my van to retrieve the crew's vehicle and my son at Harborfields in West Boothbay Harbor.
I was to come back later that evening or early the next morning to finish de-rigging the boat and preparing it for hauling out and trucking to my inland home in Keene, New Hampshire -- on to Part 2!
---
GREYHAWK Sails at 50 Knots
Marblehead, Massachusetts, to Keene, New Hampshire
With a crew of two, I had just spent 30 hours bashing to windward to get GREYHAWK down to Marblehead from West Boothbay Harbor (see Part 1). So after arrival on Tuesday afternoon, we spent an hour de-rigging the boat, and then headed off in my van to retrieve the crew's vehicle and my son at Harborfields in West Boothbay Harbor.
Wednesday
I ended up staying the night up in Maine. We got up at 04:00 to make it back to Marblehead around 07:00 to finish de-rigging the boat before the boatyard guys came in to unstep GREYHAWK's mast and haul the boat out. The boat was to be trucked from Marblehead to my home in Keene, NH. As it turns out, Ron -- the trucker -- had raced on this very boat, as the bowman, under her first two owners!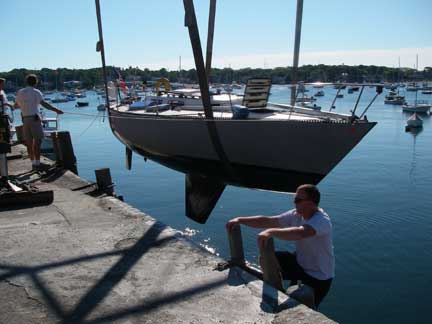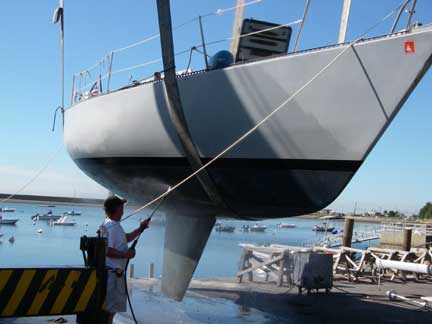 The mast came out without a hitch and was disassembled and stored in the mast shed. The boat was craned out before the tide dropped too much, given a pressure wash, and loaded onto Marblehead Trading Company's hydraulic trailer, strapped down and ready to go by about 11:00. Unfortunately the oversize permit didn't come in from the New Hampshire DOT until 14:30 that afternoon -- too late to get under way that day.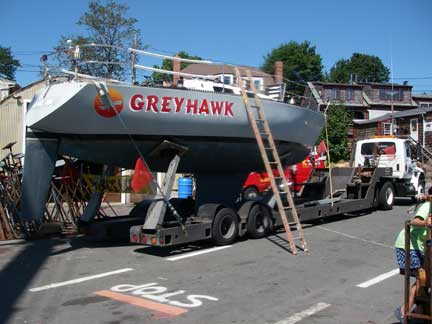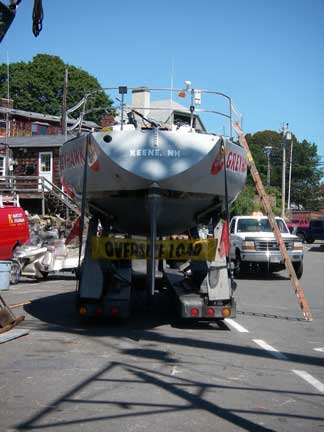 While all this was going on, my son discovered the lobster traps suspended from the floating docks and was hauling them up to see what might be in them and pick out the crabs. One of the cages he hauled up was full of lobsters and he was very excited about that, until he realized that they all had rubber bands on their claws so all these lobsters must have been put in there by somebody.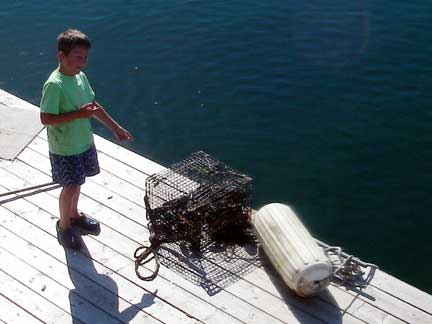 Thursday
My driveway in Keene was the crux of this whole adventure. It's about 250 feet long, with an average grade of 17%. At it's steepest, it is 25% -- or one foot in four! There's a little bit of a curve to it, and the transitions from flat to hill at both bottom and top are fairly rapid. We were quite concerned about whether we'ld be able to get the boat up the hill. We made arrangements with a neighbor who's lot was much more accessible to park the boat there, at least temporarily, if getting up our driveway was impossible. I had e-mailed pictures to some of the truckers I had talked with, and Ron from Marblehead Trading Company said he was willing to give it a try.
Ron arrived in Keene with GREYHAWK in tow at around 11:35. He made several attempts at trying to back the boat up the hill, but simply couldn't get traction and was burning quite a bit of rubber.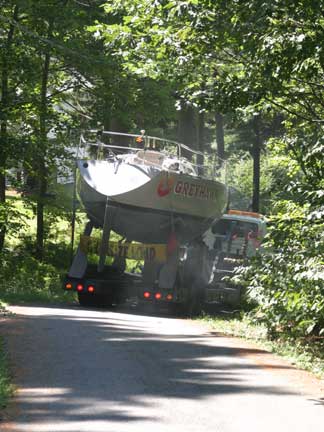 Burning Rubber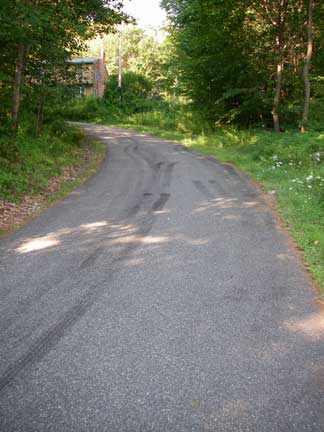 He parked the boat at the bottom, and he walked up to check out what things looked like at the top. We weren't sure there would be room for him to turn his rig around in our yard. I suggested that if he drove up forwards, there would be room to unload the boat, pull ahead and then back the empty trailer down. Unfortunatley, this would present a problem when he came to take the boat back to the water, as he wasn't comfortable backing the loaded trailer down the hill. We wondered whether he could load the boat onto the trailer stern first. Nope. So I suggested that if he got the boat up the hill, I could get a crane to come and spin it around before he came back to take it to the water.
We walked back down and Ron drove his truck down to the end of our street to turn around and make an attempt on the driveway going up forwards. He made it to the top on his second try (I should have told him that you have to stop and shift into your lowest gear before you head up the hill; downshifting part way up just doesn't work).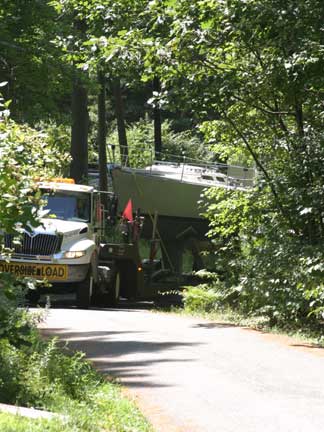 Once at the top, he pulled out onto the lawn, and proceeded to attempt to turn the rig around. It was a 5-point turn, but he made it!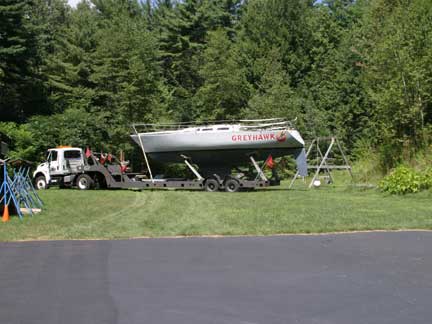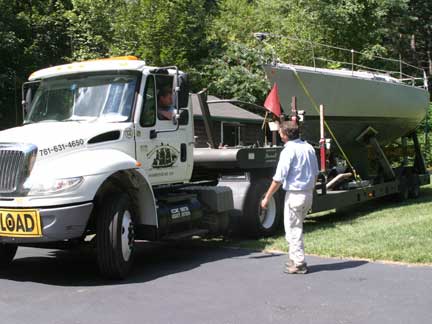 "Where do you want it?" -- "Right there, that's perfect!"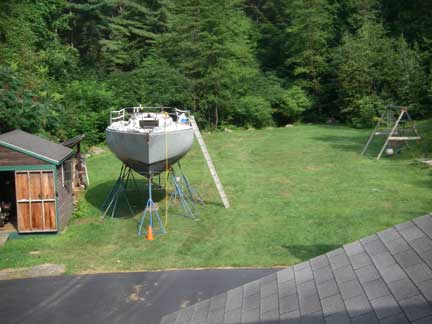 The view from the 2nd floor of our house. You can see the truck and trailer tire tracks running across the lawn.
My wife is very happy to have GREYHAWK in our yard, and not parked in some distant spot, as now I'll be spending all my time at home rather than away. On to The Project!
---
Boatyard | Greyhawk | latest | next | 2006-08 | previous | oldest
---
website by thorpeallen.net
January 2010