Boatyard | Greyhawk | latest | next | 2006-03 | previous | oldest
GREYHAWK
Progress Report, March 30, 2006
See the December 2005 Progress Report and February 2006 Progress Report for background about this rigging upgrade project.
Spring Break has come and gone. The mast is back in the boat and looks better than ever, with a new section replacing the bottom 10 feet or so, fresh paint, new rod rigging, new turnbuckles, new chainplates, new electrical wiring and light fixtures, re-built hydraulics (vang, backstay and panel), and a new roller furler, as well as lazy jacks and single line reefing for the main, and tangs for an inner forestay and running backs! WooHoo!!!! They still have to finish re-building and re-installing my hydraulic systems, but my thanks to the guys at Chesapeake Rigging for a job well done!
The other major project accomplished over the break was to chase down all the electrical wiring in the boat, re-do all the electrical panels, and remove all the old wire from abandoned circuits. This was quite a project, but should I feel much better about the wiring now.
Also, the heads toilet now works, too, and I replaced the Y-valve in the discharge plumbing as well. Most if not all of the below-the-waterline hose clamps have now been replaced.
The pipe berths and lee clothes were cleaned up and re-installed, and things are really starting to look good. Once I get the new floorboards finished, and we put them and the berth cushions aboard, this old boat will look quite different from the mess she was when we first saw her.
---

New Chainplates
Before
After

---

Clevis Pin Holes bushed to prevent elongation
Before
After

---

Chainplates installed in the boat
Before
After

---

Old Mast cracked at Vang attachment lug!
Before
After

---

Splicing Work in Progress

---

Masthead
Before
After

---

Work in Progress

---

Stepping the "new" mast

---

Motoring Mastless in the Morning
Sailing in the Evening
---
New Stuff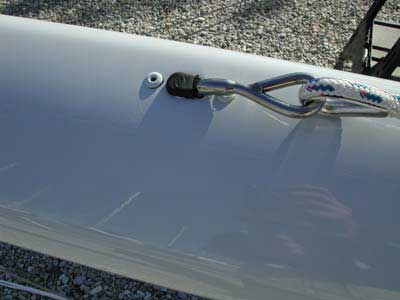 New aramid-fiber check stays (see my reflection in the shiny new paint!)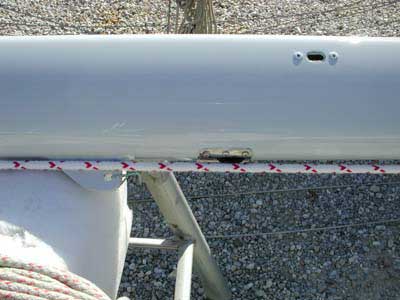 New tangs for attaching an inner forestay (with halyard lead) and running backstays (see how check stays are attached, above)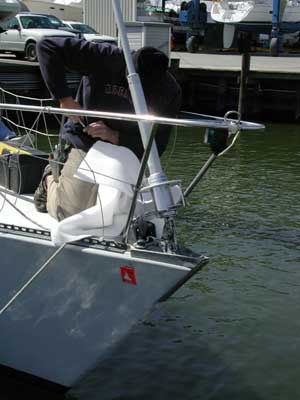 New Schaefer System 2100 Roller Furler!
Of all the headsails that came with the boat, only one (the old #3 jib) has a luff short enough to fit on the roller furler. A forthcoming project to modify the #2 and/or the old #1 genoa for use on the roller furler (I've sold some of the other full-luff racing sails that came with the boat). I will also be adding slugs along the luff of one of my mainsails, as well as blocks at the reef cringles for the single-line reefing.
---
Boatyard | Greyhawk | latest | next | 2006-03 | previous | oldest
---
website by thorpeallen.net
January 2010