Restoration of Laser #811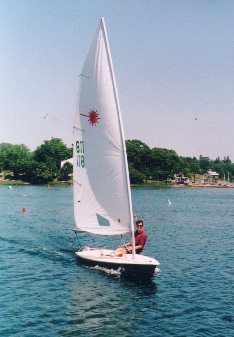 Tim sailing Laser #811 at Harborfields in West Boothbay Harbor, Maine, July 1995, after completion of the Mast Step Repair.
What would we do differently if we were to do it over again? We would use a marine epoxy such as the Gougeon Brothers' WEST System instead of the polyester resin and bondo we got from the auto body section at a hardware store... Recommended is their application manual 002-550 "Fiberglass Boat Repair & Maintenance." We would also take special care in making sure we got a good bond and seal in the final step, where you set the new mast-step deck-and-tube in place.
---
For more information about Laser sailboats, check out the Laser FAQ, the Laser Class Association, and Vanguard Sailboats
website by thorpeallen.net
Last modified January 19, 2001.